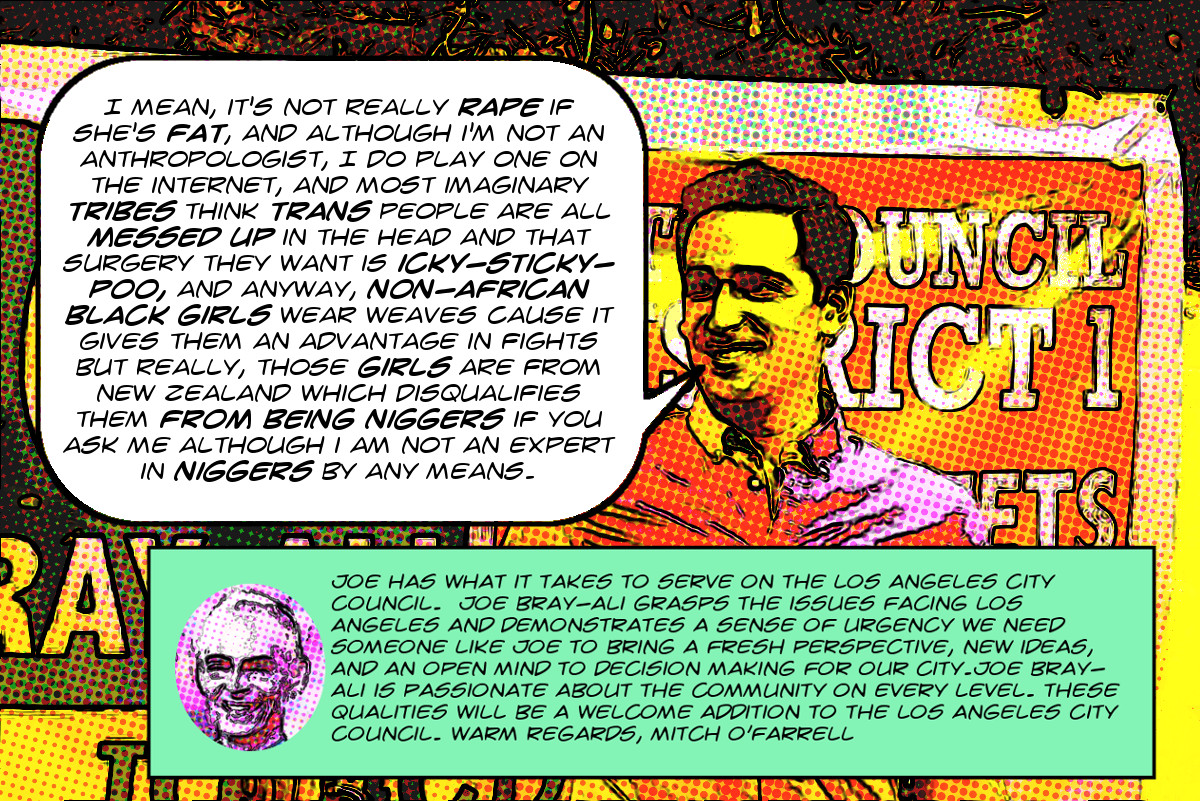 NOTE: YOU READ IT HERE FIRST — I PREDICT THAT EITHER BRAY-ALI WILL WITHDRAW FROM THE RACE OR ELSE MITCH AND THE LA TIMES WILL WITHDRAW THEIR ENDORSEMENTS OF JOE BRAY-ALI OVER THIS ISSUE.
UPDATE: AT 10:47 A.M. ON APRIL 27, MITCH O'FARRELL WITHDREW HIS ENDORSEMENT!
UPDATE 2: ON APRIL 27 AT 3:10 PM THE LOS ANGELES TIMES RESCINDED ITS ENDORSEMENT OF JOE BRAY-ALI.
Today Laist.com revealed that Council District 1 candidate Joe Bray-Ali has a history of posting weirdly offensive pernicious nonsense on exceedingly disgusting alt-right website Voat.Com, which seems to be some kind of refuge for people who manage to pull off the unexpectedly possible trick of getting kicked off Reddit for being too despicable.1 You should read the article for the details, and I've summarized them in the picture that appears somewhere near this sentence. The guy says nasty racist, fat-shaming, transphobic, sexist, stuff, although the bare fact that he's participating in forums called things like /v/Niggers as if they were somehow normal, somehow mainstream, is in many ways worse than anything he says there. I I speculated last month that this campaign was only going to get weirder, but I had no idea how right I would turn out to be.
This is a really bad turn of events for fecklessly idiotic Councilboy Mitch O'Farrell who famously endorsed Bray-Ali over his colleague Gil Cedillo. He also, for whatever reason, has allowed his staff to give money to Bray-Ali. O'Farrell, of course, is famous for having introduced a Council motion seeking essentially to outlaw racism, homophobia, transphobia, and so on in Los Angeles. His motion states, in pertinent part, that:


Throughout the history of the City of Los Angeles since the onset of World War II, diversity, multiculturalism, and sexual orientation have played an important part of the interwoven fabric of the City. From the Zoot Suit Riots in 1944, to the Watts Riots of 1965, to the 1967 Black Cat Tavern raid, to the Chicano Blowouts of 1968, to the 1992 Los Angeles Riots, to the 2007 MacArthur Park Rallies, and even today, race and ethnic tensions, as well as sexual orientation, continue to dominate the conversation in the most diverse city in the United States, the City of Angels.
Given the heighten [sic] state of awareness regarding ethnic, race, and LGBTQ relations throughout the nation over the last several weeks and months, it is essential and necessary for all of the residents of the City of Los Angeles to engage in a conversation to move this City and this nation into the 21st Century, ensuring that the promise of the Declaration of Independence is realized, providing that all individuals are created equal, and that we are all entitled to certain unalienable rights, among those being life, liberty, and the pursuit of happiness.

These are worthy sentiments, to be sure, although what, if anything, they mean to our feckless councilboy is hard to discern when considered in the light of his shameless kowtowing before the white supremacist zillionaire lackeys at the Hollywood Property Owners Alliance and elsewhere. How, I wonder, will Mitch reconcile this high-flown language with the newly revealed thoughts of his favored candidate? Or maybe it's no problem at all for Mitch. After all, he's not the first and he won't be the last, politician2 to be vigorously opposed to racism in all its abstract forms while being not just comfortable with actual racism, but even willing to actively collaborate with actual racists.
I predict that, in the face of these new revelations about the foul-smelling evil contents of the seething id of Joe Bray-Ali, Mitch will have to withdraw his endorsement. The L.A. Times, I believe, will also withdraw their endorsement of Bray-Ali. What else can they do? Bray-Ali's comments and, more importantly, the mindset that they reveal, are not in any way acceptable in this City.3

The image of Joe Bray-Ali that I started with came to me via Flickr, where its creator, ubrayj02, kindly released it under a CC BY 2.0 license. I hereby release my version of it under the very same license.

Something I would not have imagined was even a thing before learning of this site today. I mean, the actual content of actual Reddit itself gives no clue that this can happen.