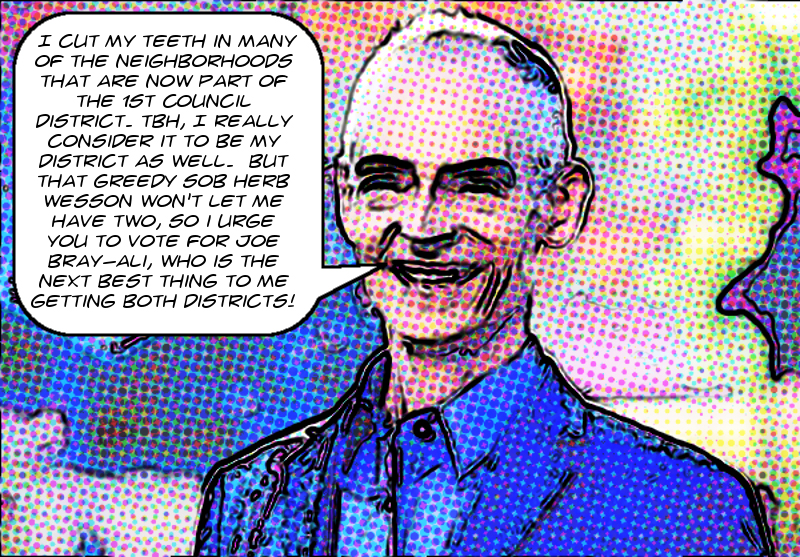 This is just a super-quick note to provide you with a copy of an email that Mitch O'Farrell sent out this morning from his mitch@mitchofarrell2017.com email account doubling down on his recent endorsement of upstart hippy bike-rider CD1 candidate Joe Bray-Ali, who is benefitting mightily, it seems, from the under-the-bus-throwing behavior to which his opponent, incumbent Gil Cedillo, has been subjected by the zillionaire elite of Los Angeles.
It's a rather remarkable document, and I suspect that many if not all of the readers of this blog have neglected to subscribe to Mitch's campaign email list, so I thought I'd better make it available. If you don't like PDFs, there's a transcription, as always, after the break.


Mr. X — I want to talk to you about Joe Bray-Ali and the run-off election in Council District One.
Prior to my role as Councilmember in the 13th, and the redistricting process that reshaped Council boundaries, I cut my teeth in many of the neighborhoods that are now part of the 1st Council District. I worked with residents to install speed humps and repair sidewalks, and we installed a new traffic signal on Eagle Rock Boulevard to improve safety. I was responsive to constituent needs because that was expected.
As a Glassell Park resident, what happens in my neighboring communities matters a whole lot to me. That is why I endorse Joe Bray-Ali in his run-off election in Council District 1.
Joe has what it takes to serve on the Los Angeles City Council. He not only has a strong background in the private sector running a small business, but also has experience in the public service arena.
Joe Bray-Ali grasps the issues facing Los Angeles and demonstrates a sense of urgency in addressing the affordable housing crises, safety in our neighborhoods, and responsiveness to constituent needs.
His positive grassroots campaign has motivated more people to participate in the democratic process at the local level and become engaged in the pressing issues that affect Angelenos.
This city faces daunting challenges and we need someone like Joe to bring a fresh perspective, new ideas, and an open mind to decision making for our city. Constituents of the 1st Council District will be well-served by Joe Bray-Ali. He is ready to show up and represent the people.
You can learn about Joe and his campaign here, and I hope you'll join me in supporting his campaign.
Joe Bray-Ali is passionate about the community on every level and will be an independent voice at City Hall. These qualities will be a welcome addition to the Los Angeles City Council.
Warm regards,
Mitch O'Farrell