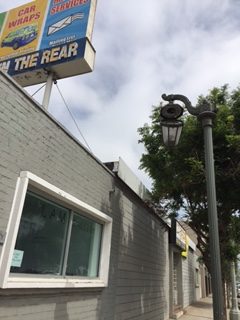 This is just a quick announcement of some new documents from the Hollywood Media District BID. We have the BID's 2014 and 2015 tax returns as well as minutes from all Board and Committee meetings from February through December 2016. I also got a ton of emails from Laurie Goldman and Lisa Schechter to and from the City of L.A. They're not ready to make available yet, though. The Media District BID, alone among all BIDs of whom I request records,
1
provides emails to me in native .eml format. This is absolutely ideal for my own research for a number of reasons, but it does create some obstacles in distribution.
2
Hence I'll be making those emails available as necessary and will put them all on the Archive if I ever manage to get a batch eml to PDF converter working properly.
3
Anyway, you can find the new material:
And turn the page for a quirky little item showing our eternal popularity amongst City of LA employees!

Read the email here and here is what it says:

Subject: Are these your people?
From: Freddie Nuno <freddie.nuno@lacity.org>
Date: 06/06/2016 05:26 PM
To: Media District <lisa@mediadistrict.org>
https://michaelkohlhaas.org/category/hollywood-property-owners-alliance/
Best,
Freddie Nuño, Lieutenant
Senior Traffic Supervisor II
City Wide Part Time Traffic Officer Program
Los Angeles Department of Transportation
213.972.4934

This, of course, is only the latest evidence in a long line of instances of highly ranked City employees reading this blog and, one hopes, learning a thing or two. Other famous examples are Deputy Chief Bea Girmala of the LAPD and the staff of CD13. So, Freddie, so Lisa, you're in good good company. Welcome to my world!

Image of busted streetlight is a public record, taken by Media District BID director Lisa Schechter and sent to some City folk in this email.

I'm trying to get email2pdf running, but the Python 3 dependencies are a little out of my depth on the x386 machine I'm working on right now. If you have advice, please get in touch.