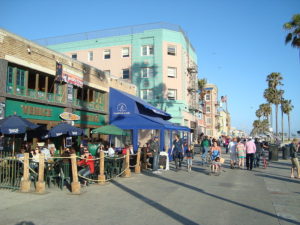 I didn't mention it at the time, but in February of this year, the heroic
Carol Sobel
filed suit on behalf of American heroine
Peggy Lee Kennedy
and the Venice Justice Committee against the City of Los Angeles for yet another set of bullshit shenanigans at the beach, this time to do with the LAPD arresting people for handing out pamplets while seated at a table after sunset in a "Designated space."
1
At that time I started collecting the documents from
PACER
and putting them
in a directory here
but I didn't write a post or even put a page in the menu structure for it (although
I have done so now
), because it's a little off-topic. Anyway, today the City of Los Angeles filed
a motion to dismiss
and it made me so mad I thought I'd initiate some coverage here. I'm still too mad to explain why I'm mad, but at some point in the future I'll actually discuss the substance of the case. No mainstream media seems to be covering this matter, and even
the Beachhead
doesn't have much, so I guess it must be up to me. More reasons after the break.
If more reasons are needed I guess I could say, and it's true, that the recent anti-Ryavec rant posted by my intemperate colleagues is turning out to be quite popular. Also, the perennial talk about a Venice Business Improvement District has risen from its coma recently, and if that nightmare ever comes to pass I'm going to make it a major focus of this blog. As bad as BID security is Downtown and here in Hollywood, it will surely be several orders of magnitude worse in Venice, a neighborhood that's closer to my heart than any other, not only in this City, but in this world.
Even thought almost everything I ever loved about Venice has been systematically destroyed and then rebuilt as commercial self-parody, it's never true that it's gotten as bad as it's going to get, and in 42 years of loving Venice I've never been able to just let it go. I'm going to obsess over it anyway, so why not cover this lawsuit, which reflects many of the conflicts and issues that are going to go nuclear if they ever set up a BID there?

Image of the Boardwalk is free-as-in-beer and we got it here.

This is a term of art in Venice Boardwalk regulation. These are the painted spaces on the West side of the asphalt, which as a result of one of the innumerable lawsuits that have slowly carved out the compromise rules that regulate the Boardwalk now, are part of a "free speech zone." (An Orwellian term if ever there was one. But there's never just one, is there?)