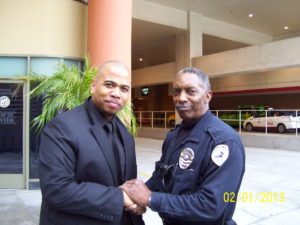 If you're familiar with the BID Patrol situation in Hollywood you'll have noticed that not only do BID Patrol officers dress like cops, but they do not wear name tags of any kind. No one seems to be willing to say why this is. Well, long-time readers of this blog will recall that in September 2015 I announced that I was
taking on the task of identifying BID Patrol officers
.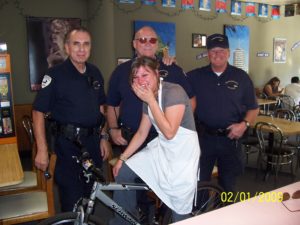 In October 2015 I made an exploratory request, asking Kerry Morrison for:

…sufficiently many photographs of Robert E. Reyes to allow me to identify him. If you have a picture of him alone that will do. If you have only pictures of him with other people, please send enough so that he's the only one in the intersection of the sets of people pictured. If there is no set of photographs such that he's the only one in the intersection of the sets of people pictured, please send enough so that he's the only man in the intersection of the sets of men pictured.

I phrased it in this awkward manner because it's a quirk of
CPRA
that agencies have to hand over records but they don't have to answer questions about them. On November 10, 2015, Kerry Morrison responded with the photo shown here. She told me that Robert E. Reyes, badge #117, was the man on the left. So far, so good. At this point I actually thought I would be able to identify BID Patrol officers via CPRA. But, as you'll see after the break, 'twas not to be.
Hence in December, 2015, I made the same request to Kerry Morrison, but for pictures of all the officers I did not yet have identifiable pictures of. For whatever reason, in January 2016 Kerry Morrison declined to send me more photos. I pointed out that she'd sent me Reyes. She asked me to send her individual requests for each officer, as I'd done for Reyes. I subsequently, on January 5, 2016, sent her 30 distinct requests, one for each person named on the invoices I was working from. Then I proceeded to hear absolutely nothing from Kerry Morrison about these until Tuesday, May 9, 2016, more than 5 months after I sent the original requests.1 She responded to all thirty of these requests in the same way:

After due review of this request, we are constrained to respond that there are no records responsive to this request. This is because neither we nor our contractor, Andrews International, have the photos organized or labeled in such a manner that would allow us to select the appropriate photographs (all of which you already have) without performing work with information that is otherwise not contained in a public record and which effort is unduly burdensome as Section 6255 of the PRA is understood. In other words, we would have to do a lot of work to create a record that otherwise does not exist in order to select the appropriate photographs. Thus, we do not have records responsive to this request.
Sincerely,
Kerry Morrison

Now, this claim may well be true for some of the officers. And if it is true, I actually think it's a reasonable justification for denying a request. After all, CPRA requires the production of identifiable records, but there must be some kind of rule of reason to limit requests in order to curtail records terrorism. For instance a bad actor2 might ask for all documents in which the forty-seventh letter is a "Z" and the ninety-third letter is an "E." How would anyone even begin to construct a search protocol? If the law required this kind of production CPRA could be used to bring the government to its knees.3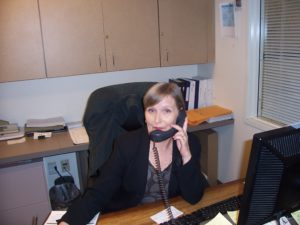 But look at the first image in this post. It's a picture of BID Patrol officer Charles Mooney4 and the filename includes Mooney's name. This image could have been found with a simple search in a directory5 but Kerry Morrison stated explicitly that it could not be. And this is not the only instance; there are plenty of others.
For just one further example, see the included picture of BID Patrol office manager Vicky Rappuchi, and see the filename "BID Officer Manager Vicky Rappuchi 002.jpg". Again, the reason Kerry gives for not providing this picture is prima facie false. One might think she didn't know it was false when she said it, but recall that she also said that she was making the statement "After due review of this request, we are constrained to respond that there are no records responsive to this request." That is, she's also claiming to have given the request the review that was due to it. Surely, if this is true, she'd have found the pictures. If it's not true, she's lying there.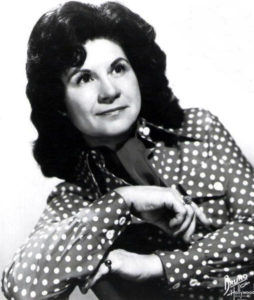 Now, Kerry Morrison seems like a moral person. I know she's a religious person. She even corresponds with fellow prayer warriors at Eric Garcetti's office about Jesus and the power of prayer for Hollywood, for the LAHSA homeless count, and so on. Now, Jesus didn't have much to say about lies,6 but he did say something.
So what's the deal, I have to wonder? Is keeping these BID Patrol officers' names secret so very important that she'll cast all principles aside? Does she, or any morally mature individual, think that because a lawyer tells one to say something one either knows or should know is untrue, that one is absolved from moral responsibility? It doesn't seem likely, and this is quite a puzzle. On this subject, by the way, the hallowed Kitty Wells pretty much nailed it. Well, anyway, the story's not over yet, but it's turning out to be likely that it's going to be longer than I'd thought. Stay tuned!

Image of Kitty Wells is in the public domain according to Wikimedia copyright geniuses and if they're wrong, God help us all.