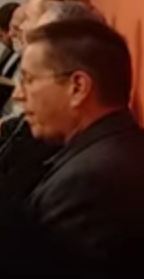 Emails sent to me this evening by CD13 staffer Dan Halden
show that as early as February 22, 2016, he and fellow staffer Marisol Rodriguez "had concerns" about the now-defunct plan to have Mitch O'Farrell fund an expansion of BID Patrol hours in Hollywood at the request of the LAPD. A/I vice president Bill Farrar led
a lengthy discussion on February 18
at the Hollywood Property Owners Alliance Board of Directors meeting in which everyone showed an astonishing amount of enthusiasm for this questionable plan. The emails also show that on or before February 22, Farrar met with LAPD Deputy Chief Bea Girmala, evidently trying to gin up support from her for the plan. It also seems to be implicit in the emails, although not definitively established, that Peter Zarcone's transfer from Hollywood to 77th Street was not a factor in the decision to kill the plan. You can find some background, a little analysis, and a really bitchin' picture of Chief Girmala after the break.

On March 2, I wrote
a letter to O'Farrell
pointing out numerous problems with the plan. By March 10 it had come out that
the plan was dead in the water
. I thought briefly that maybe I had had some role in killing it, but it looks like Rodriguez and Halden got there first. Anyway, it probably isn't possible at this late date to discover what their concerns were,
1
but it doesn't matter much. A bad plan is dead and Marisol Rodriguez and Dan Halden are revealed, yet again, as the grownups in the room over at CD13.