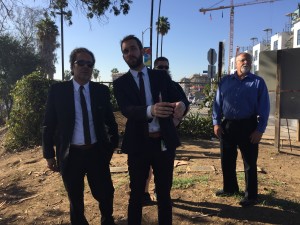 Tonight I'm just announcing some miscellaneous documents from the Central City East Association and some more detailed information about Assemblyman Richard Bloom's September 2015 visit to the Hollywood Entertainment District (which
my colleagues have previously discussed
). On the CCEA side, I have some
some emails to and from Fred Faustino
, CCEA deputy director of operations. Also I have job descriptions for
CCEA Director of Operations
and for
CCEA Executive Director
. This last one is going to come in extremely handy in a major project I'm working on, which I hope to be able to tell you about within the next few months. Turn the page for the HPOA news!
Finally, we have more emails regarding Richard Bloom's September 2015 visit to the BID. This set of stuff, which Kerry Morrison just dropped on me tonight, came with a bunch of photos of the visit and the subsequent discussion, featuring not only Bloom but Carol Massie, Mitch O'Farrell, Steve Seyler, and some cop whose name always escapes me, but he's a Joint Security Committee regular. I didn't see any pressing need to host them here, so I upped them to the Archive, where you can find them if you want them. Cheers, friends!

Image of Richard Bloom visit to the HEDBID is a public record.