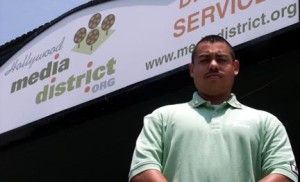 I have a few new documents from the Media District BID. First of all, the Board meeting minutes through August of 2015 are
here
. Minutes from various committee meetings in 2015 are
here
, and minutes from one very special executive committee meeting are
here
.
We're also inaugurating a project to identify all the Media District security guards by name and image, parallel to the one we're doing for the Andrews International BID Patrol. I've started a page for this project. There's not much there now other than a list of all the current green shirts by name, but I hope to add more in the future.
Read on for a little bit of what passes for metadata analysis around here.

Take another look at
the minutes of that July 14, 2015 meeting
of the Media District executive committee. First, note that they go into closed session, but they don't say what the closed session is about. This is almost certainly a violation of
the Brown Act
, but leave that lie for now. Note that under "Guests present" we find listed "J. Briggs and S. Whiddon." So Steve Whiddon is a guest at his own meeting. In
the minutes of other such meetings
there's a category for "Staff and guests" and I, charitably, assumed that Steven fell under the rubric of "Staff." It must have been sometime around July that Steven started to be
getting ready to part ways with the BID
. Perhaps this meeting, which went on for over two hours, much longer than the average 2015 meeting, was Steven's
Danny Deever
moment, at which he was made only a guest. It's consistent with the facts, anyway, even if there's likely no way to tell barring a friendly
whistleblower
or two.

Image of Captain John Irigoyen was taken from the Media District BID website. They claim to hold the copyright, but we think it's in the public domain because it's a public record. A federal judge in Los Angeles agrees with us. We'll see what shakes from the sieve, shall we? Image of Jeffrey Briggs is displayed through a deep link, which makes copyright not an issue, but stability becomes one. We'll see what happens, shall we?