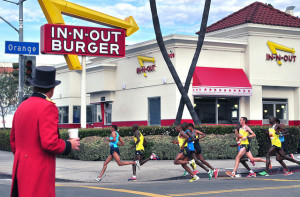 First of all, I'm pleased to announce the publication of
A Practical Guide to Using the California Public Records Act in Los Angeles
. Just prior to our recent
Reddit apocalypse
it was brought to my attention that people were interested in how I obtain the records we publish here. Thus this guide. As it says there, feel free to ask questions in the comments on that page if I've left something unanswered.
Also, we figured out how to enable anonymous uploads on Dropbox, so we set things up on our Whistleblowers page to allow anyone to do this. I think it's anonymous, and no one here knows how to find out who's uploading what, but I suppose recent history suggests that nothing on the internet is truly secret. Anyway, if you feel comfortable using it and you want to slip us some documents, the link is here. You do not need a Dropbox account to use this link. Anyway, adeste fideles, laeti triumphantes and so forth!

Picture of Sunset and Orange during the 2014 Marathon is by Krocky Meshkin, who is kind enough to have released it under the CC BY-NC-ND 2.0 and we got it, natch, from his/her Flickr stream. What it has to do with this post is a whole nother question, and I don't actually have an answer.