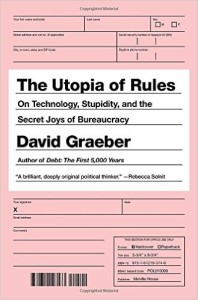 David Graeber
is one of my eternal intellectual heroes, and I recommend most highly to anyone who can read his stunning, transformative work,
Debt: The First 5000 Years
. His most recent book, a collection of essays entitled
The Utopia of Rules: On Technology Stupidity, and the Secret Joys of Bureaucracy
is, while less sweeping than
Debt
, essential reading. In particular, for the purpose of understanding the violence of the BIDs and the utter, abject stupidity of the BIDs and their minions, one essay,
Dead Zones of the Imagination
, stands out above the rest.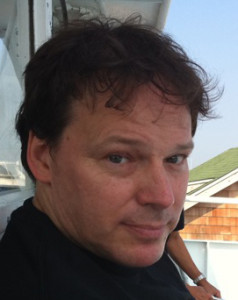 I'll run through the premises and argument after the break, but a crucial conclusion that Graeber reaches here, and one whose relevance will be immediately obvious to sane readers of this blog, is that

…violence is so often the preferred weapon of the stupid. One might even call it the trump card of the stupid, since (and this is surely one of the tragedies of human existence) it is the one form of stupidity to which it is most difficult to come up with an intelligent response.

Now, that's a zinger, and the BIDs certainly are stupid and they certainly are violent,1 but you must be wondering what the connection is. The point is that

Violence's capacity to allow arbitrary decisions, and thus to avoid the kind of debate, clarification, and renegotiation typical of more egalitarian social relations, is obviously what allows its victims to see procedures created on the basis of violence as stupid or unreasonable. Most of us are capable of getting a superficial sense of what others are thinking or feeling just by observing their tone of voice, or body language—it's usually not hard to get a sense of people's immediate intentions and motives, but going beyond that superficial often takes a great deal of work. Much of the everyday business of social life, in fact, consists in trying to decipher others' motives and perceptions. Let us call this "interpretive labor." One might say, those relying on the fear of force are not obliged to engage in a lot of interpretive labor, and thus, generally, they do not.

So you see, what makes us human is the ability to live in society. To do this it's necessary to have what neuropsychologo-types call a theory of mind. That is, to be able to tell what others are thinking through the difficult social work that Graeber calls interpretive labor. The violent impose their will, they don't need to interpret the motives of their victims. If their victims are sitting on the sidewalk they use either potential or actual violence to remove them and no need to worry about why they were sitting. Without a felt need to perform interpretive labor they naturally will not. Thus, in Graeber's terminology they become stupid. It would be as fair to say that they become sub-human. There's no reason to attribute to them abilities that they will not utilize, and without a theory of mind, without the constant labor to understand and sympathize with the thoughts of others, there is no humanity. Not in the BID patrols and certainly not in the organizations which control them. All of us here at MK.org have found these ideas to be keys to the proper understanding of our subject, as our next few planned posts will reflect.
Anyway, that's merely the most prominently relevant idea in this book. If you have a taste for theoretical structures and you want to understand what's up with the BIDs, this book will be quite useful to you. It's also really nicely written, as is everything of Graeber's.
I have a feeling that many of our readers, being stupid, may have trouble understanding how the BIDs are violent. After all, the BID patrols haven't killed that many people yet, amirite? But Graeber comes to the rescue again, describing what's known as structural violence, that is, "…the ability to call up people dressed in uniforms, willing to threaten to hit others over the head with wooden sticks" in the service of "…structures that could only be created and maintained by the threat of violence, even if in their ordinary, day-to-day workings, no actual physical violence need take place." (both quotes from The Utopia of Rules, pp. 58-59)
Image of cover of The Utopia of Rules appears here under a claim of fair use. Image of David Graeber is released under the CC BY-SA 4.0 and we got it via Wikimedia.