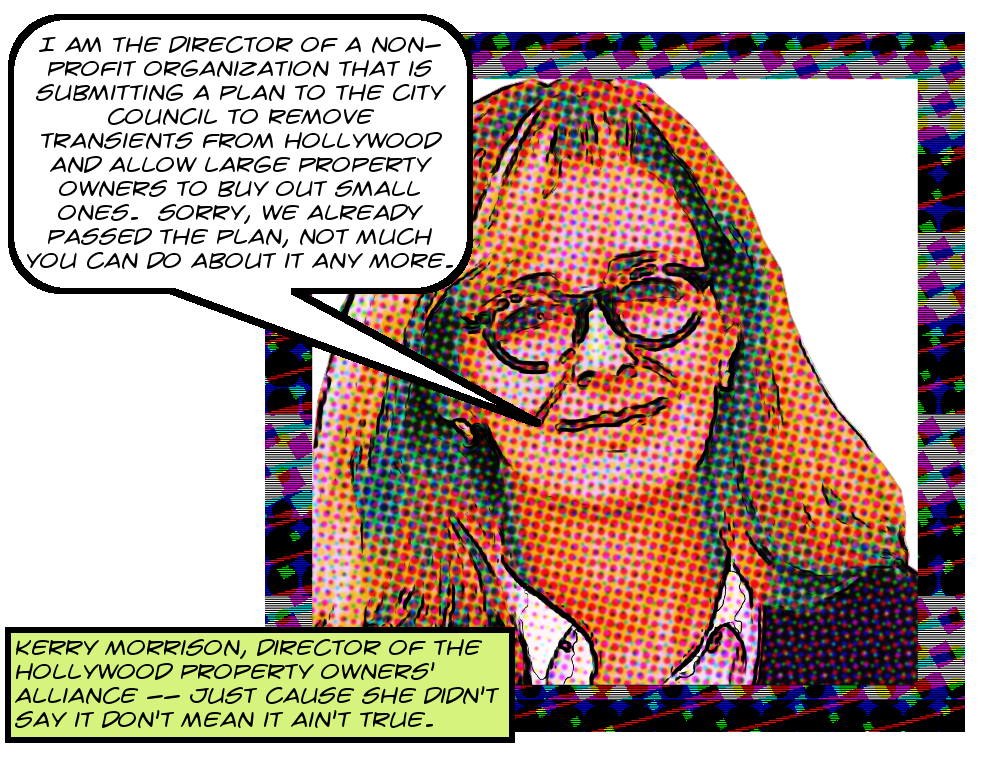 You may have noticed that the Property and Business Improvement Law of 1994 makes allowance for property owners in a proposed BID to file "protests," which must be accounted for by the City during the establishment or renewal process.1 For whatever reason, possibly the mandate that the City make a determination regarding protests received,2 these protests show up in the relevant Council File for all the world to read! And sometimes they are really interesting! Like the two recent doozies I have for your pleasant perusal today!
◪ Setrak Kinian protest — this is against the renewing Hollywood Entertainment District BID, filed by a property owner in the old Sunset & Vine BID — the two BIDs are being unified in their current renewal — and has some essentially kooky but nevertheless fairly explanatory3 allegations against Ms. Kerry Morrison.
For instance, Kinian claims that her BID pays off homeless people to hang around the properties of BID opponents in order to encourage them to support the BID. He also makes the not-completely-implausible claim that one goal of the BID is to force smaller property owners to sell out to larger ones. The Council File for this renewal is CF 14-0855. As always, turn the page for some selected transcriptions and commentary.
◪ Jim McQuiston protest — Against the renewing Hollywood Media District BID. McQuiston is a civil engineer and provides a really detailed4 denunciation of Ed Henning's characteristically crapola engineer's report. This is especially interesting to me given that one of my ongoing projects, which is to get the Board for Professional Engineers to take the preparation of engineering reports for BID formations seriously as the practice of civil engineering.5 The Council File for this renewal is CF 12-0963. Also Henning's report is here. As always, turn the page for selected transcriptions and commentary.
Continue reading Two Interesting Protests Against BID Renewals In Hollywood — One By A Civil Engineer Attacking The Constitutional Adequacy Of Ed Henning's Self-Plagiarized Boilerplate Engineering Report — The Other Somewhat Plausibly Accusing Kerry Morrison Of Complicity In The Payoff Of Transients To Harass Anti-BID Property Owners →