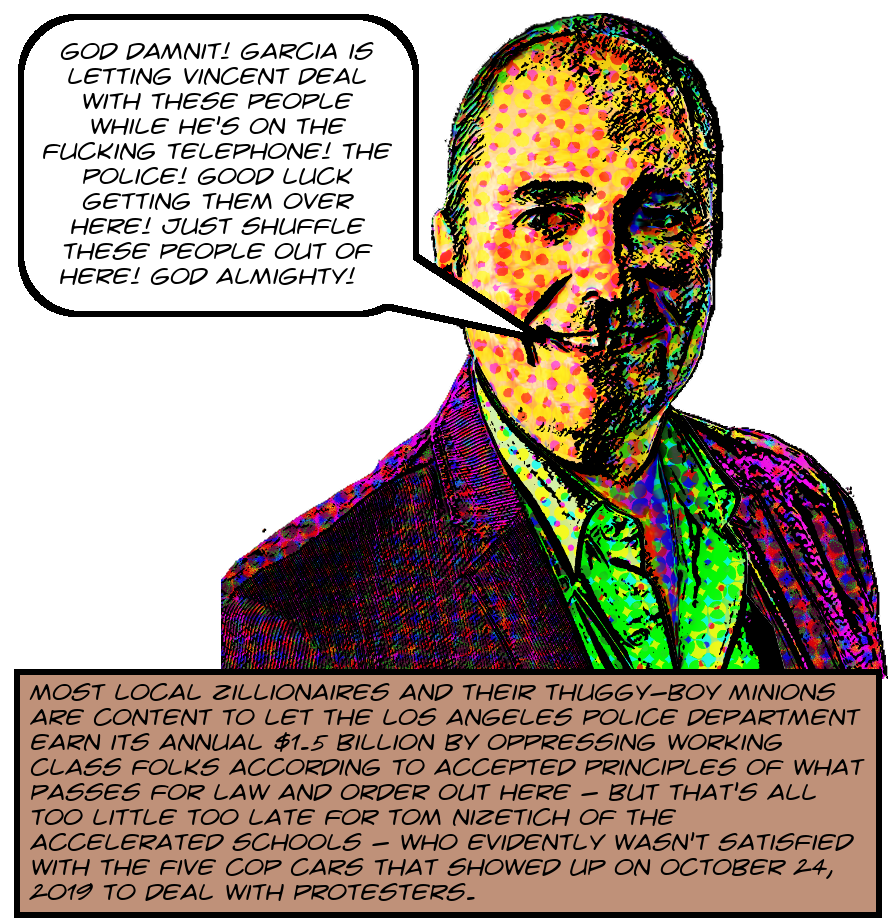 Of course you remember a few weeks how Juli Quinn, president of the Board of Directors of the white supremacist criminal charter school conspiracy known as The Accelerated Schools, threw her toys from the pram and shut down a meeting just because public commenters said some true things. And the subject that they were commenting on was, of course, the unreasonable firing of long-time employee and union member Hilda Rodriguez-Guzman.
But what you might not have known is that Hilda has been continuing to investigate wrongdoing at TAS via, among other things, the California Public Records Act. And this is how she recently obtained official audio recordings of the last three TAS board meetings. She shared them with me and I'm sharing them with you by publishing them on Archive.Org for download and on YouTube for streaming. Here are links:
★ June 27 part 1 — YouTube | MP3 | Ogg Vorbis
★ June 27 part 2 — YouTube | MP3 | Ogg Vorbis
★ August 29, 2019 — YouTube | MP3 | Ogg Vorbis
★ October 24, 2019 — YouTube | MP3 | Ogg Vorbis
And this is important information to have. And it came with an unexpected bonus which supplies even more important information. After Quinn shut down the October 24 meeting the Board did not stop recording immediately and thereby captured some comments by facilities manager Tom Nizetich to executive assistant Mia Watson about how the protesters ought to be handled in his opinion. Here's what he said:

Tom Nizetich: God damnit! He's letting Vincent deal with these people while he's on the fucking telephone!
Mia Watson: Who? Garcia!
Nizetich: Yes! How could you! Son of a bitch drives me out of my mind! The police! Good luck getting them over here! Just shuffle these people out of here!
Watson: Seriously!
Nizetich: God almighty!

Continue reading After Accelerated Schools Board President Juli Quinn Shut Down The October 24 Board Meeting In A Fit Of Petulant Rage — Because Protesters — Her Social Inferiors In Every Way Just Ask Her — Dared To Say Something True In Her Presence — And Weren't Sufficiently Grateful For The Sacrifices Being Made By Their White Saviors On The Board — After All That — Facilities Director Tom Nizetich Cursed About Security Guard Guillermo Garcia Calling The Police To Handle The Situation — Because Nizetich Didn't Think The Police Would Even Show Up — He Wanted Garcia To "Just Shuffle These People Out Of Here God Almighty" — Listen To A Recording Of Nizetich's Foul-Mouthed Cynical Paranoia — And Wonder Yet Again Why Anyone Thinks It's A Good Idea To Make These Self-Absorbed Psychopaths Responsible For The Care And Education Of Actual Human Children →