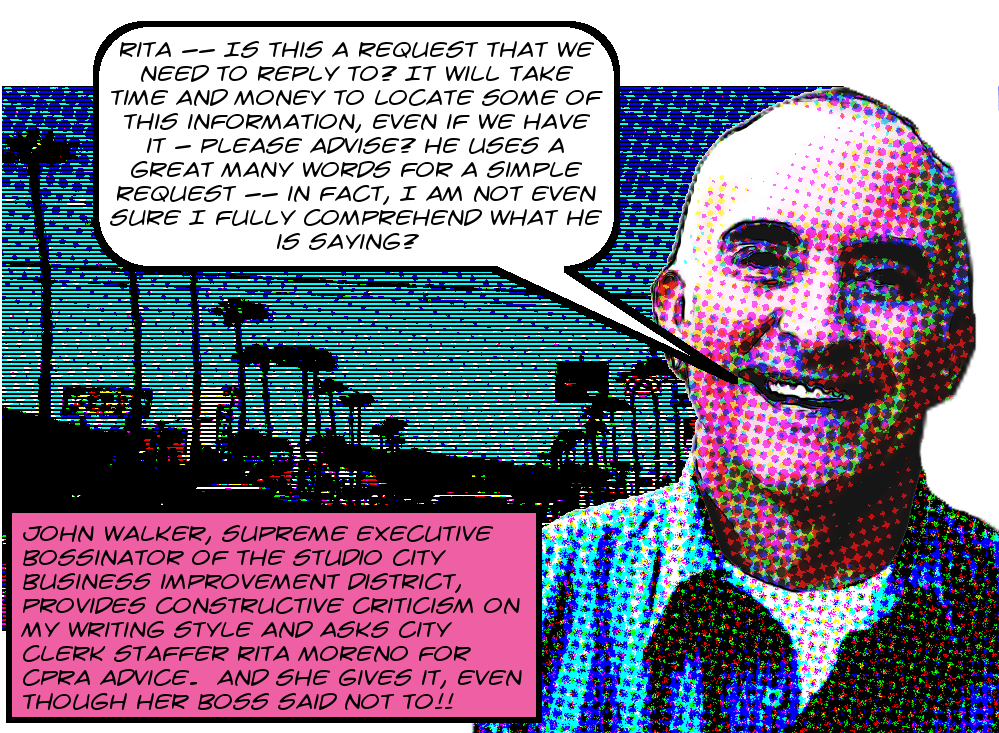 In the great and good1 City of Los Angeles, business improvement districts are overseen by the City Clerk's office. They have a whole subsection of their website about BIDs; how to form one, what they are, and so on. And not only that, but as part of their oversight process, each BID signs a contract with the City Clerk's office. These are all about the same as one another, and if you want to look at one, here's a link to the Studio City BID's contract.2
And, like every one of these contracts between the City and its BIDs, this one contains, in Section 16.3, the following fairly unequivocal requirement: "… Corporation and the Board of Directors are also subject to and must comply with the California Public Records Act." Finally, buried deep down in this website, they have published a stunning little item called the Service Operations Summary, which purports to explain the City's role in relation to its BIDs.
In particular, in Section 5, this document claims that:3 "THE [CLERK'S] OFFICE PROVIDES CONTINUOUS CONTRACT COMPLIANCE ASSISTANCE. Staff monitors the use of revenue in order to ensure that assessments paid by district members are used appropriately and in accordance with contractual, budgetary, statutory and City regulations and procedures."
Now, it's a tragic aspect of the CPRA that the only remedy for noncompliance that the legislature has seen fit to provide is a lawsuit. However, it seems at least plausible from the foregoing that if a BID is not complying with the CPRA, it's the duty of the office of the Clerk to ensure that they do comply with it. Acting on this theory, and hoping to avoid a bunch of damn lawsuits,4 once upon a time in 2016 I tried to get Ms. Holly Wolcott to mediate between me and uppity non-CPRA-compliant BIDs.
But she, almost certainly acting on the advice of rogue deputy city attorney Michael Joseph Dundas, denied that the City had any power whatsoever to compel BIDs to comply with the law, despite what the above-quoted Service Operations Summary claimed. Despite the fact that the City has a contract with each BID and the contract requires CPRA compliance. And she didn't just deny it, she denied it vehemently:, stating in an email to me5 that:"…the Clerk's office [does not] have the authority to control/direct the records management practices of the various BIDs which are entities wholly separate from the City."
Anyway, a couple weeks ago, I sent a CPRA request to the Studio City BID, asking for a bunch of stuff. When the material showed up yesterday, I found an exchange between John Walker and Rita Moreno, a City Clerk staffer in charge of many aspects of BIDs, discussing my request. Basically he was all like do we have to do it because expensive and time-consuming. And she was all like … well, turn the page to read all the emails and see exactly what she was all like, but suffice it to say she was all like DIRECTING him to do it because of the law. That is, she was doing precisely what her boss, the famous Ms. Holly Wolcott, said that the City would never do and didn't even have the power to do.
Continue reading John Walker Of The Studio City BID Asked Rita Moreno Of The Clerk's Office For Advice On A CPRA Request I Made And She Gave Him A Detailed, Thoughtful, Largely Correct Response Despite The Fact That Doing So Directly Contradicts Her Boss, The Mendacious Ms. Holly Wolcott, Who Has Asserted Time And Again That "the Clerk's office [does not] have the authority to control/direct the records management practices of … BIDs" →