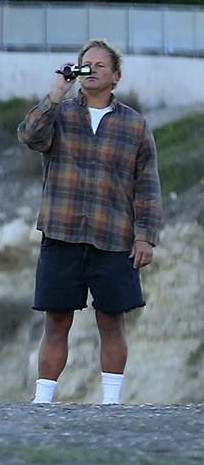 For background take a look at
this excellent article from the Times
on the suit.
Well, when I decided to start collecting the pleadings in Spencer v. Lunada Bay Boys, I had no idea how much material it was going to involve. By the way, the full collection is available here on Archive.Org. In any case, a bunch more stuff hit PACER last night. It consists of allegations by Victor Otten, plaintiffs' attorney, that Bay Boys defendants Brant Blakeman and Alan Johnston are stonewalling court-ordered discovery and that "there is a clear pattern emerging that the individual defendants are withholding and/or destroying evidence and misusing the discovery process."
There are links and brief descriptions of the new material after the break, as always, but first I have some interesting details about defendant Alan Johnston's cell phone. It seems that on December 12, 2016, the magistrate judge, Hon. Rozella Oliver, issued an order to compel defendant Alan Johnston to hand over two cell phones and corresponding passwords to the plaintiffs:

IT IS FURTHER ORDERED THAT that Mr. Johnston overnight his cell phone(s), both his old, water damaged phone and his current phone to his counsel. Mr. Carey1 is directed to hand over the cell phone(s) to Todd Stefan at Setec Investigations, 8391 Beverly Blvd #167, Los Angeles, CA 90048, the party chosen by Plaintiffs to conduct the examination of the phone.
Mr. Otten and Mr. Carey shall reasonably cooperate to agree upon a set of search parameters to guide Mr. Stefan's forensic investigation of the phone(s), including text messages, contacts, photographs, and videos by December 14, 2016. If the parties cannot agree upon a set of search parameters, they shall submit their proposed search parameters to the Court by December 14, 2016. Mr. Johnston is ordered to cooperate as necessary with Mr. Stefan with respect to passwords. Defendant Alan Johnston is ordered to pay the cost of the forensic investigation within 10 days of his attorney being sent a statement.

But according to a declaration filed last night by plaintiffs' attorney Victor Otten, the process is not proceeding as planned. It seems that the phone wasn't actually water-damaged, that the handed-over passwords were wrong, thus requiring the forensic investigator to brute-force the phone, and many more similar such shenanigans:
Continue reading Lunada Bay Boys Defendant Brant "Blakeman Looked Possessed Or Possibly On Drugs": Plaintiffs' Attorney Otten Alleges Bay Boys Defendants Blakeman, Johnston Withheld Evidence, Gave Wrong Phone Passwords Necessitating Court-Ordered Phone Cracking, Committed Other Evidentiary Shenanigans →