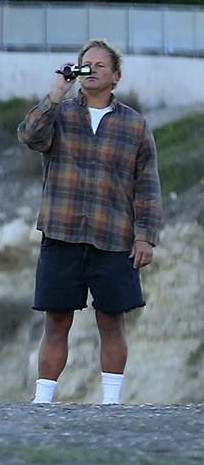 For background take a look at
this excellent article from the Times
on the suit.
Well, when I decided to start collecting the pleadings in Spencer v. Lunada Bay Boys, I had no idea how much material it was going to involve. By the way, the full collection is available here on Archive.Org. In any case, a bunch more stuff hit PACER last night. It consists of allegations by Victor Otten, plaintiffs' attorney, that Bay Boys defendants Brant Blakeman and Alan Johnston are stonewalling court-ordered discovery and that "there is a clear pattern emerging that the individual defendants are withholding and/or destroying evidence and misusing the discovery process."
There are links and brief descriptions of the new material after the break, as always, but first I have some interesting details about defendant Alan Johnston's cell phone. It seems that on December 12, 2016, the magistrate judge, Hon. Rozella Oliver, issued an order to compel defendant Alan Johnston to hand over two cell phones and corresponding passwords to the plaintiffs:

IT IS FURTHER ORDERED THAT that Mr. Johnston overnight his cell phone(s), both his old, water damaged phone and his current phone to his counsel. Mr. Carey1 is directed to hand over the cell phone(s) to Todd Stefan at Setec Investigations, 8391 Beverly Blvd #167, Los Angeles, CA 90048, the party chosen by Plaintiffs to conduct the examination of the phone.
Mr. Otten and Mr. Carey shall reasonably cooperate to agree upon a set of search parameters to guide Mr. Stefan's forensic investigation of the phone(s), including text messages, contacts, photographs, and videos by December 14, 2016. If the parties cannot agree upon a set of search parameters, they shall submit their proposed search parameters to the Court by December 14, 2016. Mr. Johnston is ordered to cooperate as necessary with Mr. Stefan with respect to passwords. Defendant Alan Johnston is ordered to pay the cost of the forensic investigation within 10 days of his attorney being sent a statement.

But according to a declaration filed last night by plaintiffs' attorney Victor Otten, the process is not proceeding as planned. It seems that the phone wasn't actually water-damaged, that the handed-over passwords were wrong, thus requiring the forensic investigator to brute-force the phone, and many more similar such shenanigans:


On December 16, 2016, the Court issued an Order re Plaintiff Cory Spencer's Motion to Compel Defendant Alan Johnston to Produce Documents. Mr. Johnston and his attorney Pat Carey have failed to comply with several aspects of that Order. First, the Order states: "Mr. Johnston is ordered to cooperate as necessary with Mr. Stefan with respect to passwords." That did not happen. Mr. Carey never provided a working password.
On January 11, 2017, my co-counsel, Kurt Franklin, and I each received messages from Todd at Setec Investigations regarding the status of the investigation of Defendant Johnston's cellphone. First, we were informed that the phone had "enhanced security" turned on, which makes it encrypted and harder to access. We were told that over a period of time, Mr. Carey provided four passwords none of which worked. Eventually, Setec Investigations had to crack the phone using a crunching program. This took 5 or 6 hours running a computer program to get the password. Second, the phone was not water damaged as claimed by Defendant Johnston. Third, on January 10, 2017, Setec Investigations provided Mr. Carey a multi tab spreadsheet of the recovered information: (1) iChat (4,250 messages going back to at least 3/12/15); (2) MMS text messages with photos or movies (133 texts with movies of photos going back as far as 10/14); (3) SMS regular texts (2,516 regular texts going back to 12/14 of these 1,381 are deleted; about 1,384 are not blank – some contain gibberish, etc.); (4) no emails on the phone without iCloud access (but Setec can tell there have been 456 emails w/dates – the oldest went back 10/12); (5) call log [1,921 ]; (6) audio recordings (19); (7) videos and photos; contacts (2,445); (8) web history. The Order states that after Mr. Carey receives the information, he "shall designate the information formally copied and produced that is responsive to the Request for Production of Documents. Then, Mr. Johnston may review the production and designate information "CONFIDENTIAL" pursuant to the Court's Protective Order. This designation shall take place within one (1) day of receipt of the designated production. This has not happened. Fourth, Setec Investigations determined that there is an icloud account associated with the phone and that it might have back up data. Mr. Carey represented to the plaintiffs that there was not an icould [sic] account.

Here's all the material that hit PACER last night:

Image of Brant Blakeman is a public record at this point. I obtained it from this item, filed with the court.