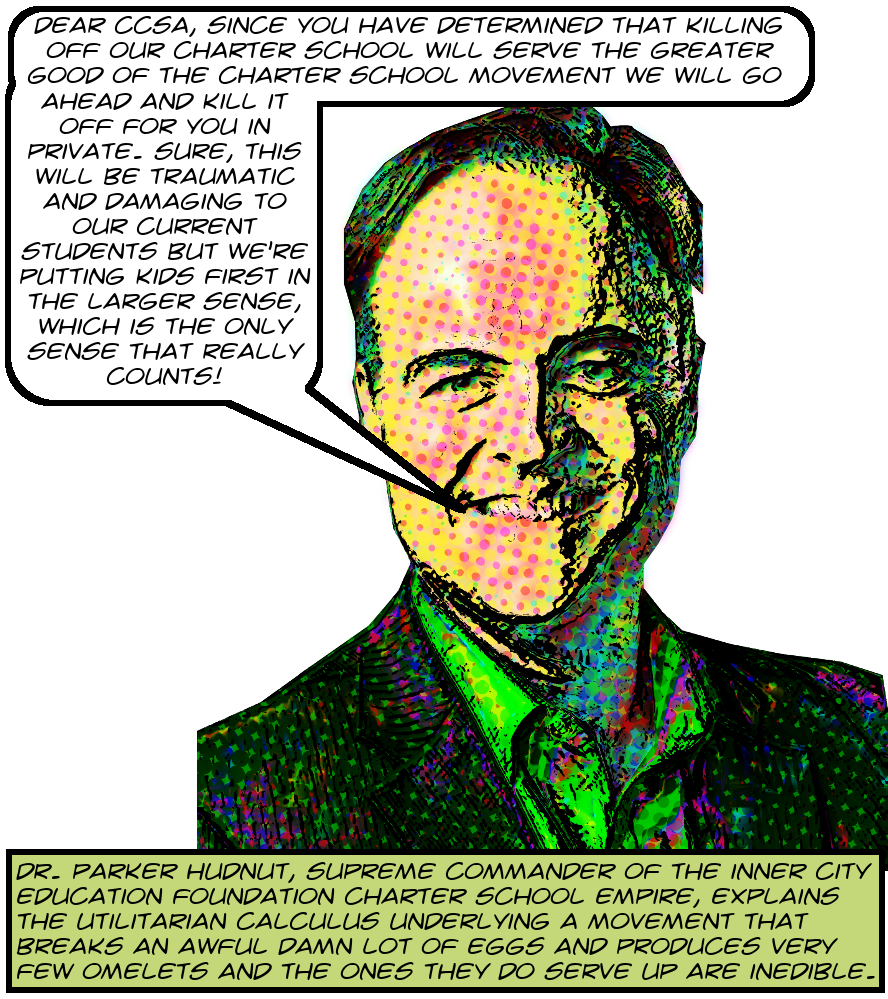 One argument we see over and over and over again from school privatizers is that charter schools are more effective than public schools because public schools are not accountable for their performance. Because their funding, their very existence, are guaranteed by the government they have no incentive to improve.
That last sentence, by the way, reads very easily even without an explicit statement of what it is, according to privatizer propaganda, that the public schools don't have an incentive to improve. Which is a sign of how thoroughly public discourse about public schools has been shaped by the charter school industry.
There's no satisfying answer to this question of what public schools need to improve, at least not one that satisfies anyone who sees children, students, as actual human beings, of fully equal value to every one of the disrupting grifters corruptly siphoning off billions in public funds meant to educate these kids.
Privatizers try to make this narrative hang together by using vague nouns like "outcomes," "results," "accountability." What is it that public schools need to be accountable for improving? Outcomes and results! But the story doesn't really work, not to the extent that they need it to work, without there being some concrete, some superficially objective,1 way to measure this putative non-improvance.
The technical details of the actual metrics don't matter much since all that's needed to serve the purpose is a bunch of numbers. You can read about them here online if you want to but feel free not to as they're all lies and also quite boring. And the flip side of this narrative is that charter schools are nimble2 and run like businesses3 unlike the public schools they're out to destroy. To really underscore this last point it turns out to be politically expedient for charter proponents to once in a while toss one of their schools off the sleigh to be devoured by the hungry wolves that follow.
Which is exactly what the mainline charter conspiracy does in California. The California Charter School Association, premiere privatizer lobbying conspiracy, has a program called Public Calls for Non-Renewal whose sole purpose is to pick off a few schools each year that miss their benchmarks and publicly, that is in front of the authorizing entities, advocate against their targets being renewed. They openly justify this program, this process with an appeal to nothing more than its political expedience for their movement:

We applaud the many charter schools that are among the highest-performing schools in the state. However, we believe that a small number of chronically underperforming charter schools threatens the overall success of the broader charter school movement.

And this is a really disconcerting position to be taken by people who will not for an instant shut up about how they put kids first, how they're the most overwhelmingly efficient educators in history, how they are the only ones who can save children from the horrors of government incompetence. This kind of realpolitik calculus is fine4 when all the parties involved are adults, are responsible and able to look after their own interests. But real human children are gravely harmed when their schools close down.
Continue reading The Charter School Industry Famously Wants To Shut Down Schools That Don't Measure Up To Various Putatively Objective Standards — Part Of Their Narrative Of Government Inefficiency — Lack Of Incentives To Excel — The Usual Nonsense — And — Apparently To Demonstrate Ideological Consistency Or Something — Each Year The California Charter School Association Picks A Few Charter Schools And Publicly Advocates For Their Closure — In 2017 They Targeted Lou Dantzler Elementary School — A Co-Located South LA School Run By White Savior Charter Conspiracy The Inner City Education Foundation — But ICEF Unilaterally Closed The School Rather Than Undergo The Humiliation Of CCSA Openly Calling For Its Closure — Never Mentioned In The Discussion — The Trauma And Disruption In The Students' Lives Caused By The High-Level Politicking Of These Charter School Geniuses — It's Almost As If That Kids First Nonsense Is Nothing More Than Empty Sloganeering →