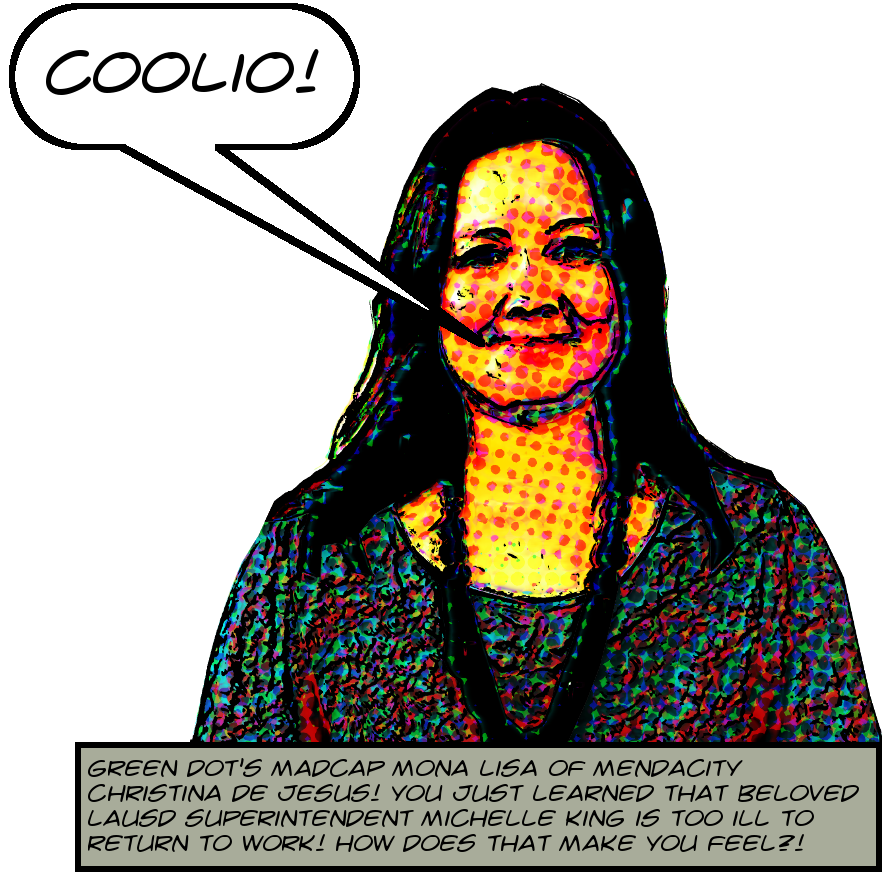 Earlier this year Governor Gavin Newsom asked State Superintendent of Public Instruction Tony Thurmond to convene an expert task force to study some aspects of charter schools in California and to issue a report by July 1, which task they duly completed. Here's what Tony Thurmond had to say about what all these experts were going to get up to:

I am excited that we have this incredible assembly of experts from all sectors to help lead this charge, to take a deeper look at the impact of charter schools. We plan to research data and facts, and will review the fiscal impact and authorization process of charter schools. But more importantly, we are going to do this with thoughtful intention and through the lens of identifying what is truly best for kids.

And one of the putative experts appointed thereto was Cristina De Jesus, mostly famous for being the supreme commander of behemothic privatizing charter school organization Green Dot California. And even though Tony Thurmond thought the task forceers were going to think about the kids, well, as might be expected by the cynical,1 it turns out that, as shown in some emails I recently obtained via the California Public Records Act, De Jesus had very, very different ideas about her role on this expert body.2
The story begins on March 27, 2019, when Anna Phillips published a story in the Los Angeles Times, privatizers-into-a-tizzy-throwingly entitled How a couple worked charter school regulations to make millions. And into a tizzy indeed were thrown the privatizers, especially their ministers of truth.3 Thus did Green Dot commo-king Sean Thibault write an email to his Supreme Commander CDJ,4 proposing a response, perhaps to be submitted as a letter to the editor, which Thibault refers to as an LTE because of course he does.
This proposed LTE is incredibly worth reading for its crackpot accusation that "ideological charter critics" essentially caused Clark and Jeanette Parker to steal all that money from Today's Fresh Start Charter School because they "have focused their legislative proposals on areas that already have healthy public scrutiny" rather than what, according to Sean Thibault, they ought to have been doing, which is "partnering to update charter laws and regulations to help catch bad apples." But what we're really interested in here is Thibault's summing-uppery, directed at his boss CDJ:
Continue reading Green Dot Charter Schools CEO Cristina De Jesus Served On Gavin Newsom's State Charter School Task Force Earlier This Year — According To Tony Thurmond The Point Was To Identify "what is truly best for kids" — But De Jesus Told Her Colleagues That Her "Representation On The Task Force" Gave Green Dot "The Ultimate Voice" — And She Used Her Knowledge Of Task Force Meetings To Shape Green Dot PR Messaging On Charter School Controversies — None Of Which Sounds Like Thinking About What's Best For Anyone Other Than Green Dot — Oh And Also It Seems That In Early 2018 De Jesus And The California Charter School Association Were Just Sitting Around Waiting For Michelle King To Die — So They Could Start Manipulating The Choice Of Her Replacement — Which As We Now Know They Ultimately Managed Really Well — At Least From Their Infernal Point Of View — And Making Insensitive Remarks While They Waited — Which Is Not A Good Look For A Bunch Of Privatizing Vultures — Especially Given How Their Hand-Picked Dude Is Working Out →