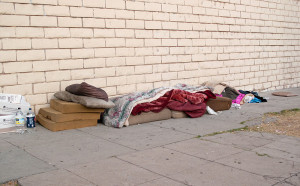 Yesterday, Judge Philip Gutierrez issued
an order
extending the discovery deadline in
L.A. Catholic Worker et al. v. City of L.A. et al.
until February 19 and moving the trial date to June 21, 2016. This order capped off a week full of filings. First, on Monday, January 11, presumably after
the hearing on plaintiffs' motion to compel discovery
,
Ronald Whitaker
, who supervises the Business and Complex Litigation section of the L.A. City Attorney's office, filed
a notice of appearance
in the case. He's (probably) the boss of Deputy City Attorney Elizabeth Fitzgerald, who has been defending the case for the City.
I didn't see the significance of this at the time, but it was clarified on Wednesday, when the plaintiffs filed an ex parte (that is, without the on-the-record participation of the defendants) application to amend the scheduling order to continue dates by 30 days. This is an unusual procedure and it seems it must be justified by the existence of exigent circumstances. In this case the first of these is that on Monday the 11th, after the discovery hearing, Elizabeth Fitzgerald had a medical emergency and will be on leave at least through the end of January. At the very least this requires the rescheduling of a bunch of depositions, and is probably why Ronald Whitaker joined the case. Note also that the plaintiffs asked for and received the City of LA's support of the application and that the CCEA did not oppose it.
Elizabeth Fitzgerald's illness is only one of the reasons supporting plaintiffs' request for an extension. The others all have to do with what's turned out to be a lengthy, drawn-out, painful, inch-by-inch discovery process. It seems that any optimism over the pace of document production, both by the City and by the CCEA, was unwarranted, and I'm guessing it won't even be complete by February 19, but we shall see, shan't we? There are some more specific details after the break if you're interested.
Continue reading A Series of Unexpected Events Add Up to Discovery Delays in L.A. Catholic Worker v. City of L.A., Central City East Association Lawsuit Over Homeless Property Confiscations; Trial Now Scheduled for June 21, 2016 →