I wrote recently about how LAPD Legal Affairs Boss Bryan Lium violated LAMC 49.5.5 by expediting a CPRA request for journalist Aura Bogado while at the same time hindering a request from Stop LAPD Spying. Today's story, about how LAPD CPRA Unit Boss Marla Ciuffetelli did precisely the same thing for KCET journalist Denise Chan, shows that Lium's antics with respect to Bogado's request were not an anomaly.
Ciuffetelli has her subordinates tag requests from her favored media outlets, presumably to distinguish them for expedited handling. And, like Lium, she was willing to send Police Commission Executive Richard Tefank innumerable emails encouraging him to hurry along Chan's request while repeatedly mentioning the fact that she works for KCET. And, like Lium's beneficiary Aura Bogado, Denise Chan's request got filled comparatively very quickly, in less than two months. As we've seen, other requests, from less favored requesters, can linger for years with no action at all.
Chan filed Request 20-3691 on June 11, 2020. That link leads to the actual NextRequest page as seen by a user not logged in as Chan or an administrator. But NextRequest request pages have a lot of material not visible to the general public. For instance, take a look at this PDF printout of the same request, but as seen by a logged-in user with staff privileges. In particular, make note of the tags added by the LAPD CPRA Analyst: LAPD: CAT-2, LAPD: CPRA (non-SB1421), LAPD: Media, LAPD: Other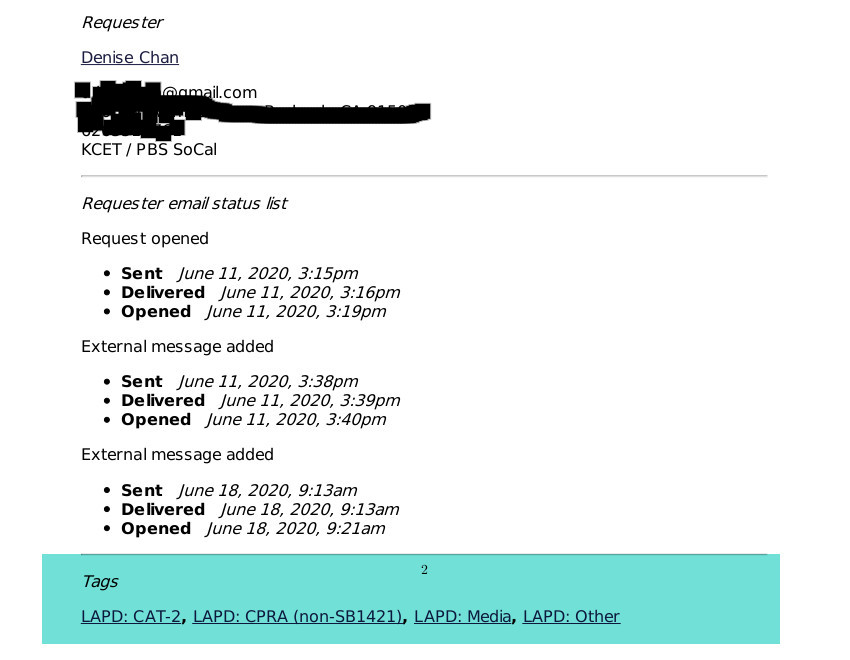 Unfortunately I don't yet have any way of figuring out what those tags actually mean. But there is still some useful information to be gained. For instance, I'm willing to guess that the LAPD: Media tag means that the requester is from a media organization that LAPD favors for as-yet-undertermined reasons. This may seem obvious, but it's not for a number of reasons.
In particular, take a look at this request that I submitted to LAPD on July 9, 2020. The linked-to PDF is again the logged-in administrator view, showing the tags: LAPD: CPRA (non-SB1421), LAPD: High Priority , LAPD: High Profile, LAPD: Other Note that although I explicitly and truthfully identified myself as a member of the media the analyst did not add that LAPD: Media tag.
However, they did add at least one tag not applied to Chan's request, which is the LAPD: High Profile tag. I know for a fact that this tag refers to me personally. To see this, take a look at Marla Ciuffetelli's weekly CPRA report for the week of August 15, 2020. You can see up at the top a headnote:
Continue reading Marla Ciuffetelli of LAPD's California Public Records Act Unit Specially Facilitated A Request From Denise Chan Of KCET — Ciuffetelli Had It Labeled With A Distinct Label Not Used For Less Favored Media Representatives — And Repeatedly Emailed Richard Tefank Of The Police Commission Encouraging Him To Hurry Up And Finish Chan's Request — Which He Did — It Was Completed In Less Than Two Months — She Also Went Out Of Her Way To Hinder Tefank's Processing Of My Requests — She Has A Special Label For Me Too! — Which Apparently Discourages Anyone From Working On My Requests — She Is Going Down For Violating LAMC 49.5.5 By Creating A Private Advantage For Chan — And Probably For Violating The First Amendment — Which Specifically Forbids Government Agents From Granting More Access To Their Pet Reporters — And From Deciding Which Media Outlets Are More Legitimate →