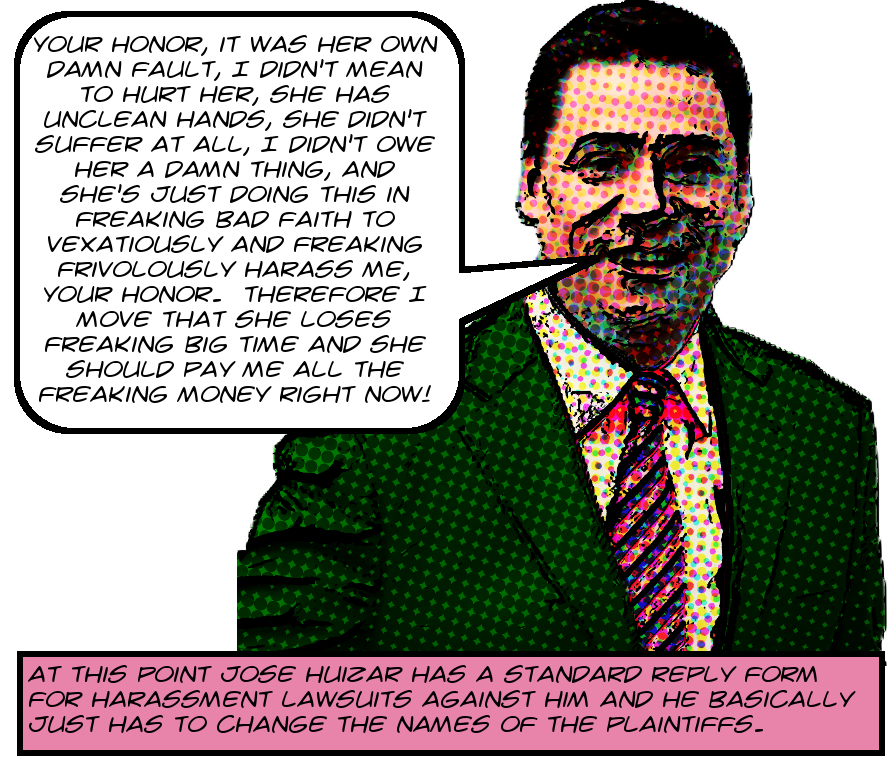 Unaccountably-not-yet-resigned City Councilmember José Huizar has two lawsuits pending against him, filed by former employees. Both of them most plausibly allege at least 31 flavors of harassment, outlawry, and workplace insanity against him. One was filed by Mayra Alvarez, his former scheduler, and you can read about it here. The other, filed a week later by Pauline Medina, is discussed here.
And last week Huizar filed his response to Medina's complaint, and I got a copy of it yesterday (and added it to my growing collection of pleadings here on Archive.Org). And it's not that interesting. These first answers to complaints rarely are. It's basically just a list of reasons why Huizar denies everything. In fact, the most interesting thing about it is that it's essentially cribbed from his answer to Alvarez, filed the week before it. I suppose if he's going to make a habit of inducing these kind of lawsuits, he might as well save money by developing a generic response form.
But that wasn't the only thing filed last week. Huizar also filed this peremptory challenge to Judge Barbara Meiers. The California Code of Civil Procedure at §170.6(a) allows any litigant to file such a challenge to one judge per case by affirming that the judge is biased against the party. It's not required to present evidence for this.
I'm not sure what it is that Huizar has against Meier, and there's not much on the Internet that tends to enlighten. Meier's reviews on the Robing Room are pretty uniformly abysmal, but that's true for most judges, it seems, so we're probably never going to know the facts. Turn the page to read the actual code section!
Continue reading José Huizar Files Totally Formulaic Response To Medina Complaint — Also Challenges Assigned Judge Barbara Meiers — Affirming That She Is So Biased That He "cannot, or believes that he cannot, have a fair and impartial trial or hearing before" Her! — What's Up With That?! →