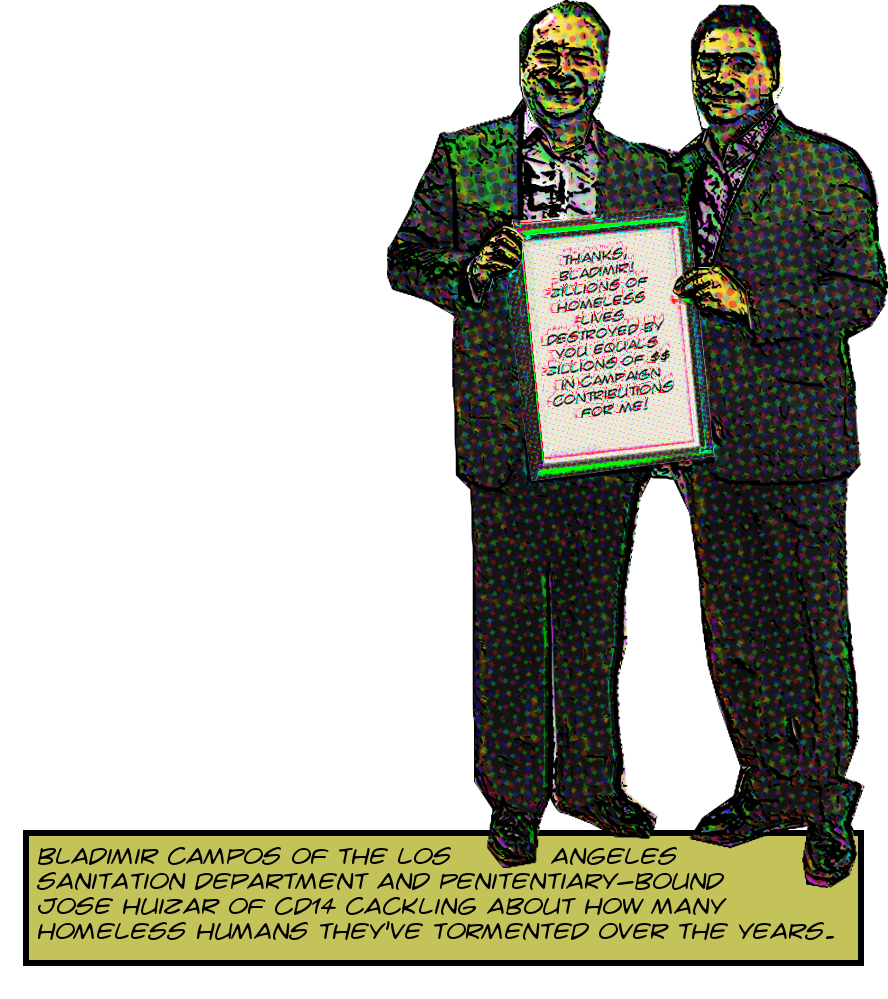 It's well-known that pretty much the entire response of the City government of Los Angeles to our homelessness crisis is criminalization and its subsequent brutality, implemented at the hands of police and weaponized sanitation workers, driven never by sound policy, morality, or basic human decency, but rather by the incessant hateful complaints of psychopathic genocidal housedwellers.
This policy is manifested most visibly in notoriously savage encampment sweeps, during which tents, medicine, legal papers, and other possessions absolutely necessary for human life, are destroyed by City functionaries and cops. The claim is that sweeps are necessary to keep the streets clean, although the utter cynical falsity of this claim is revealed by two facts.
First, the sweepers often neglect to pick up actual trash while they're destroying possessions and second, the City refuses to provide people living in encampments with the basic tools they need to keep their homes and neighborhoods clean in the first place, tools enjoyed by every housedweller in the City. Most important among these are trash receptacles and toilets. So crucially needed are toilets and trash cans and so cruel is the City's refusal to provide them that an entire coalition of activist groups, Services Not Sweeps, exists to demand that the City provide them, among other things.
And not only that, but I recently obtained a big set of emails between staffers in Paul Koretz's office and Bladimir Campos of LA Sanitation, who's responsible for, among other things, coordinating encampment sweeps when Council Districts ask him to. I don't know what excuses the City gives for their refusal to provide trash receptacles to encampments or even if they feel the need to excuse themselves, but one appalling fact I learned from these new emails is that the City actually has a whole system in place to deliver dumpsters to community events and pick them up afterwards.
Like all such perquisites in the City of Los Angeles, these so-called community dumpsters seem to be coordinated through Council offices, and you can read in this conversation and this other conversation exactly how much painstaking effort Koretz staffer Aviv Kleinman and a surprisingly large number of other City officials were willing to put in week after week after week after year after year to make sure that one of these dumpsters was made available by LA San for some community group's event.
And don't miss the supremely ironic fact that Kleinman's correspondent at Sanitation was none other than Bladimir Campos. So not only does the City refuse to provide trash receptacles to people who desperately need them, not only does the City use the entirely predictable consequences that flow from a lack of receptacles, but the City is refusing to provide receptacles when they already have an entire functioning system in place for providing trash receptacles.
Nothing at all needs to be developed, no new funding needs to be put in place. All that has to happen is for City Councilmembers to understand or to be made to understand that the people living in an encampment are of equal value to the people in some other kind of community group with respect to City-provided trash receptacles, no matter what kind of housing situation they're in. None of which is likely to happen, of course, because our public officials have no shame and no consciences. Read on for transcribed selections.
Continue reading It Turns Out That The Los Angeles Department Of Sanitation — Which Is A Key Player In The Raiding And Destruction Of Homeless Encampments — Will Provide "Community Dumpsters" For Housedweller Groups And Events — At The Behest Of Council Districts — And With A Huge Amount Of Attention And Time Devoted By City Staff — But None Of These Players — Not One — Will Provide Dumpsters For Homeless People Living On The Streets — These Are The Very Same Players Who Use Encampment Trash Accumulation To Justify Death-Dealing Sweeps — And It Is Supremely Ironic That Bladimir Campos — Of LA San — Is Involved In Both Activities →