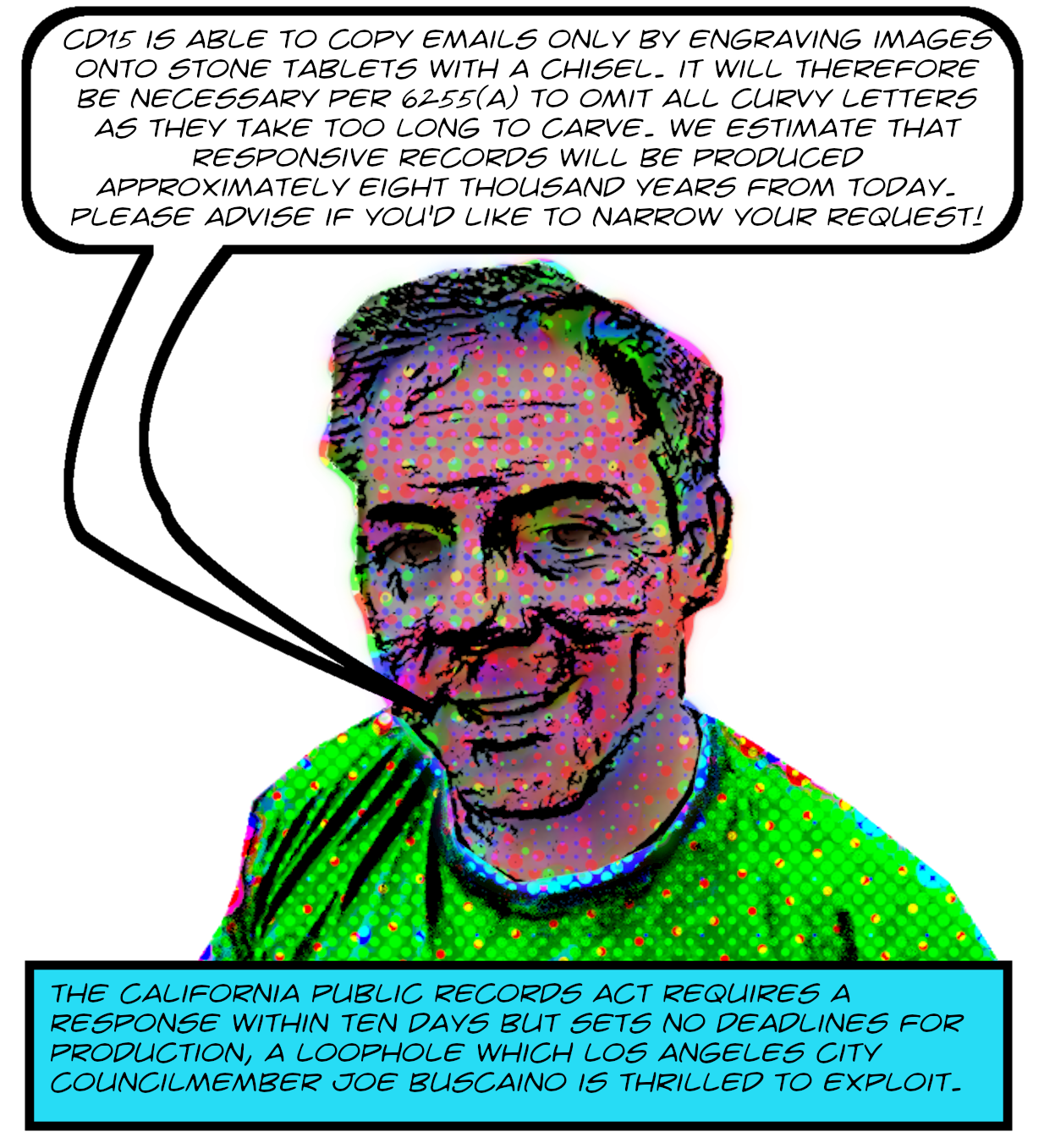 It's been a big few days around here! The Los Angeles Sunshine Coalition filed two CPRA suits against the City of Los Angeles and one against LAHSA and I personally filed one against the City of Los Angeles. Both LASC and I are repped by the formidable Gina Hong of the Los Angeles Center for Community Law and Action.
The case against CD15 is based on a request I made in June 2019, for which, two years later, I've only received minimal responsives with no unexpired deadline for production forthcoming. Buscaino staffer Amy Gebert's shameless violations of the CPRA led me to file two distinct complaints against her with the LA Ethics Commission, one in August 2020 and the other in February 2021.
This is an extremely exciting petition. It's the first time I've used a cause of action based on California Code of Civil Procedure §526a, which allows taxpayers to file suit against government agencies for wasting tax money.1 The idea is that by insisting on producing emails by printing them in color on paper and then scanning the paper to PDFs CD15 is wasting staff time on unnecessary processes and public money on completely unnecessary color printing.

Not only is the printing unnecessary, it's also contrary to the CPRA's requirement that electronic files be produced in the formats in which the local agency stores them.2 One huge benefit of including a 526a action is that it's possible to ask the judge to make the City stop wasting money on CPRA-violating policies, that is, to comply with the law in the future. This kind of relief is not readily available in the CPRA itself.3 In particular, and among other things, we ask:
That the Court enjoin the Respondent
4
to cease dilatory and wasteful practices in responding to CPRA requests, and implement standardized business practices that use available technologies to respond to CPRA requests.
The other three requests are more traditional in that they don't involve CCCP 526a. Progressive darling Nithya Raman, for instance, ignores CPRA requests and also fails to produce emails in native format. The only recourse is a writ petition, and here it is! Did I mention LAHSA? They also ignore CPRA requests, and again the only recourse is a lawsuit, so we filed one and here's your copy!
Finally, the Information Technology Agency of the City of LA refuses to produce email attachments in native format, including the detailed cell phone log of everyone's favorite unindicted co-conspirator, Councilmember John Lee. Anyway, all four of the petitions are filed, and stay tuned for updates!