On June 14, 2019 off duty LAPD Officer Salvador Sanchez killed Kenneth French in a Costco in Covina. On September 9, 2019 Riverside County DA Mike Hestrin presented the case to a grand jury, which subsequently declined to indict Sanchez. In 2020 both LAPD Chief Michel Moore and the Los Angeles Police Commission ruled that Sanchez violated Department rules by killing French.
This is all well-known. What I haven't seen discussed, reported on, or even published is this 24 Hour Occurrence Log form about the shooting, prepared by LAPD Force Investigation Division Detective Anthony Rheault on June 18, 2019, just four days after Sanchez killed French.1 In particular this initial report states that "In an unprovoked assault, Kenneth French struck the officer in the head, causing him to collapse to the ground with his child."
The 24 Occurrence Log also states that "The off-duty officer sustained blunt force trauma to his head." While there is some testimonial evidence that French did strike Sanchez it's not completely convincing and given that later pretty much every other aspect of his story turned out to be a lie, I'm not completely convinced.
Furthermore, Moore's final report, which was obtained and published by the Los Angeles Times, contains no convincing evidence that Sanchez suffered from any serious injury. To the contrary, Moore states:

The UOFRB majority noted that although the attack on Officer Sanchez by Kenneth was unprovoked, the inconsistencies in Officer Sanchez's statements and the lack of supporting evidence led them to determine that this incident did not support the drawing and exhibiting of a firearm. … The UOFRB majority also noted that Officer Sanchez indicated he was struck hard enough to be rendered unconscious, yet after receiving medical treatment, there was a lack of any substantiated injuries…"

So basically Rheault accepted Sanchez's story as fact on these two essential issues, issues on which all the different levels of review later found Sanchez's story to be inconsistent and implausible. It seems to me, at least, that investigators ought to keep their unsupported conclusions out of their reports and stick to the facts.

Like saying that Sanchez said that French had attacked him, along with statements by witnesses identified as such would be better. Saying that Sanchez claimed to have suffered blunt force trauma would be better, less prone to warp the later investigation with premature conclusions. Read on for a transcription and an image of the entire document.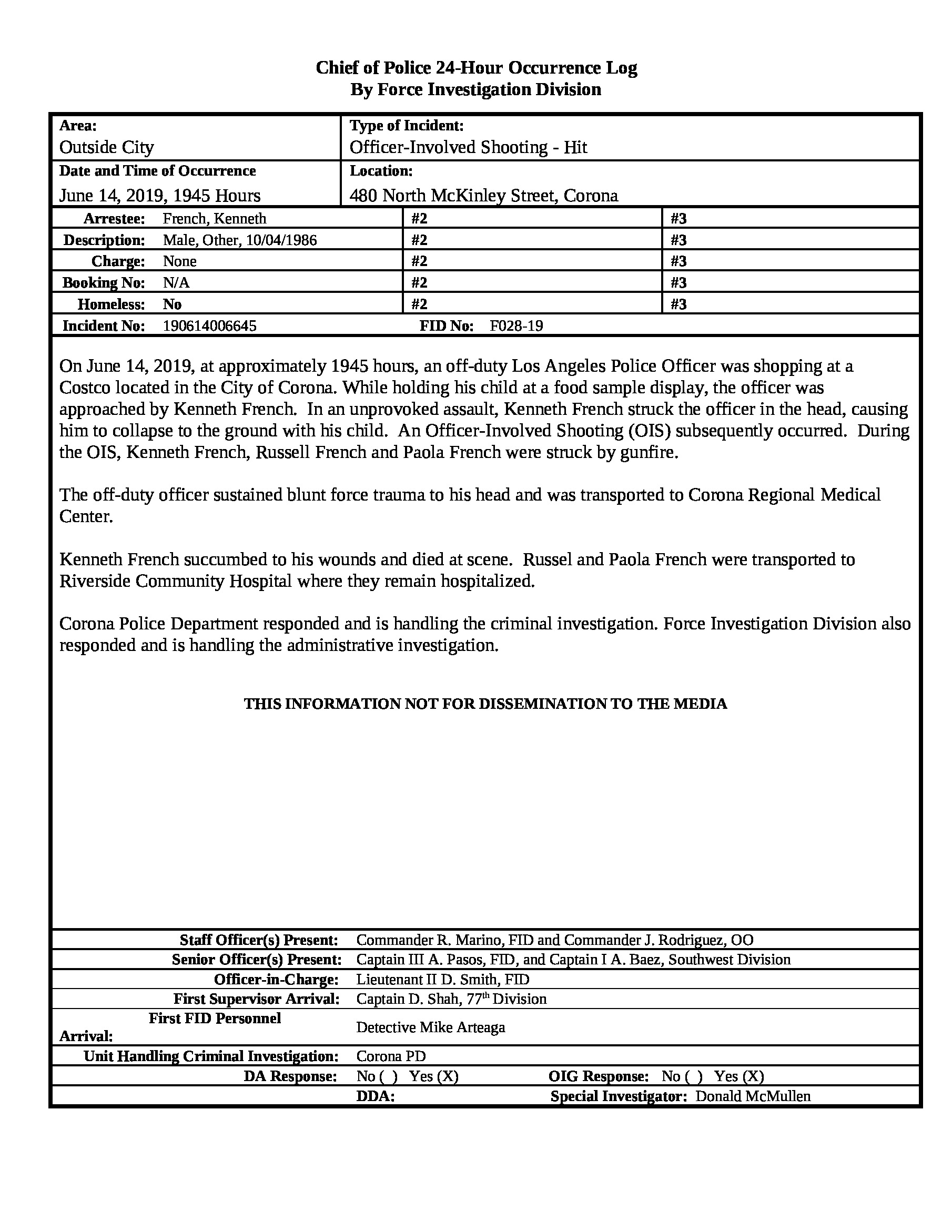 Area:

Type of Incident:

Outside City

Officer-Involved Shooting – Hit

Date and Time of Occurrence

Location:

June 14, 2019, 1945 Hours

480 North McKinley Street, Corona

Arrestee:

French, Kenneth

#2

#3

Description:

Male, Other, 10/04/1986

#2

#3

Charge:

None

#2

#3

Booking No:

N/A

#2

#3

Homeless:

No

#2

#3

Incident No:

190614006645 FID No: F028-19

On June 14, 2019, at approximately 1945 hours, an off-duty Los Angeles Police Officer was shopping at a

Costco located in the City of Corona. While holding his child at a food sample display, the officer was approached by Kenneth French. In an unprovoked assault, Kenneth French struck the officer in the head, causing him to collapse to the ground with his child. An Officer-Involved Shooting (OIS) subsequently occurred. During the OIS, Kenneth French, Russell French and Paola French were struck by gunfire.

The off-duty officer sustained blunt force trauma to his head and was transported to Corona Regional Medical Center.

Kenneth French succumbed to his wounds and died at scene. Russel and Paola French were transported to Riverside Community Hospital where they remain hospitalized.

Corona Police Department responded and is handling the criminal investigation. Force Investigation Division also responded and is handling the administrative investigation.

THIS INFORMATION NOT FOR DISSEMINATION TO THE MEDIA

Staff Officer(s) Present:

Commander R. Marino, FID and Commander J. Rodriguez, OO

Senior Officer(s) Present:

Captain III A. Pasos, FID, and Captain I A. Baez, Southwest Division

Officer-in-Charge:

Lieutenant II D. Smith, FID

First Supervisor Arrival:

Captain D. Shah, 77th Division

First FID Personnel Arrival:

Detective Mike Arteaga

Unit Handling Criminal Investigation:

Corona PD

DA Response:

No ( ) Yes (X) OIG Response: No ( ) Yes (X)

DDA: Special Investigator: Donald McMullen
The linked-to document there is a PDF that I exported from the original DOCX file. This is essential evidence because the metadata shows that Anthony Rheault wrote the report and that it was written on June 18, 2019:

ExifTool Version Number : 10.80
File Name : F028-19 Outside – OIS Hit.docx
Company : Los Angeles Police Department
Create Date : 2019:06:18 16:33:00Z
Creator : Administrator
Language : en-US
Last Modified By : Anthony Rheault
Last Printed : 2019:06:18 17:19:00Z
Modify Date : 2019:06:18 17:33:00Z
Revision Number : 7
Pages : 1
Words : 293
Characters : 1620
Characters With Spaces : 2240
Paragraphs : 55