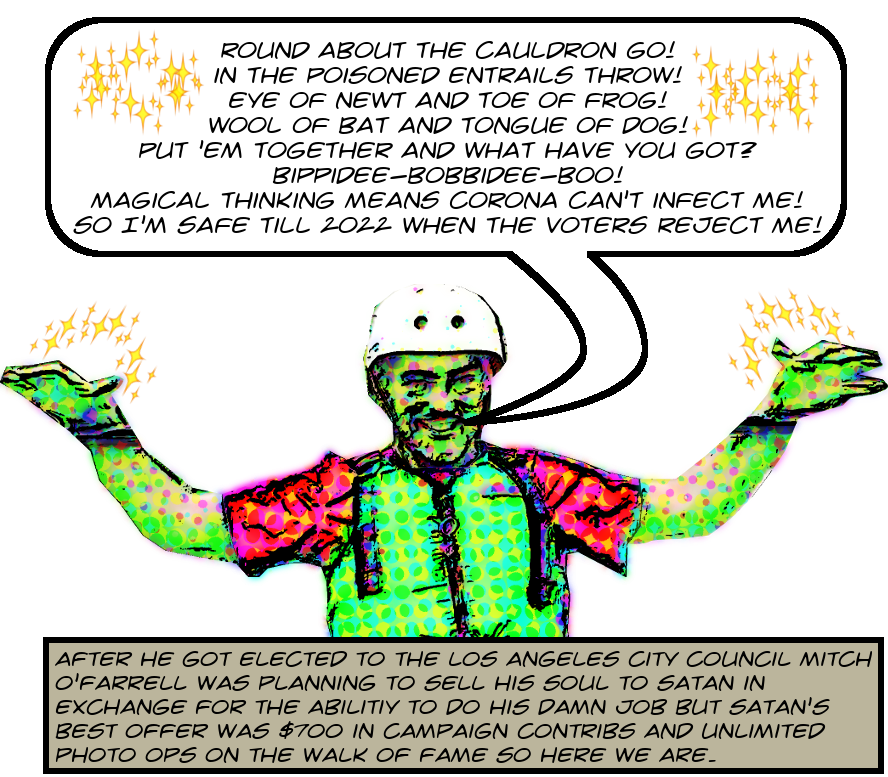 A couple weeks ago I reported that in April 2020, smack in the middle of a pandemic no less, Los Angeles City Councilmember Mitch O'Farrell had an in-person meeting with a bunch of unhinged housedwellers about how much they hated having to look at unhoused people living in Echo Park. And this all was going on at the same time that both O'Farrell and his staff were, despite their pleas and letters, refusing to meet with the unhoused people themselves, refusing to meet with activists who were organizing them, refusing to discuss public health with anyone, and refusing even to discuss the reasons for his refusal.
And not only that but O'Farrell was exposed to coronavirus at his meeting with these angry housedwellers. And by now it seems pretty ironic that actually they were the ones spreading disease. You may recall that in their list of demands to O'Farrell, one of the housedwellers' reasons for demanding the eviction of the Echo Park homeless encampment was the threat to their health created by its presence: "[t]here is a high risk due to human waste and illegal drug waste, which is a haven for an epidemic of Cholera, dysentery,hepatitis A & E, typhus, and even leprosy."1
The bare fact of the exposure was all I knew of when I wrote that earlier post. But since then CD13 has produced a little more material, all of which you can find here on Archive.Org,2 and among this stuff is an email conversation in which O'Farrell quizzes his nightmare field deputy Juan Fregoso about who had it, where he was standing, was he likely to have transmitted it, and so on.3 It's the kind of thing you might expect from a guy like Mitch O'Farrell, and there's a transcript below. There's no big news here, no breakthrough explanations of the characteristic feckless idiocy with which O'Farrell conducts all his public business.
But if you read as many of these City staff emails as I do you'll recognize that O'Farrell is being weirdly talkative here. It's so rare to get anything in writing out of CD13 that's actually from the Councilmember. Either O'Farrell is consciously not putting things in writing or his staff is way, way overclaiming exemptions to withhold all of it.4 There's certainly plenty of evidence that they do that. And of course if you're the wrong kind of constituent he doesn't have a single word for you nor a single moment in which to speak it. But here he is, in fear for his life,5 and all of a sudden he's got plenty to say.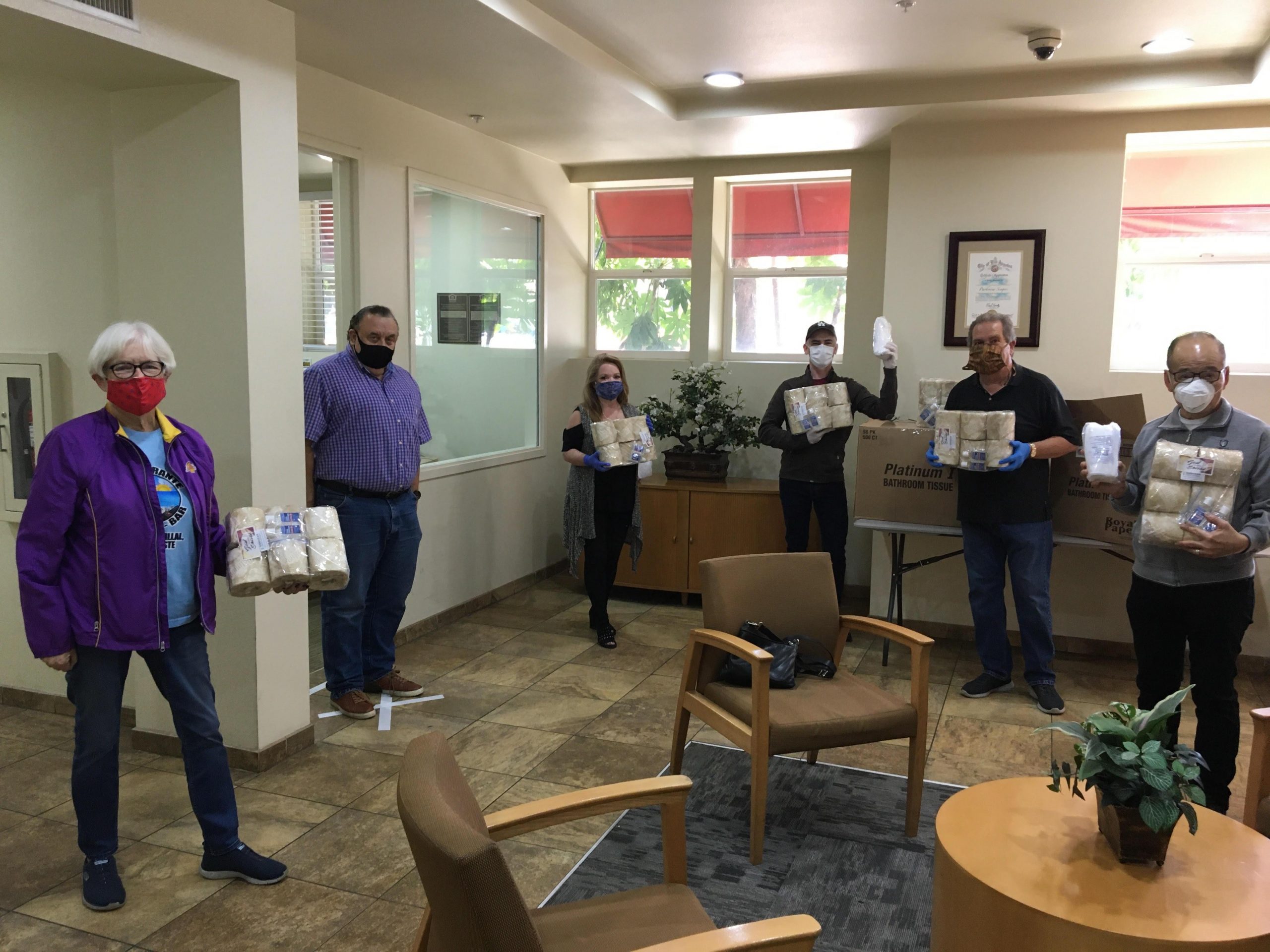 Transcription of the email conversation:
---
---
From: Rick Wulfestieg <RWulfestieg@foursquare.org>
Date: Mon, Apr 27, 2020 at 3:10 PM
Subject: Parkview's resident manager tested positive for Coronavirus and in Kaiser ICU
To: Juan Fregoso (juan.fregoso@lacity.org) <juan.fregoso@lacity.org>
Hi Juan,
Thanks to you and Mitch for dropping off care packages for the seniors. Unfortunately Anthony, our resident manager is in Kaiser Hollywood with a severe case of the Coronavirus. He was admitted yesterday and doing much better today while receiving oxygen. This is a heads-up that you and Mitch may wanted to be tested since you were exposed to him last Tuesday. Parkview has been practicing recommended precautions such as masks, gloves, hand-sanitizers, and physical distancing. I was tested today at a site close to my home in Woodland Hills.
We are working with Dr. Silao Office and our legal counsel in preparing a notice to all Parkview residents. Some do not have computers to make an appointment for testing or cars to go to a drive-thru test location. Is there way we could partner with the Council District and/or City in getting testing to come to Parkview for these seniors who may be at risk?
Thanks for the consideration.
Rick Wulfestieg, Parkview Senior living Community Relations
---
---
On Mon, Apr 27, 2020 at 3:23 PM Mitch O'Farrell <mitch.ofarrell@lacity.org> wrote:
Well we'll. Juan and I both wore gloves and face masks the whole time we were inside which was a total of about 15 minutes I'd say. We didn't physically come into contact with anyone. But – we should still get tested.
---
---
On Mon, Apr 27, 2020 at 3:25 PM Mitch O'Farrell <mitch.ofarrell@lacity.org> wrote:
Juan, which one is Anthony? Did he come out of the room while we were talking? Didn't he keep a distance?
---
---
On Mon, Apr 27, 2020 at 3:31 PM Juan Fregoso <juan.fregoso@lacity.org> wrote:
Hello Sir,
He was in the office for the most part from what I recall. He stepped out to take the picture, I do not think he ever got close to us.
I just seen the picture we posted (Anthony is wearing the blue shirt).
---
---
From: Mitch O'Farrell <mitch.ofarrell@lacity.org> Mon, Apr 27, 2020 at 3:32 PM
To: Juan Fregoso <juan.fregoso@lacity.org>
Cc: David Cano <david.cano@lacity.org>, Jeanne Min <jeanne.min@lacity.org>, Marisol Rodriguez <marisol.rodriguez@lacity.org>
That's who I thought it was. He seemed extremely cautious too.


Image of Mitch O'Freaking Farrell is ©2020 MichaelKohlhaas.Org and you might take a look at this little slab of puckey on MOF's YouTube Channel but if he somehow gets a sense of shame and takes it down you can also get it here on Archive.Org.