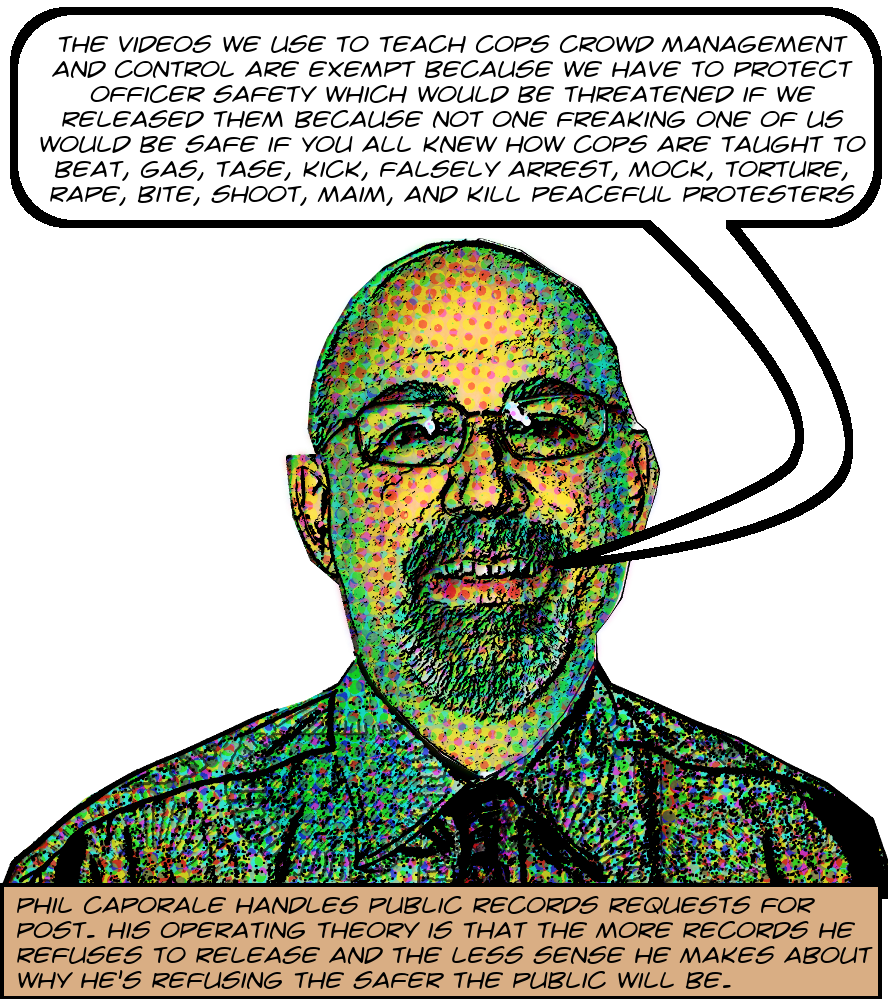 The California Commission on Peace Officer Standards and Training, known as POST, publishes well over a hundred video training courses for local police forces. I learned recently that POST is subject1 to the California Public Records Act and a couple weeks ago I sent them a request for all their training videos.2 There are 124 of these videos, and ultimately POST agreed to send 79 of them.
However, Phil Caporale, the POST staffer who's handling the request, claimed that the other 45 were exempt from release. His first attempt at an explanation for withholding them was that they "are deemed Law Enforcement sensitive"3 and that therefore they were exempt from release via the infamous §6255(a) catch-all exemption. Also at first he didn't tell me how many videos he was withholding or which ones they were.
Now, §6255(a) is by far the most often abused section of the law. It allows agencies to withhold records without a specific authorizing exemption when "on the facts of the particular case the public interest served by not disclosing the record clearly outweighs the public interest served by disclosure of the record."4 But the section is very clear that "the facts of the particular case" must support the decision to withhold. It's not enough, not at all, for an agency to make something up, like that they "are deemed Law Enforcement sensitive," as a justification for invoking 6255(a).
After I pressed him a little he informed me that to release these 45 videos would endanger the safety of both the public and of officers. He also listed the 45 videos he was proposing to withhold.5 The list is transcribed at the end of this post and you can also find it in this PDF of Caporale's email. But that bit in §6255(a) about the "facts of the particular case" isn't in there for nothing. It requires agencies to have an explanation for each withheld record that's based on specific facts about that record.6
And the agency's explanations have a very specific job to do. The section requires that the agency show that "the public interest served by not disclosing the record clearly outweighs the public interest served by disclosure of the record." So for the sake of argument suppose Caporale is correct when he says that releasing these 45 videos is going to endanger the safety of the public and of officers. Even so, not endangering safety is not the only public interest in the world. Caporale's bare assertion, even if true, is not by itself a sufficient reason for withholding the records.
For each of these 45 withheld videos there's some public interest in their release. The agency's reasons for withholding must demonstrate not only that those interests are outweighed by the public interest in not endangering safety, but "clearly outweigh[ed]" by it. We're assuming for the sake of argument that Caporale's articulation of the public interest in withholding applies to each of the 45 videos, but their subjects are so varied that it's inconceivable that the same public interests in the release the videos apply to each one.
For instance, one of the videos Caporale proposes to withhold is called CHILD SEXUAL ABUSE AND EXPLOITATION. The public interest in seeing how police are trained to deal with the sexual abuse of children is a very different thing from seeing how police are trained to handle, for instance, traffic stops.7 I can easily imagine an argument that if police training on the sexual abuse of children were published it could endanger the safety of children by revealing police tactics to the abusers and that the public interest in not doing this clearly outweighs the public interest in seeing the video, whatever that might be.8
On the other hand, police traffic stops are famously a tool of racist oppression. Even if traffic stops were dangerous for police it's really plausible that the public interest in understanding how police are trained to handle them is so cosmically high that there's no way it's outweighed by the public interest in not endangering police by revealing their training, let alone clearly outweighed. Combine that with the fact that traffic stops are not actually dangerous for police and one has a plausible case that a §6255(a) claim can't exempt a traffic stop training video from release.
But for now the quality of these arguments isn't important. It's not even important how they'd play out in court,9 what's important is that the arguments are completely different from one another. It's not possible that Caporale satisfied the requirements of §6255(a) without a separate consideration of each of the 45 videos he's proposing to withhold. This is typical of §6255(a) abusing agencies. They act as if they only have to cite the section and they're done. They often refuse to state the public interest protected by withholding the record. They universally refuse to state the public interest in releasing it against which they are required by law to have weighed it. They generally will not discuss it at all.
And there are other incredibly unbelievable claims on Caporale's list. For instance, he's proposing to withhold two videos on the legal aspects of terrorism. It's just not possible that these could be exempt under any §6255(a)-based theory. If the training explains what the law actually is then the information is already public and can't be withheld. If the training explains things that the law actually is not then the public absolutely needs to know about that.
Which brings us to two particularly timely items that Caporale refuses to release because to do so would endanger public and officers. These are videos on CROWD MANAGEMENT, INTERVENTION AND CONTROL and CROWD MANAGEMENT UPDATE. Again, for the sake of argument, suppose Caporale's not just blowing smoke with his safety-endangering theory.10 And this last week11 we saw police all over the state of California12 rioting, attacking, beating, restraining, torturing, tasing, shooting, running over, killing members of the public. Members of the public assembled into crowds.13
Presumably these police had some training on handling large groups of people, and presumably the content of that training is related somehow to police conduct during their rampages. Police agencies and cities are already being sued over their actions. Thousands of hours of video show that police are not in danger and that they themselves are pretty much the only danger to the public. For the public to know how they were trained couldn't possibly endanger the police and the public couldn't possibly be more in danger than the evidence shows they already are, and that from the police themselves.
Given the facts of this historical moment it's not merely implausible that some nebulous public interest in non-endangerment clearly outweighs the public interest in understanding the relations, if any, between these training videos and this long, long week of violent police attacks on human beings. It's not merely implausible, it's impossible to imagine. The very argument is dismissive of human suffering. For Caporale to make this argument explicit would take a remarkable level of shameless chutzpah.
But of course he's not making it explicit. He didn't even think about it. It never occurred to him. He said some meaningless words as if they were an incantation and hoped he'd banish the demon by whom he was beset.14 Which shows a whole different kind of contempt, also ubiquitous. In any case, this story, like so many, highlights a really huge flaw in the Public Records Act. Now that Caporale made that loony argument I can debate the matter with him but no one can force him to hand over the records except a judge.
It's pretty likely this particular matter is going to end up in court if Caporale doesn't change his mind. It's not unlikely that a judge would order the release of the videos.15 But that process can easily take years. Whatever we find out at the end of it, if we ever do find out anything, this moment in history will be long gone. The information will still be valuable, but its value will be very, very different from what it would be if we could see those videos now, this moment, before we set out to attend today's protests.
And that's the story. Like so many of them there's no ending yet. But maybe lost in this post is the fact that Caporale has already agreed to produce 79 of the videos, which I will publish as soon as I can after they arrive.16 Stay tuned! And stay safe!
List of 45 videos that Phil Caporale doesn't want to release:

ACTIVE SHOOTER
ANTI-REPRODUCTIVE RIGHTS CRIMES
BAILIFF TRAINING
CHILD SEXUAL ABUSE AND EXPLOITATION
CRITICAL INCIDENT MANAGEMENT (SEMS AND NIMS)
CROWD MANAGEMENT UPDATE
CROWD MANAGEMENT, INTERVENTION AND CONTROL
CUSTODIAL AND COURTROOM SECURITY
CYBER EXPLOITATION
DISPATCHER: SUSPICIOUS ACTIVITY REPORT
DOMESTIC TERRORISM UPDATE
ELECTRONIC AND PROJECTILE WEAPONS
EXTRADITION PROCEDURES
FUSION CENTER
GANG MEMBERS: A HIDDEN THREAT
GANGS & DRUGS: DEALING WITH GANG MEMBERS
GANGS & DRUGS: HOW GANGS OPERATE
HIGH TECHNOLOGY CRIMES AND DIGITAL EVIDENCE
HOMEGROWN ISLAMIC TERRORISM
HOMEMADE EXPLOSIVES
HOMICIDE INVESTIGATION
INITIAL RESPONSE TO CRITICAL INCIDENTS
INTERROGATION TECHNIQUES
INTERVIEW AND INTERROGATION
INTERVIEW TECHNIQUES
LEGAL ASPECTS OF TERRORISM
LEGAL ASPECTS OF TERRORISM UPDATE
PRELIMINARY INVESTIGATIONS
PRISONER SECURITY
PROTECTING OUR TRANSPORTATION SYSTEMS
RADICALIZATION
RADICALIZATION COUNTERMEASURES
SEXUAL ASSAULT INVESTIGATION: ADULTS & ADOLESCENTS
SOVEREIGN CITIZEN EXTREMISTS
STALKING
STATE THREAT ASSESSMENT SYSTEM
SURVIVING DEADLY ASSAULTS
SWAT OPERATIONS
TERRORISM AND FIRST RESPONDERS
TERRORISM INTELLIGENCE UPDATE
TERRORISM INTELLIGENCE UPDATE 2013
TERRORISM: SUICIDE BOMBERS
THE INTELLIGENCE PROCESS
TRAFFIC STOPS
WARRANT SERVICE AND BUILDING ENTRY TACTICS


Image of Phil Caporale is ©2020 MichaelKohlhaas.Org and Mark Zuckerberg was here, as freaking always.