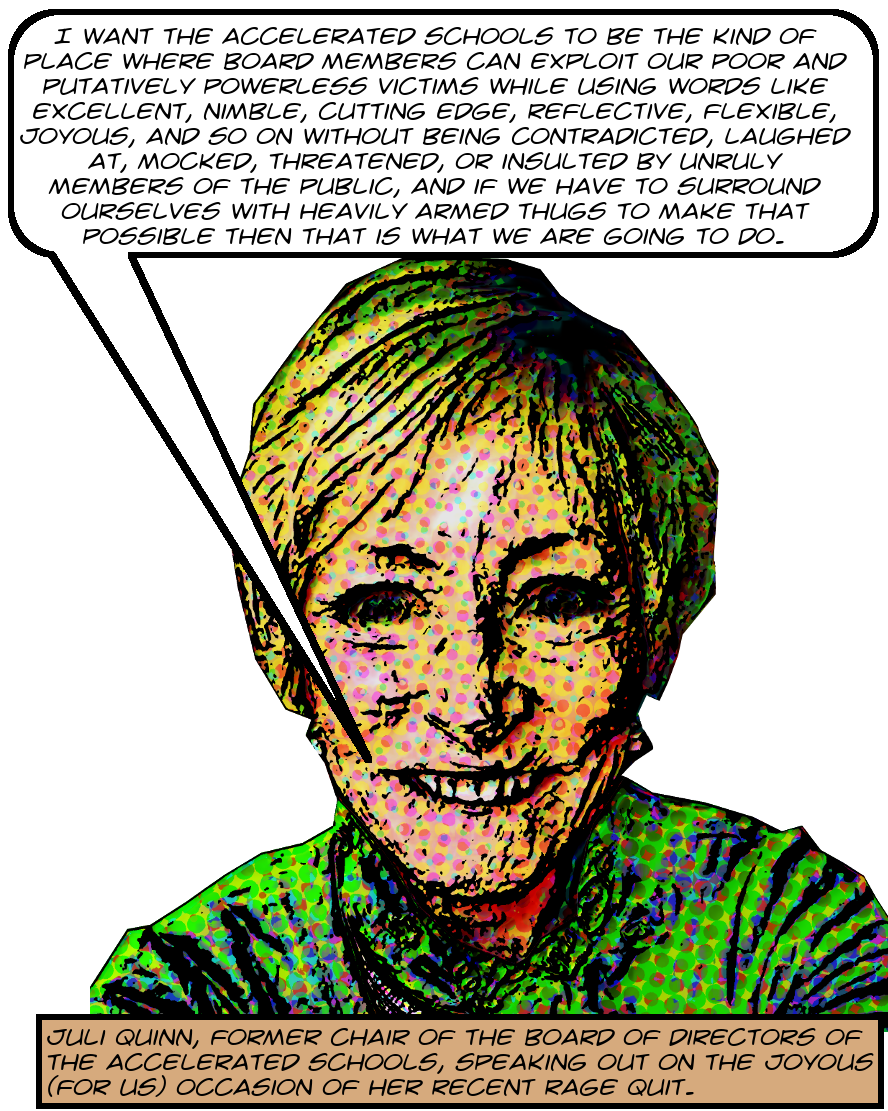 Ah, friends! Remember how Juli Quinn, the chair of the board of directors of that in-the-process-of-being-dismantled charter conspiracy known as The Accelerated Schools, got all mad and stuff that a bunch of people who in her mind ought to be grateful to her for her condescension and great-white-saviorism were not only not grateful but they were vocally and visibly angry?
And in her rage she resigned from her position on the board and slunk back to Palos Perverdes or whatever white supremacist stronghold she's presently calling home? Well, all that did happen. And then, because it turns out that she's too cheap to hire a good crisis communications outfit or maybe it just didn't occur to her that she needed one, she went and sent out an extraordinarily kooky and unintentionally revealing mass email to the school staff outlining her vision for what the school should be.
And it's kooky, it's kookier than I'd have thought. Too kooky to need commentary. It's transcribed below. Oh, I guess I will say that it's really disconcerting to read something this delusionally detached from educational reality, so clearly written by someone who has no idea what it takes to teach children, by someone who thinks it's only necessary to say words like excellent, joyous, and nimble to make them be true, and realize that someone somewhere thought it was OK to place actual human children into this person's care. It's not OK.
I'll close with a word to the wise, and Juli Quinn can read it too! If you have a vision for the future of an institution you're in charge of, no one really cares what it is after you rage quit. Want to implement your vision, pernicious as it might be? Don't freaking quit your job. Want to quit your job? Shut up about your damn vision. That is all. Stay tuned for some really, really blockbuster news coming about this damn school, by the way. Very, very, very soon!

Transcription of Juli Quinn's recent rage-quit email:

From: Board Announcement <boardannouncement@accelerated.org>
Sent: Wednesday, December 11, 2019 12:49:45 PM
To: Staff <STAFF@accelerated.org>
Subject: Message from Board President
Dear TAS Family,
At our last board meeting on Thu. December 5, 2019, I officially stepped down as TAS Board President from my 2 year term and Board Member after over two decades with our organization.
As I step away from the TAS Board, I have reflected on the 24 years of my involvement with TAS, and these are some of the memories that bring me joy:
· When TAS was awarded the Annenberg Grant for their aspirational approach to building a K-12 Pathway and Family of Schools
· When the TAS grew into a middle school and then into a high school
· When TAS was awarded a Gates' Early College Grant
· When WAHS first class of seniors graduated
· When each schools' ground breakings and openings occurred
· When I joined the Board
· When I was given the responsibility to serve the Board for a two year term as president
Four of most cherished accomplishments while supporting TAS' growth are:
1. Ushering in new leadership: CEO, Mrs. Grace Chang has brought stability, quality, accountability, and transparency to the organization
2. The Collaborative Consensus Committee (C3): an enduring structure to provide a forum for teachers and administrators to come to agreements through representation, research, and thoughtful decision making
3. The implementation of the Parent Advisory Committee (PAC): an authorized committee of the TAS Board, subject to the Brown Act, with duties which will include a report out at each Board meeting.
4. The re-establishment of the School As a Whole (SAW): a fundamental component of the Accelerated Schools model where parents, the community, the faculty and staff can come together on issues, celebrations, and interests that are common across grades, departments, and schools
In closing, I have A Vision of The Accelerated Schools, and I'd like to share it with you now:
Ultimately, I would like TAS to be a MODEL for all small Charter Management Organizations (CMO) as a place where three diverse schools attract students from around LA who want to attend schools where great educators love to work.
I want TAS to be The CMO that draws the best and brightest movers and shakers, educators, entrepreneurs, philanthropies, and beyond. I want Universities to study us to keep us on the cutting edge with sustainable frameworks, models, and protocols for truly out-of-the-box approaches to working with divergent and underserved populations with limited resources.
I want TAS to be a reflective and nimble organization that is flexible without being weak, and sturdy without being rigid. I want TAS to anticipate and lead our students, families, faculty, staff, administrators, and the community through the daily-ness of schooling to a culmination of exceptional joy at the results of achievement felt and owned by all the TAS family.
I want TAS employees to expect systems developed with students' academic and social-emotional needs in mind. I want these systems to purposefully support the faculty and staffs' instructional and operational needs. I want TAS to provide a systemic model of sustainable, job-embedded professional support. I want all TAS employees to feel valued and to be treated with the assumption of good will, civility, decorum, kindness, and good humor.
I want TAS to be a place where there is a continuous loop of former graduates returning to contribute to the ongoing growth and success of current students. I want former graduates to assist in preparing our students to boldly enter new environments with critical knowledge, poise, confidence, humility, and some street smarts.
I want TAS to be a place where every child and every adult is safe, excited, smiling, and has a little skip to their step.
I leave you in good hands.
Most sincerely,
Juli Quinn

Image of former TAS board chair Juli Quinn is ©2019 MichaelKohlhaas.Org and you know, JQ has herself a Twitter!