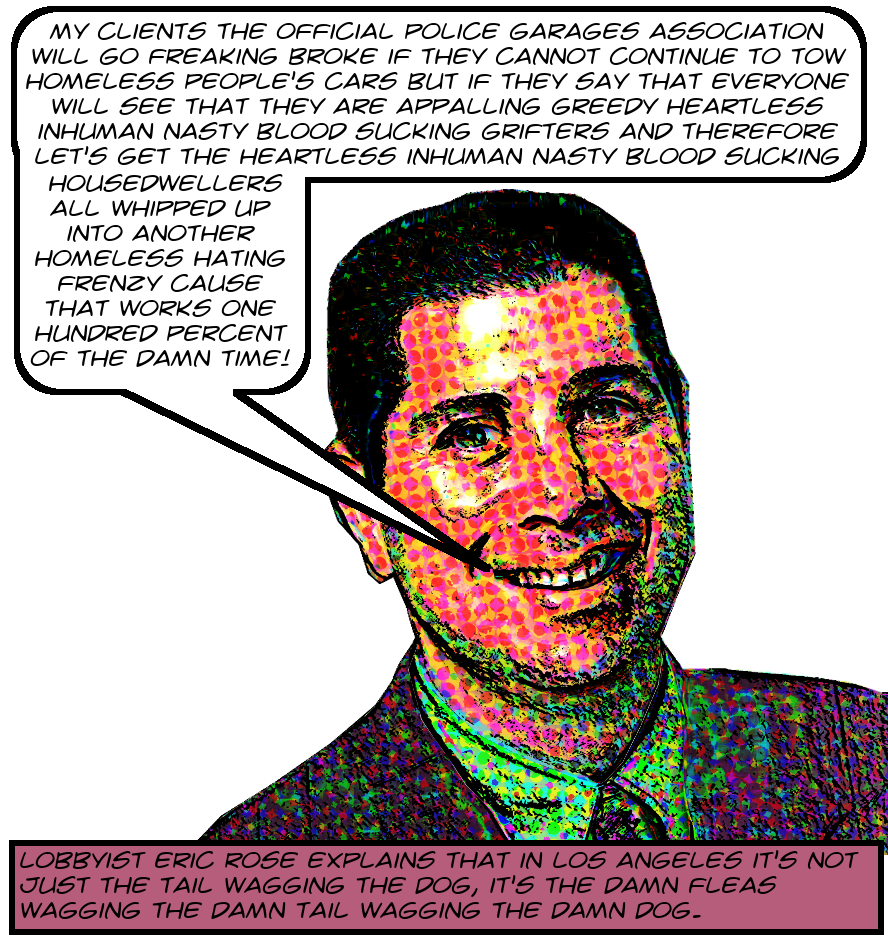 On March 18, 2019 the Western Center on Law and Poverty released a monumental report on the effects of poverty towing in California. In conjunction with the report, WCLP issued a press release announcing that Assemblymember David Chiu had introduced a bill, AB-516, seeking to end the practice. Nine days later fash-adjacent hand-picked interim CD12 representative Greig Smith introduced a resolution in the Los Angeles City Council proposing to formally oppose AB-516.
The rhetoric in the motion, to be found in Council File 19-0002-S50, is uniformly anti-homeless, fueled by the axiomatic housedweller beliefs that without coercive means of removing vehicle dwellers they will somehow take over and destroy every last inch of the public realm. And this was a great story, and a completely plausible motive for ultra-fash Greig Smith, who stood out for his inhumanity towards people forced to live on the street even among his homeless-hating peers on the Council.
However, emails newly obtained from CD12 via the California Public Records Act prove that this was nothing but a cover story.1 No one involved cared at all about the relationship between poverty tows and vehicle dwellers. The anti-homeless rhetoric in this case was no more than smoke behind which was hiding the fact that the only reason that Smith moved to oppose Chiu's bill is that Eric Rose, a lobbyist with thermonuclear Los Angeles lobbying firm Englander Knabe Allen, incestuously linked with CD12 in any number of ways, represents the Official Police Garages Association of Los Angeles, who would obviously lose a lot of money if the number of tows decreased for any reason whatsover.
On March 19, one day after WCLP's press release announcing the report, Rose asked Smith2 to oppose Chiu's bill and asked Smith's permission to draft a motion to that effect. As Rose cynically explained, though, "The OPG's can't oppose this because it will be viewed as self-serving." OPGs, of course, are the official police garages. Smith forwarded Rose's email to his legislative deputy Erich King, and later that night Rose sent Smith a draft motion, also forwarded to King. And a few days later Smith's actual motion was introduced. Written, no doubt, by King, heavily influenced by Rose.
In the text of the motion there's nothing whatsoever about the Official Police Garages, Rose's client, whose income the sole purpose of this opposition was to protect. Instead the text is all about enforcing the law and the subtext all about punishing people who live in vehicles. Don't forget, never forget, that none of that's the reason for any of this. It's ironic, by the way, that Rose's cover story relies so heavily on the need to enforce the law. His draft and the actual motion go on and on about scofflaws and how Chiu's bill would enable them.3
The irony lies in the fact that the Los Angeles Municipal Lobbying Ordinance requires lobbyists such as Rose to disclose not only their clients to the City Ethics Commission but also City departments lobbied on their clients' behalf. Here's a copy of Rose's disclosure form for the first quarter of 2019 and, as you can see, it does not disclose his lobbying CD12, nor for that matter any City Council office, on behalf of the OPG. In case you're curious, yes, I did turn the guy in to the Ethics Commission for this.
And of course you're aware that a favorite rhetorical trope of anti-homeless vigilante housedwelling social media warriors is to accuse social workers, outreach workers, basically anyone who's even marginally opposed to forcible relocation and other state or informal violence directed against homeless people is to accuse them of getting rich from the existence of homelessness. Of profiting from the existence of the problem they claim to decry.
Keep this story in mind next time you hear that pernicious nonsense. Here a bunch of bloodsucking businesses, making huge profits by towing poor people's cars at the behest of the City, exploit the homeless, the vehicle dwellers, not just as a source of their considerable income, but even as a cover story behind which they hide their greed. Without homelessness there are mostly no poverty tows, so greatly reduced income for Police Garages. And without homelessness there's no dishonest narrative to hide their greed. Remember that next time they accuse you of being a paid advocate!
---
From: Eric Rose <eric@ekapr.com>
To: Greig Smith <citycouncilguy@yahoo.com>
Sent: Tuesday, March 19, 2019, 8:49:59 AM PDT
Subject: This legislation will hurt LA
Greig,
The proposed legislation by Assemblymember David Chiu to "eliminate poverty-related towing." The OPG's can't oppose this because it will be viewed as self-serving. I hope the City will oppose this legislation. Can you imagine the outrage from residents if the City can't tow motorhomes or cars that are parked for more than 72 hours?
Below is the press release that Assemblymember Chiu put out. I am also attaching the "fact sheets" he issued. Can I draft a motion for your consideration to have the City oppose this bill?
---
On Tue, Mar 19, 2019 at 9:56 AM Greig Smith <citycouncilguy@yahoo.com> wrote:
Lets get on this
---
Subject: Re: Fw: This legislation will hurt LA
From: Erich King <erich.king@lacity.org>
Date: 3/19/2019, 9:59 AM
To: Greig Smith <citycouncilguy@yahoo.com>
CC: Stephanie Uy <stephanie.uy@lacity.org>, Colin Crews <colin.crews@lacity.org>, Eric Moody <eric.moody@lacity.org>
On it
Erich King
Legislative Deputy
Office of Councilmember Greig Smith
---
From: Eric Rose <eric@ekapr.com>
To: Greig Smith <citycouncilguy@yahoo.com>
Sent: Tuesday, March 19, 2019, 6:59:12 PM PDT
Subject: Ideas for a motion
Maintain the Ability to Enforce Parking Laws Through Appropriate Towing
AB 516 (Chiu) purports to address the impacts of three categories of towing identified in "Towed Into Debt: How Towing Practices in California Punish Poor People" (Public Law Center, et al, March 2019). The report makes – as it acknowledges – conclusions and recommendations based on incomplete data and analysis. One of the report's conclusions that relates to AB 516 is: "Once a car is towed, many California families do not have the money to retrieve the car and cannot borrow the money." While this may be true, the cause of towing is not actually poverty, but the repeated, intentional acts of the vehicle owner/operator to not comply with specific parking and vehicle registration laws, as discussed below. [the # is ~80% but need to confirm with LADOT or delete and say "Most…"; unclear if LADOT will provide the figure…]
Both state and municipal parking laws promote public safety and ensure fair and equitable access to on-street parking that supports the economy and our populace. Persons with five or more parking tickets are scofflaws who repeatedly and intentionally violate parking laws (California Vehicle Code Section 22651(i)). Scofflaws do not represent a significant proportion of parking citations issued in the City of Los Angeles. Over __% of vehicles cited for a parking violation are not cited again for another parking violation. The current threshold of towing for five or more unpaid parking citations means that a driver – regardless of his or her financial situation – did not simply make a mistake or two. It means he or she violated parking laws repeatedly (which is unrelated to poverty) and subsequently did not pay the associated fines. Likewise, CVC Section 22651(o)(1)(A) allows for towing unregistered vehicles. A vehicle with an expired vehicle registration for more than six months has an owner that has intentionally decided not to comply with the law. It is not simply a late or delinquent payment and six months provides ample time to identify funds so that the registration can be paid or make alternative transportation arrangements. By not complying with vehicle registration requirements, vehicle owners also avoid having to provide evidence of vehicle insurance to the Department of Motor Vehicles. Lack of legally required vehicle insurance poses a public safety and financial risk to other motorists, cyclists, and pedestrians.
Finally, CVC Section 22651(k) authorizes the City Council to adopt 72-hour parking limits, as codified in Los Angeles Municipal Code Section 80.73.2. Vehicles parked illegally for more than 72 hours – regardless if they were parked legally for the first 72 hours – constitute an unfair utilization of on-street parking assets that should be available to the public at large, not just to an individual vehicle owner who intentionally breaks the law. In cases where the vehicle is inoperable and the reason the vehicle has not been moved is because the owner may not have the resources to pay for a repair, AB 516 would enable that owner to permanently occupy an on-street parking space and make that asset unavailable to the rest of the public in perpetuity. Such a vehicle that is not moved by the owner for an extended period of time becomes a de facto abandoned vehicle, a contributing factor to neighborhood blight and conditions identified by George L. Kelling and James Q. Wilson in their seminal essay "Broken Windows" (1982).
[decision point: include description of data analysis and report critique of City of Los Angeles?]
For context, the report highlights data analysis from eight of "approximately 20 different agencies" based on data supposedly received under the California Public Records Act (CPRA). The report does not base any of its analysis on the City of Los Angeles and speciously characterizes the City of Los Angeles as unresponsive. The report's contributor organizations and staff all are well-funded and sophisticated. It is unclear why the report would be rushed if the City of Los Angeles and other agencies' data was important. If the City of Los Angeles did not comply with the CPRA, as the report insinuates, the contributor organizations have the resources to secure any data that the City is legally required to provide.
Owning a vehicle is not a right and the City of Los Angeles is making extensive efforts to make the City more accessible and livable through expanded transit, cycling, pedestrian, and other transportation modes. Owning a vehicle comes with responsibilities, both legal and financial. Vehicle ownership has legally required costs (e.g. vehicle registration) and avoidable costs when the owner/operator behavior complies with parking laws (i.e. does not violate parking laws and/or pays citations in a timely manner when they do).
AB 516 (Chiu) may be a well-intentioned bill that attempts to address the financial impacts of some categories of towing, but it actually creates unwarranted incentives and rewards for scofflaws and lawbreakers that will result in negative impacts on the broader community.
I THEREFORE MOVE that Council adopt an OPPOSE position on AB 516 (Chiu) related to changes to California law that would reduce the City of Los Angeles' ability to tow the vehicles of scofflaws and lawbreakers.
---

Image of bloodsucking lobbyist Eric Rose is ©2019 MichaelKohlhaas.Org and you could do worse than clicking here!

Using Smith's personal email address, citycouncilguy@yahoo.com, because of course he did.