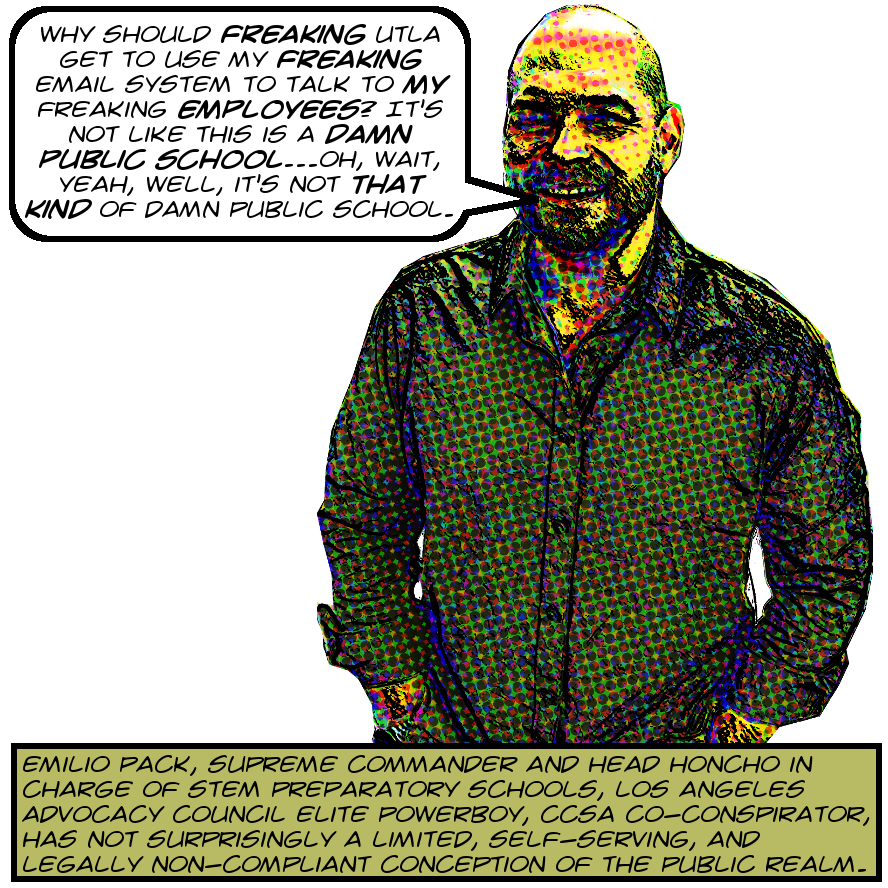 Today we're looking at Dr. Emilio Pack, supreme chief head executive honcho & founder of STEM Preparatory Schools, which is, of course, yet another instance of the usual herd of entities of the general type of entity that it's an instance of, and supremely so. Pack, renowned amongst those whose renown is the currency of his world, profiled and lionized and so on, is a member of the shadowy pro-charter conspiracy known to the world as the Los Angeles Advocacy Council. And not just any member, but a member of the executive committee, perhaps the chair, something big.1
And then there's the world's most privatizing law firm, Young, Minney, and Corr.2 Famous in these parts for their of counsel guy, H. Wayne Strumpfer and his hapless and feckless but tireless advice to the hapless and feckless but tiresome Ms. Sakshi Jain, founder and CEO of weirdo little co-locationist charter upstart GANAS Academy.3 And then, of course, there is the UTLA, which needs no introduction around here and neither does their monumental strike in January 2019.
It's well-known, of course, that charter schools hate unions, and that, friends, is where our story begins! Well, and ends too, pretty much. It seems that on January 7, 2019, UTLA sent an email to a bunch of charter school employees, expressing solidarity and explaining their position vis-a-vis charter schools and the strike. I have a copy of it only because Kerry Kletter, who is not just the head boss of Village Charter Academy but is also a bootlicking snitch of the first water,4 emailed a copy to bootlicking first-water snitch-handler Cassy Horton of the CCSA and was all like OMG the freaking nerve of these damnable unionists! You can read a copy of it here along with subsequent bootlickery between Kletter and Horton.
And it seems also that this letter was sent to some people who worked at STEM Prep, laboring in the happy fields overseen by Supreme Executive Commander Pack! And it seems that Supreme Executive Commander Pack blew his supremely executive commanderish stack! And decided to block incoming UTLA emails! Because why should damnable unionists consume his valuable electrons?! But supreme executive commanders generally have not attained the supreme executive commanderships they enjoy by taking action without weighing potential consequences, And Pack is clearly no exception. Thus did he ask his lawyer, Janelle A. Ruley, hey friend! Can we do this thing?
And Janelle A. Ruley was all like no freaking way, friend! That's just the very briar patch into which the UTLA seeks to get thrown! Later they will lie about stuff and you'll be busted! And, as it happens, I know this story because subsequently Emilio Pack forwarded an email from Ruley to Christina De Jesus of Green Dot Charter Schools and a couple of pinheaded flacks from the California Charter Schools Association, thus waiving the privilege and creating a public record which, as will happen, I managed to obtain a copy of. Here's a link to a PDF of it and you can read a complete transcription below!


Hi Emilio,
Thanks for checking in on this one. We ultimately advise that STEM Prep schools do not block incoming messages from UTLA. The reason is that bargaining laws are written broadly enough, and UTLA's email is vague enough, that the Union could someday down the road claim that those emails to STEM Prep employees is a part of an organizing campaign to add teachers at the STEM Prep charters schools to its membership and that the effort to block their emails was an unlawful restraint of their ability to reach out to potential new membership.
I'd be glad to provide full legal documentation for this, if you would like. I sensed you were looking for a quick, direct answer, so that is what I have provided here.
If you want to send out an email to all employees on this issue, we can assist in drafting. The message would be along the lines of, "STEM Prep has been made aware of incoming emails to some employees from United Teacher Los Angeles. Please be advised that STEM Prep is not involved in any way in these messages and does not sanction their contents." Please let me know if you would like us to prepare or revise a draft.
Thank you,
Janelle
Janelle A. Ruley
Partner | Attorney at Law | Los Angeles Office
Young, Minney & Corr, LLP
655 University Ave, Suite 150, Sacramento, CA 95825
jruley@mycharterlaw.com
T: 916.646.1400 | F:
| C: 703.861.3955
www.mycharterlaw.com
CONFIDENTIALITY NOTICE: This email and any files transmitted with it are confidential and intended solely for the use of the individual or entity to whom they are addressed. If you have received this email in error, please notify the sender by reply e-mail or by telephone at (916) 646-1400 and delete the transmission. Thank you.


Image of Supreme Commander Emilio Pack doing what he does and carrying out his activities is ©2019 MichaelKohlhaas.Org and you might want to take a look at this. You just might.