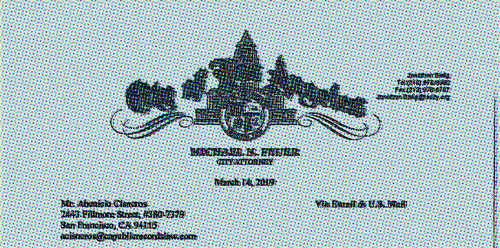 In February, my hand forced by the mindless obstructionism of the City of Los Angeles with respect to compliance with the California Public Records Act, I filed a petition asking a judge to compel them to hand over two classes of records. First were private person's arrest forms generated in Hollywood in 2018. The point here is to be able once again to track arrests by the BID patrol after their appalling 2016 contract amendment took these records, at least for now, out of the reach of the CPRA.
The second kind of records I'm seeking in the suit are postings to the Regional Public Private Infrastructure Collaboration System, familiarly known as RPPICS. This is some kind of cop bulletin board that a lot of BIDs have access to, and the LAPD claimed that everything on the system could be withheld from me under the so-called investigative materials exemption to the CPRA, found at §6254(f).
And it's these last ones that seem to have cracked the case. Last Thursday the City of Los Angeles, in the person of Deputy City Attorney Jonathan Bislig, sent over this letter admitting that the City possessed responsive RPPICS material that was not exempt and yet had not been produced. And they attached four pages of material, constituting three responsive records. There's a transcription of the letter and of one of the RPPICS items after the break, and here are links to all three:
This is not only hugely important because we finally get to see some material from the hitherto top secret RPPICS, but also because the fact that the City released previously withheld material as a result of a suit means that I'm the "prevailing party" and therefore that the City has to pay my lawyer. This was held in the monumental 1991 case Belth v. Garamendi, which interpreted §6259(d) of the CPRA thus:

In this case we hold that Government Code section 6259, subdivision (d), mandates an award of court costs and reasonable attorney fees to a plaintiff who prevails in litigation filed under the California's Public Records Act. We further hold that the plaintiff has prevailed within the meaning of the statute when he or she files an action which results in defendant releasing a copy of a previously withheld document.

This release is also hugely important because it shows really clearly that LAPD's original denial was completely bogus. There's nothing investigative at all about these three records. They falsely characterized them that way purely so they didn't have to produce them, or even search for them, for that matter. It's shameful that LAPD, and the City of Los Angeles as a whole, treats its mandated duties under the CPRA so lightly. It's also shameful that the only means to enforce compliance is a lawsuit.
Together, these shameful facts mean that the only possible strategy is to keep suing them until they get their act together. It's going to be expensive for taxpayers, who have to foot the City's legal bill and also the requester's in successful cases, but as Sigmund Freud famously said, if you don't pay you don't get better. More news as I have it, and turn the page for some transcriptions.

Transcription of Jonathan Bislig's letter:

March 14, 2019
Mr. Abenicio Cisneros
2443 Fillmore Street, #380-7379
San Francisco, CA 94115
Via Email & U.S. Mail
Re: Mike v. City of Los Angeles, Los Angeles Police Department
Case No. 19STCP00302
Regional Public Private Infrastructure Collaboration System (RPPICS) Records for August 2018
Mr. Cisneros:
On or about August 31, 2018, a request was made via the City of Los Angeles' NextRequest public records web portal for "everything posted to the Regional Private Infrastructure Collaboration System in August 2018." This request was identified as NextRequest #18-2311.
The Los Angeles Police Department (Department) located a total of three RPPICS records responsive to this request. The Department has agreed to diselose these records. Enclosed please find the following:
(1) High Visibility Deployment Recommendation for Weeks of August 13-26, 2018
(2) JRIC Daily Report, August 2, 2018
(3) JRIC Daily Report, August 7, 2018
Disclosure of these records completes this request. If you have any questions or concerns, please feel free to contact me.
Sincerely,
Mike Feuer
by
Jonathan Bislig

Transcription of RPPICS High Visibility Deployment Recommendation, Week of August 13, 2018

For Official Use Only (FOUO)
High Visibility Deployment Recommendation for Weeks of August 13-26,2018
Information Cutoff Date: August 10, 2018
SITUATION:
At this time, there is no known threat toward the city of Los Angeles, however, we must be mindful of the persistence and patience of the international and domestic terrorist threat, and maintain our vigilance for suspicious activity in and around our city for those that may be engaged in pre-operational surveillance and planning of a terrorist act.
The following national and international events are provided for situational awareness only:
• August 10: Canada – A suspect killed two Fredericton police officers and two others during a domestic disturbance before police arrested him. Police did not release the names of the victims or suspect. Fredericton is the capital of New Brunswick in eastern Canada.
• August 8: Orange County, CA — Authorities arrested Forrest Gordon Clark, 51, on suspicion of two counts of felony arson, one count of felony threat to terrorize, and one count of misdemeanor resisting arrest in connection with the Holy Fire in Cleveland National Forest. The Holy Fire is one of more than a dozen wildfires burning throughout California. Last week, Clark – who had a decade-long feud with local cabin owners and claimed he could read minds – allegedly sent an email threatening "this place will burn."
• August 7: Camden, New Jersey – Two plainclothes detectives were shot in their vehicle while stopped at a red light, and sustained non-life threatening injuries. Authorities have not announced a motive, and two male suspects remain outstanding. The shooting occurred on the evening of the city's "National Night Out" event.
• August 6: Guemeville, CA – Authorities arrested a man after he ignited a pipe bomb and threw it under a parked, unattended Sonoma County Sheriff s patrol vehicle. Sonoma County Sheriffs Bomb Squad rendered safe the suspect's backpack, which was believed to contain explosive devices. A Safeway market employee suffered minor injuries, was treated at the scene, and released.
METHODOLOGY:
Open source, law enforcement sensitive material, and tips/leads through the Joint Regional Intelligence Center (JRIC) were assessed and compiled to complete this predictive analysis.
RECOMMENDATIONS:
It is recommended that the Hazardous Devices Materials Section/Bomb Squad and Bomb Detection K-9, when available, provide a high visibility presence at the below mentioned locations. High visibility activities are a key tool in the detection and deterrence of terrorist preoperational surveillance activities.
In response to a reported bomb threat or discovery of a possible explosive device, personnel should direct officers on the perimeter to monitor the crowd for any suspicious activity inherent in a "dry run/rehearsal" by terrorists or other criminal elements. It is also important to remember that preoperational indicators may come months or even years apart.
The Asset Protection Unit (APU) will continue to liaison at the JRIC with the various agency representatives present. This presence will allow the APU access to real time information related to potential threats to critical Los Angeles City infrastructure.
LOCATIONS:
High visibility activities for faith based locations when possible should include a check-in with the facility. Critical Infrastructure Key Resource (CIKR) locations, such as water treatment plants, various schools/religious institutions, and Defense Industrial Base (DIB) facilities which are enclosed within a secured perimeter and posted security personnel, may not be suitable for traditional dismounted high visibility/patrol activity.
For those types of infrastructure, high visibility consisting of vehicle patrol to disrupt hostile surveillance and a perimeter check of the facility will provide a positive enhancement to their security posture.
The following critical infrastructure sectors will be the focus of high visibility patrols for this bi-week period. Sectors are added or removed based on the current threat information and documented suspicious activity.
7th and Metro – Downtown Los Angeles – commercial facilities and residential areas Transit facilities — surface and air, to include the Port of Los Angeles Mass gathering/entertainment – shopping, performance and sports venues Faith Based – churches and schools