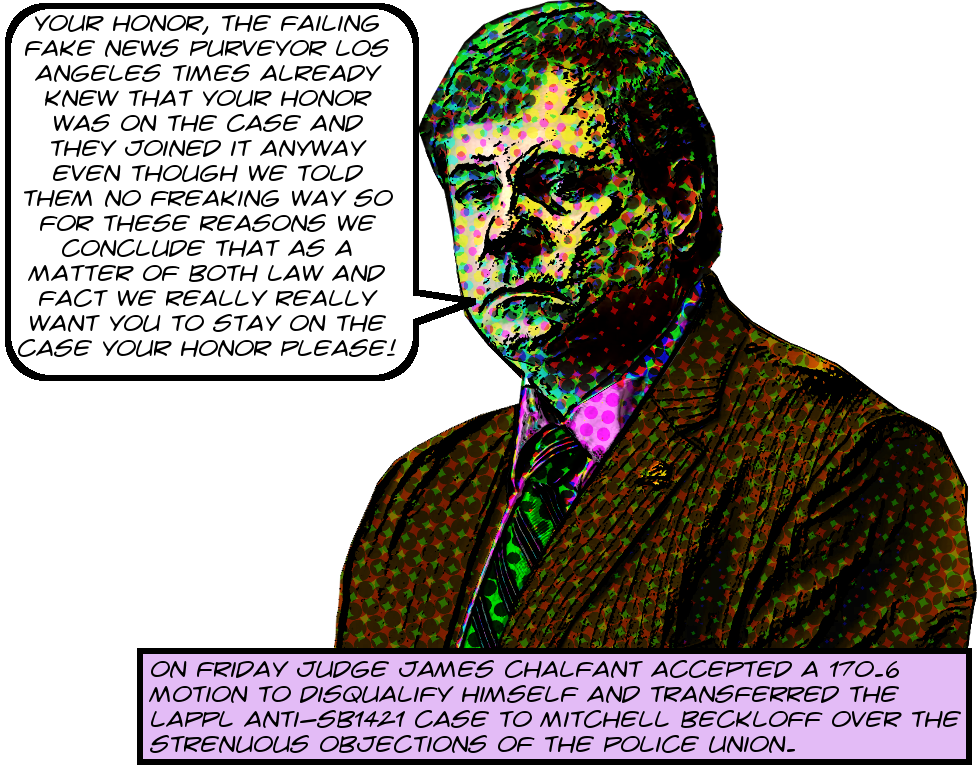 A couple weeks ago Superior Court Judge James Chalfant ruled that the ACLU, the First Amendment Coalition, the Los Angeles Times, and some other parties could join the case of the appalling petition brought by the Los Angeles Police Protective League seeking to prevent the City of Los Angeles from complying with SB1421 by releasing records relating to police misconduct occurring before January first of this year.
On January 23, 2019 these new parties, not counting the ACLU, filed a so-called 170.6 motion, asking Chalfant to disqualify himself. This is a standard move in California civil trials, authorized by the California Code of Civil Procedure at §170.6, which allows any party to move to disqualify a judge on the grounds of bias, although they don't have to explain what bias they perceive. As long as the motion is filed on time it must be accepted and the case must be transferred.
For whatever reason the LAPPL wasn't happy with this motion and they filed an opposition to it on January 25, essentially arguing that the deadline had passed and that the motion should be rejected because the so-called media intervenors1 already knew that Chalfant was handling the case when they asked to join, that Chalfant had already made rulings in the case, that switching judges now would mess up the case for everyone else, and so on.
The media intervenors filed a response to that opposition on January 28, basically stating that the Police Protective League's position was full of crap and they can't read the law or, if they can, then they didn't summarize it correctly in their opposition. There was a hearing on this stuff on Friday2 and Chalfant accepted the motion to disqualify himself and reassigned the case to Judge Mitchell Beckloff.
His order accepting the motion is here, and the notice of reassignment is here. The most immediate effect of this is that all pending hearings are cancelled, including the one upcoming on Tuesday, February 5. I'll let you know when and if Beckloff schedules anything. Meanwhile, if you want to browse through (most of) the paper filed already in this case you can find it here on Archive.Org.


Image of Craig Lally is ©2019 MichaelKohlhaas.Org and then there's this tho.

Which is all the parties that asked to join the case other than the ACLU, which is an intervenor but not a media intervenor.