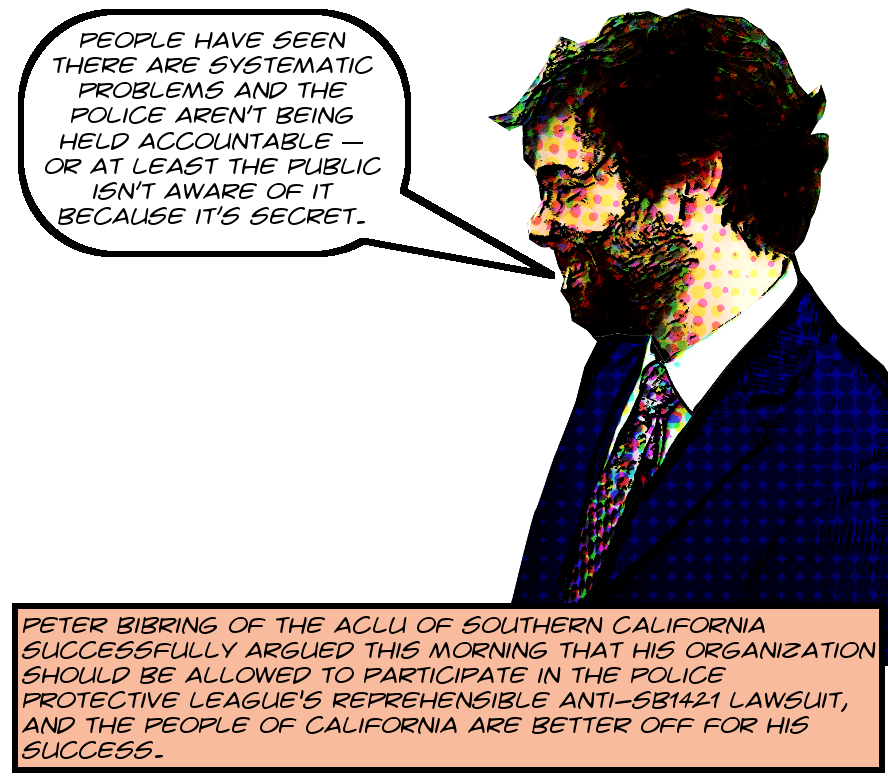 Yesterday the First Amendment Coalition filed a request to be allowed to intervene in the reprehensible petition filed on December 31 by the reprehensible Los Angeles Police Protective League seeking to bar retroactive enforcement of the monumental SB1421, which took effect on January 1 and is meant to require the release of records relating to serious cases of police misconduct.
It turns out that, unknown to me before this morning's hearing, the ACLU of Southern California also filed a request to be allowed to intervene. They're representing Valerie Rivera, mother of Eric Rivera, killed by the LAPD in 2017. She requested records relating to the investigation of the officer who killed her son and was denied on the basis of the LAPPL's restraining order.
And there was a hearing this morning on these requests before James Chalfant, so off I went downtown to the good old Stanley Mosk Courthouse to see and hear what went on. Before the hearing really got going, by the way, it came out that the City of Los Angeles has actually filed an opposition to the LAPPL's petition, although I don't yet have a copy. This is news because in other cases like this one the governmental agencies have not all opposed the suits. I also learned that the LAPPL's lawyer, Richard Levine, is filing scads of these cases, county by county by county. Which is interesting and, I'm sure, worth a lot of money to him.
Anyway, after a lot of discussion Chalfant decided that the ACLU could intervene in the case but that the FAC and its gaggle of newspapers could only intervene in a limited way. This is because he found that Ms. Rivera had a more compelling interest in the outcome than did the media. The FAC and the newspapers are required to file their opposition brief jointly with the ACLU so that Chalfant doesn't have to read too much stuff,1 and they're not allowed to seek attorney's fees from the LAPPL. The ACLU will be allowed to seek fees.
At first Chalfant seemed inclined to postpone the upcoming February 5 hearing,2 but ultimately he did not. And here's a copy of the minute order detailing what went on. Turn the page for a transcription.


SUPERIOR COURT OF CALIFORNIA, COUNTY OF LOS ANGELES
Civil Division
Central District, Stanley Mosk Courthouse, Department 85
18STCP03495 January 18, 2019 8:30 AM
LOS ANGELES POLICE PROTECTIVE LEAGUE vs CITY OF LOS ANGELES, et al.
Judge: Honorable James C. Chalfant
Judicial Assistant: J. De Luna
Courtroom Assistant: None
CSR: None
ERM: None
Deputy Sheriff: None
APPEARANCES:
For Petitioner(s): Richard A Levine and Brian P. Ross
For Respondent(s): City of Los Angeles By: Soraya C. Kelly and Julie Raffish
Other Appearance Notes: Representing Proposed Interveners for ACLU: Peter Bibring and Rekha Arulanantham; Representing Proposed Interveners for First Amendment Coalition: Cristina M. Salvato
NATURE OF PROCEEDINGS: EX PARTE APPLICATION BY PROPOSED INTERVENORS ACLU OF SOUTHERN CALIFORNIA AND VALERIE RIVERA FOR LEAVE TO INTERVENE, OR IN THE ALTERNATIVE, FOR ORDER SHORTENING TIME ON MOTION FOR LEAVE TO INTERVENE; EX PARTE APPLICATION BY PROPOSED
INTERVENORS FIRST AMENDMENT COALITION, LOS ANGELES TIMES COMMUNCIATIONS LLC, CALIFORNIA NEWSPAPERS PARTNERSHIP L.P., THE CENTER FOR INVESTIGATIVE REPORTING, AND CALIFORNIA NEWS PUBLISHERS ASSOCIATION FOR LEAVE TO INTERVENE, OR IN THE ALTERNATIVE, FOR ORDER SHORTENING TIME TO INTERVENE
The matters are called for hearing.
Court after reading and considering all moving party papers, and arguments of the parties, makes the following ruling:
The ex parte application for leave to intervene filed by proposed intervener ACLU and Valerie Rivera is granted without conditions.
The ex parte application for leave to intervene filed by First Amended Coalition, Los Angeles Times Communications LLC, California Newspapers Partnership L.P., The Center for Investigative Reporting, and California News Publishers Association, is granted with the condition that a joint opposition brief by ACLU and the Media Interveners be filed, and that the Media Interveners not seek any attorney fees.
Complaints in Intervention are to be filed by 1/23/19.
The joint opposition brief, for the Hearing on the Alternative Writ of Mandate set on 2/5/19, is to be filed by 1/24/19. Parties stipulate to electronic service of the briefs.
Petitioner is ordered to prepare a trial notebook and a joint set of Legislative history (must be Bates-stamped) and are to be lodged at the time the reply brief is filed.
Counsel for Interveners is to give notice.


Image of Peter Bibring is ©2019 MichaelKohlhaas.Org. It's related to this picture here. His words are an actual quote, which may be found here.

I'm being a little glib here, or maybe a lot. Chalfant's point is that the case turns only on statutory interpretation, and then only on a single point of law. There aren't a lot of relevant facts to be weighed, just basically the legislative history. So, as he said, why would he need six different parties telling him how to read the law and its history?