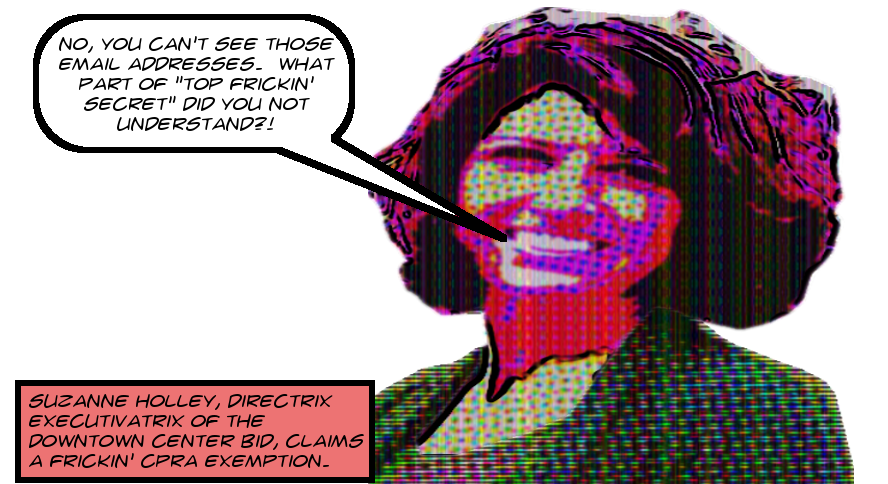 Of course you will recall that recently I published a huge dump of records from Carol Schatzenstein's monster, known in the vernacular as the Downtown Center BID. The bulk of these came to me as MSG files, which is by far one of the three most useful formats in which to receive emails.1 Those emails are available here on Archive.Org. On the other hand, Ms. Suzanne Holley, who is Chief Operating Officer of the BID,2 for reasons known only to her and her lawyer, felt the need to heavily redact some of the emails, and these she provided to me as PDFs with the usual black bars through the putatively sensitive information.
Now, superficially this is all in accordance with the requirements of the California Public Records Act. The law defines certain categories of information that are exempt from disclosure, but also, at §6253(a), requires redaction rather than withholding the entire document when possible: Any reasonably segregable portion of a record shall be available for inspection by any person requesting the record after deletion of the portions that are exempted by law.
Now take a look at this little puppy, which down in the chain contains an email from Board member Cari Wolk to the rest of her unindicted co-conspirators announcing that she's gonna be attending the upcoming conspiracy meeting. The content is not nearly so interesting as the redactions, which include all the email addresses of all the board members. Turn the page for a picture of the redacted portion as well as the usual sarcastic commentary and as an extra-special bonus, all the redacted email addresses which, as common sense would tell anyone who thought about it for a second,3 are not actually exempt after all.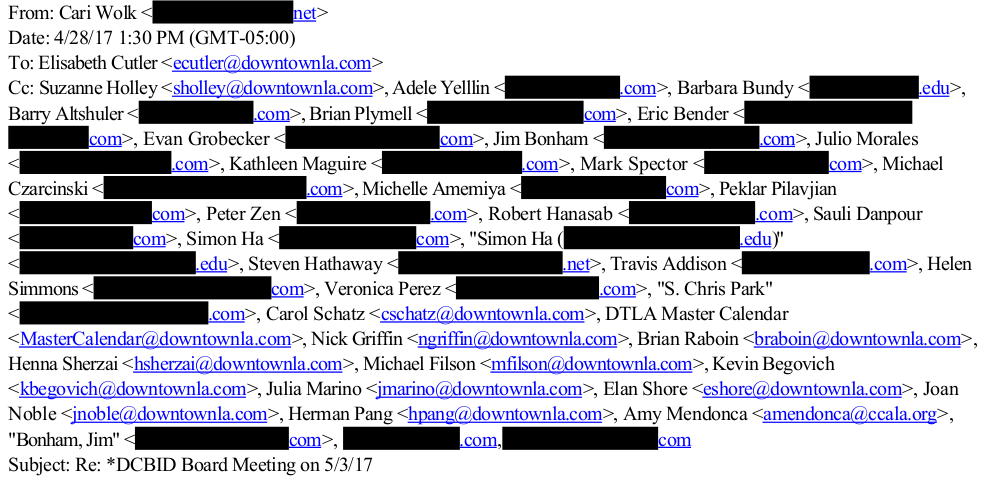 Of course, the law doesn't allow her to just redact whatever random crap she feels like, but only the portions that are exempted by law. Here's what, according to her, she based her redactions on:4
… deliberative process privileged communications, drafts, personal contact information and other individual personal privacy information, drafts, and the public interest in non-disclosure clearly outweighs the public interest in disclosure.
Now, without going into details, I can assure you that that series of exemption claims is essentially unmitigated frickin' nonsense. In particular, that last item, that …the public interest in non-disclosure clearly outweighs the public interest in disclosure, is a quote from §6255(a). It's not an exemption in itself, but a description of the kinds of unforeseen circumstances which may justify not releasing some material even though there isn't an explicit exemption allowing the records to be withheld. It's worth reading the full section just to see what Ms. Suzanne Holley omitted:
The agency shall justify withholding any record by demonstrating that the record in question is exempt under express provisions of this chapter or that on the facts of the particular case the public interest served by not disclosing the record clearly outweighs the public interest served by disclosure of the record.
There are no facts of the particular case needed in Ms. Suzanne Holley's wack interpretation of the law. She refuses to disclose them, she refuses to discuss the public interest in disclosure against which she balanced the public interesing in nondisclosure, and so on. In short, she's being delusional again.
As always, though, the fact that I can see, you can see, all sane people can see that she's delusional isn't worth a damn. It takes an actual judge to actually say that she's being delusional before anything will happen. She's so willing to defy the law that I can't help but think she's pretty sure that's not in the offing. She's wrong.
In any case, she's especially wrong here, because she regularly releases records without redacting board members emails in response to CPRA requests. As we've seen a number of times before, §6254.5 states that releasing information once waives all future exemption claims for that information.5
Finally, as promised, just in case you need them to, e.g., petition your government for redress of grievances or whatever, here are all the email addresses from that email, both previously redacted and not, all set up with mailto links so you can start letting them know what you think:

Image of Suzanne Holley spinning out an interminable web of nonsense with respect to the California Public Records Act is ©2018 MichaelKohlhaas.Org.