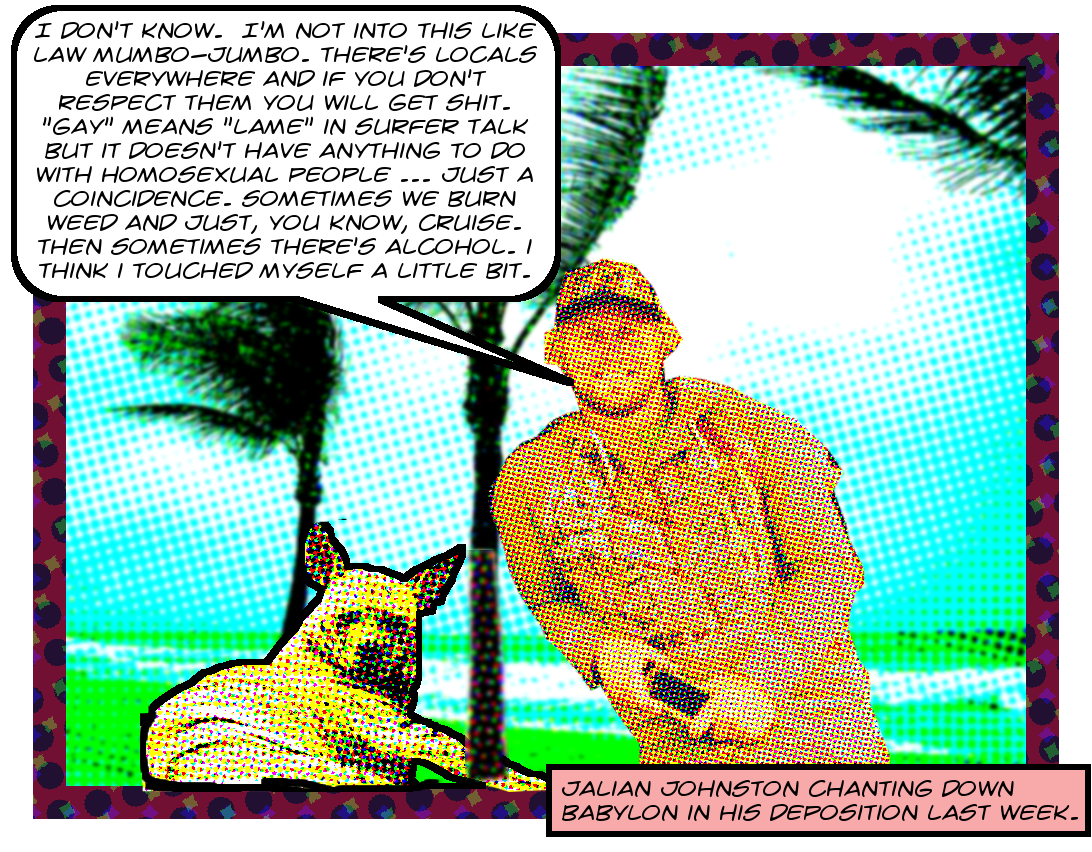 For background take a look at this excellent article from the Times on this lawsuit. Also see here to download all pleadings in this case.
You may well recall that recently all the defendants in the Lunada Bay Boys case filed motions for summary judgment:
And this afternoon the plaintiffs filed their opposition to all these motions along with a ton of supporting paper. The opposition is well worth reading, and there are selections after the break. There's also a list of all the other documents filed, and if you only read one of these, make it these selections from Jalian Johnston's deposition. You may well remember that it was close to impossible to schedule this damn depo. Well, for sheer weirdness, it was worth the wait.
Some items are quoted verbatim in the cartoon at the head of this post, but there's lots, lots, lots more in there. It's also worth taking a look at the Plaintiffs' Additional Material Facts in Opposition, which constitutes a good guide to all the dozens of other items filed tonight and previously.


I. INTRODUCTION
The Individual Defendants' motions for summary judgment make it clear: they would like to recast their behavior with Plaintiffs as isolated incidents to be considered in a vacuum, with no reference to greater context, history, motive, or coordination. They omit material facts and evidence; they assert that disputed facts should be deemed undisputed because only their witnesses should be believed; they insist a victim cannot be a victim based on their interpretation of her facial expressions. In short, the same impunity with which the Bay Boys have operated for so long has led Defendants to try to take from the jury the job of weighing credibility of witnesses and drawing inferences from facts and circumstances.
For decades, with help from the City, the Bay Boys have stolen Lunada Bay from the public by implementing the rules—the "terms of engagement"—that their older members established. Their plan was started by the Bay Boys forefathers like Defendants Frank and Angelo Ferrara—and continues today through current-day enforcers like Defendants Brant Blakeman, Alan Johnston, Sang Lee, Michael Papayans, and Charlie Ferrara. For the Bay Boys, the end—having a priceless location to themselves—justifies the means: unlawful bullying, threats, assault, battery, property damage, and racial and other forms of bigotry.
Peter McCollum, July 1991—"It's not just a barbaric thing, it is done for a purpose." "The crowds are so intense these days, you can't have your own little sanctuary. But we do."
Frank Ferrara, December 1991—"Look what happened to Malibu, Trestles, Rincon; there's five or six guys on every wave. The guy's [sic] who surf out in Palos Verdes area – guys who've been there 20 years – they've seen what happens. One guy comes and surfs it, and the he brings two or three guys, and they bring three or four of their friends and it snowballs and gets out of hand. That's exactly why we protect it…." "I am a protector of Palos Verdes. It's also protected by the pirates that surf there. That's why there are no kooks…"
Peter McCollum, May 1995—"We protected this beach for years. This is why. So we can have driftwood on the beach rather than Kentucky Fried Chicken boxes. If the beach opened up it would be packed with low riders….the rocks would be marked with graffiti." "How many guys are at Malibu right now, huh? How many [expletive] guys are at Malibu? Did you ever notice we've done a good thing here, haven't we? It's pretty nice and pretty, huh? It's beautiful…."
Sang Lee, January 2011—"i[sic] am who i[sic] am (with the terms of being a solid person, friend n a pirate) because I was brought up this way by u guys (the older boys)…u guys made up the rules n terms of engagement n I WILL DIE BY THESE RULES…what we have in our backyard is priceless n u cant put a price on it…I want to keep this place sacred like its [sic] supposed to be….this place is not just a surf spot… its [sic] our home n I am not going to share it …."
Charlie Ferrara, March 2016 —"You're going to come here when the surfs good everywhere else and get burned and have a bad day? That's cuz that's, you know, that's what we're just gonna keep on burning them and make them have a bad session because we are gonna stick together like a pack. We are family….that's why now we're not, you know, doing stuff, and now we're just burning people."
Sang Lee, June 2017—"[E]verything would get destroyed" and it would "ruin everything" if outsiders were allowed to surf at Lunada Bay.
And with decades to perfect it, the Bay Boys' well-designed plan has worked. Sang Lee, May 2015—"[T]he reason there's a lot of space is because we keep it like that, we fucking hassle people…we'll burn you every single wave…there are still fights down here. People will just fucking duke it out."
Indeed, even though it is surrounded by urban Los Angeles—and world class in beauty—outsiders stay away from Lunada Bay in comparison to other coastal areas. Nevertheless, there is a flaw in the Bay Boys' decades-perfected plan: (1) their actions violate the California Constitution, the sovereign tide and submerged lands grant of 1963, coastal access law, municipal ordinances, and the penal code and (2) with smart phones with cameras and social media support, Plaintiffs Spencer, Reed, CPR and others have lawfully challenged the bullies. Since bravery alone is not enough, the Plaintiffs now come to this Court seeking help—injunctive relief and appropriate damages to discourage future wrongful conduct.
Plaintiffs offer evidence sufficient to establish their claims on public nuisance, the Bane Act, assault and battery and under conspiracy—or at a minimum establish genuine disputes of material fact that should go the jury. Plaintiffs ask the Court to deny each of the Individual Defendant's motions in their entirety.
The Bay Boys Have A Decades-Long History Of Excluding "Outsiders" From Lunada Bay Through Harassment, Intimidation, And Worse.
The Bay Boys have long acted to obstruct the public's free access to Lunada Bay. Defendant Police Chief Kepley acknowledges that localism is a problem at Lunada Bay and that "[he] had heard people from the community and staff members, and all, tell me that there have been conflicts and issues in the surfing culture for many, many years, as many as 50 years or more." News reports and other accounts going back to at least as early as the 1990s indicate that "outsiders" who try to surf in Lunada Bay face verbal threats, rocks thrown at them, vandalism to their cars, and even violence. In 2002, Surfing Magazine named Lunada Bay one of five surfing Meccas to avoid. In 2010, LASurfSpots.com ranked Lunada Bay #1 in its list of the top five places in Los Angeles to get "punched out in the surf." (Id.) The Bay Boys cultivate this reputation openly and intentionally: a Bay Boy is quoted in one article describing "the law of Lunada Bay" as "If you don't live here, don't surf here. Not if you know what's good for you."
Past general localism, the Bay Boys have openly called out their desire to exclude racial minorities. As one Bay Boy explained to the Los Angeles Times, "We protected this beach for years. This is why. So we can have driftwood on the beach rather than Kentucky Fried Chicken boxes. If the beach opened up it would be packed with low riders . . . the rocks would be marked with graffiti."
The Bay Boys Act In Concert, Including Through The Individual Defendants—Encouraging, Facilitating, And Coordinating The Harassment And Intimidation of "Outsiders" Who Try To Visit Or Surf At Lunada Bay.
The Bay Boys perpetuate and enforce their rules and practices of harassing and intimidating "outsiders." The evidence includes: a recording in which a Bay Boy discusses that there is hazing and pressure to do things that are "uncalled for" to prove that they belong; text messages demanding participation, e.g., "If you really want to be a Bay Boy, you'll show up"; and e-mails stating, "I WILL DIE BY THESE RULES," and urging others who see outsiders, "DON'T THINK TWICE N LETS TAKE BACK WHAT THEY R TAKING FROM US," and "DO NOT FEEL GUILTY WHEN TAKING BACK WHAT WAS OURS IN THE FIRST PLACE."
Moreover, the Bay Boys are organized, using e-mail, mobile phone calls, and text messages to coordinate. Bay Boys patrol Paseo Del Mar in their cars or trucks while on their cell phones. Moments after they see a visitor along the bluffs, additional gang members arrive as reinforcements. Messages are also relayed from Bay Boys at the top of the bluffs to those down below on the shore regarding approaching visitors. (PAMF 40.) As one observer put it, "They use walkie-talkies, they whistle, they have spotters, they delegate duties about who does what. It was run like an organized gang."
The Bay Boys follow social media to keep watch for any attempts by outsiders who try to organize surf outings to Lunada Bay. Upon learning of any such outings, they use e-mail and text messages to ensure presence in large numbers and harassment of the "outsiders." For example, upon learning of an event in which visitors planned to come to Lunada Bay, Bay Boy Charlie Mowat responded to the others: "I will be on the patio allllllllllll day on Monday throwing out heckles and sporting a BBQ. I'm already warming up. Don't miss the fun." With regard to other occasions, Defendant Charlie Ferrara admitted, "I was calling people to get down here. Get the frick out. We need people surfing," and Defendant Alan Johnston texted, "If u really wanna be a bay boy we might meet [sic] your help tomm."


Image of Jalian Hisself is ©2017 MichaelKohlhaas.Org and was pieced together out of this Jalian and this beach and this hyena.