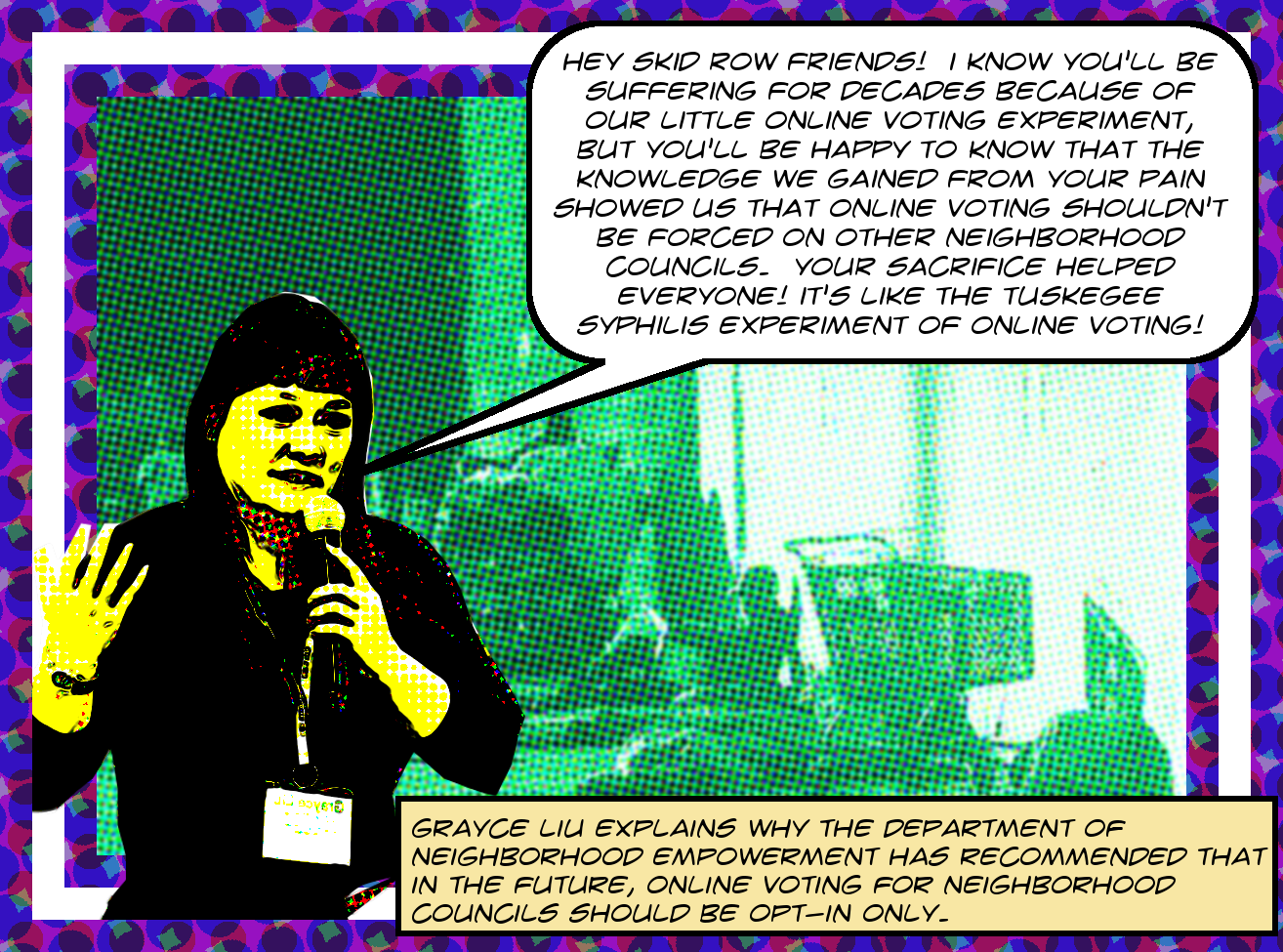 Background: You can read my previous stories on the Skid Row Neighborhood Council formation effort and also see Jason McGahan's article in the Weekly and Gale Holland's article in the Times for more mainstream perspectives.
Yesterday the Department of Neighborhood Empowerment submitted a report on online voting in neighborhood council elections to the Los Angeles City Council's Health, Education, and Neighborhood Councils Committee.1 Here's a link to the report, but be careful as it's a massive PDF. After the great injustice and great pain caused by José Huizar and DONE by imposing online voting on the Skid Row Neighborhood Council effort one might think that DONE would have displayed some consciousness of the damage they'd created.
But that didn't happen. In an unfortunately characteristic display of block-headed indifference to both morality and reality, the sole lesson DONE seems to have learned is that online voting increases voter participation:

The potential of online voting and voter registration to engage more stakeholders in Neighborhood Council elections was clear in the 2016 pilot as noted in the January 17, 2017 report and confirmed in the subdivision election for Skid Row Neighborhood Council this year where 1,388 votes were cast online out of a total of 1,592.

It's disgusting indeed that they don't even mention the fact that online voting increases participation among non-homeless people while actively decreasing it among the homeless, even though they are well aware of this fact. And their recommendation to the City Council, which will almost surely be adopted verbatim? It's that online voting should not be imposed on any other neighborhood councils but that they be allowed to opt into it if they so choose:

[DONE recommends that Council i]nstruct the Department of Neighborhood Empowerment and Office of the City Clerk to make online voting an option available for the Neighborhood Councils whose online voting platforms are already built out …

Additionally, they recommend that neighborhood council terms be extended in order to match the new Los Angeles city election schedule. Turn the page for a transcription of the summary of the report


SUMMARY
The Department of Neighborhood Empowerment (EmpowerLA) and the Office of the City Clerk have been funded to conduct the outreach and elections respectively for the 2018 Neighborhood Council elections without online voting. Because Neighborhood Council elections must be realigned to odd-numbered years and because the issue of online voting, stakeholder definition, voting age and board structures are still pending before City Council, EmpowerLA recommends that the 2018 Neighborhood Council elections be pushed to the spring of 2019 instead and that the affected board member terms be extended accordingly. If Neighborhood Council elections are to be held as scheduled in 2018, then EmpowerLA requests additional funding in the amount of $288,000 to conduct citywide Neighborhood Council election outreach. In addition, EmpowerLA requests that the option of online voting for the 2018 elections be offered to the 50 Neighborhood Councils, whose voting registration and online voting platforms have already been built, at the cost of $3800 per Neighborhood Council plus $58,950 for 24 Hour Helpdesk services. If the opt-in online voting option is provided to these Neighborhood Councils, then the Office of the City Clerk would require additional funding in the amount of $200,000. The total requested is $681,950. A potential source of funding could be the approximately $570,000 in unused Neighborhood Council funds from Fiscal Year 2016-2017.


The image, which by the way is ©2017 MichaelKohlhaas.Org, was skooshed together out of this picture of Skid Row, released by its creator, Eve Fouché under the CC-BY 2.0 and this picture of Grayce Liu, which is a public record.