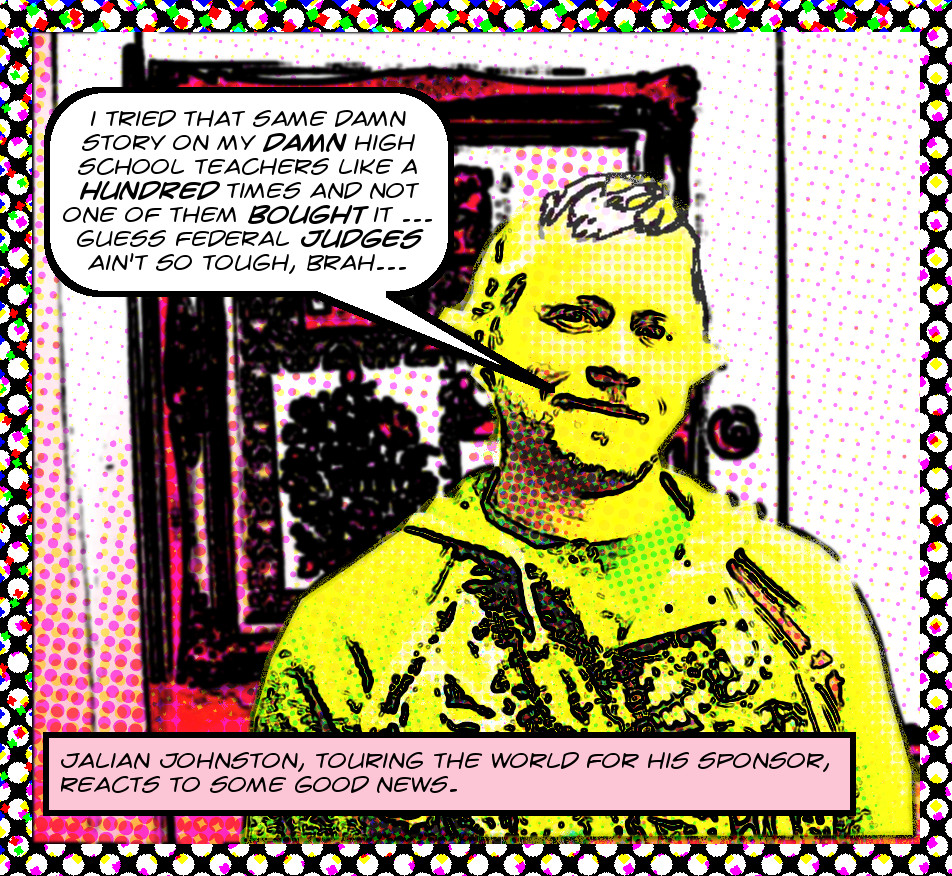 For background take a look at this excellent article from the Times on this lawsuit. Also see here to download all pleadings in this case.
The week of arguing over Jalian Johnston's deposition in the Lunada Bay Boys case seems finally to be over!1 This afternoon the Honorable Rozella Oliver filed a minute order essentially accepting Jalian Johnston's version of things. The order schedules his depo for July 28, refuses to sanction Jalian, and makes a few concessions to the plaintiffs to make up for the late deposition. You can read a transcription after the break.

Transcription of today's minute order:

Proceedings: (In Chambers) MINUTE ORDER RE: DISCOVERY DISPUTE
The Court is in receipt of Plaintiffs' and Defendant Alan Johnston's letter briefs regarding the scheduling of a deposition of Defendant Johnston. Dkt. Nos. 256-57. The Court previously held a telephonic hearing regarding this dispute on June 15, 2017, and the parties subsequently informed the Court that they were unable to resolve the dispute. The Court has considered the arguments presented by each side in their letter briefs.
Defendant Johnston has agreed to make himself available for deposition on July 28, 2017. The Court finds that although Plaintiff has provided reasonable notice for Defendant Johnston's noticed deposition, there is good cause to order Defendant Johnston's deposition to occur on July 28, 2017. Defendant Johnston is currently out of the country for pre-arranged obligations with his sponsor. See Dkt. No. 257. Defendant Johnston's unavailability does not appear to be in bad faith as he previously made himself available for deposition on several dates in February and March 2017, and was in this country until June 2017. Additionally, Defendant Johnston had previously represented that he would not be available for a deposition until after the discovery cut-off, see Dkt. No. 256, but he has now made himself available for a deposition on July 28, 2017. This is before the discovery cut-off of August 7, 2017. To mitigate any prejudice to Plaintiffs, the Court will make itself available on an expedited basis if Plaintiffs need to compel Defendant Johnston's testimony based on his responses at his deposition.
Defendant Alan Johnston is ordered to appear for a deposition on July 28, 2017. Plaintiffs' request for sanctions is denied without prejudice to it being renewed if Defendant Johnston fails to appear for his deposition or otherwise impedes, delays or frustrates a fair examination at his deposition. See Fed. R. Civ. P. 30, 37. The parties are directed to contact the Court's Courtroom Deputy Clerk to schedule a telephonic hearing if any further issues arise regarding the deposition of Defendant Johnston.
IT IS SO ORDERED.


Original image of Jalian Johnston from here. New version is ©2017 MichaelKohlhaas.Org.

On Monday, the Honorable Rozella Oliver told the parties to get the damn depo scheduled. On Wednesday the plaintiffs filed a brief explaining how it was all Jalian Johnston's fault. Yesterday, Jalian Johnston filed a brief stating "Nah, Bruh, not my bad… I'm rubber and you're glue…."