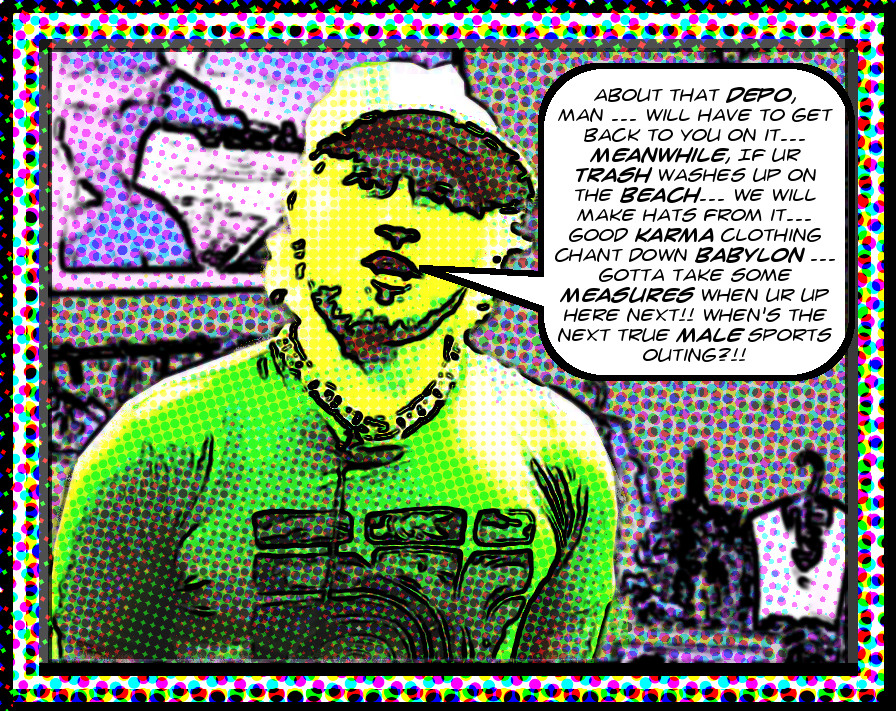 For background take a look at this excellent article from the Times on this lawsuit. Also see here to download all pleadings in this case.
So this has been the week of the Lunada Bay Boys parties fighting over scheduling Jalian Johnston's deposition. On Monday the judge told them to stop taking the piss and get a depo on the calendar or else write some briefs explaining why they can't get it together. Then yesterday the plaintiffs filed a brief explaining that they tried and tried and Jalian Johnston just wouldn't cooperate which, if you look at every photo ever taken of the guy, seems prima facie pretty plausible.
And now today Jalian Johnston himself filed a brief (transcription after the break) stating that he tried but the plaintiffs fooled around and fooled around and then he just had to book, brah, and he's sorry, but he can do it July 28, so no need for sanctions.
And, you know, who knows who's telling the truth? At this point it hardly matters given how overpowering our urge to mock Jalian Johnston has become. And, it turns out, we are not the only ones. Just look at this little gem right here:


And, oh my, Jalian Johnston! Remember him?
Born Alan, he changed his name to Jalian because of… spiritual stuff, I assume.
Very soulful, he's all about the earth. And garbage, dude loves himself some garbage. Gluing it to stuff, sewing it to other stuff.
I've long wished I could cover myself in the detritus of the modern age, Jalian really scratched that itch. Without his help I'd've been stuck taping tampon applicators to my hats for forever. I'd much rather pay him hundreds of dollars to do it for me.

And the quotes we put in the word-balloon? From Jalian Johnston's old Facebook page. Gotta love a surf thug who wants to chant down Babylon, bruh!
Transcription of Jalian Johnston's letter brief:

The Honorable Rozella A. Oliver
United States District Court – Central District of California
Courtroom F, 9 th Floor
312 N. Spring Street
Los Angeles, CA 90012
Re: Spencer et al v. Lunada Bay Boys, et al.
Dear Judge Oliver,
At the outset of this lawsuit, I advised Plaintiff's counsel that Mr. Johnston lives and travels internationally most of the year as required by his sponsor, VAST, Inc. On December 12, 2016, I emailed Plaintiffs counsel that Mr. Johnston would be "home for the next three weeks or so and would love to get a deposition date on calendar if that is possible with you guys. Ideally for my schedule is December 20th as we discussed several weeks ago, but I can be flexible."
On February 7, 2017, 1 followed up with an email request to "set a date for his deposition given [Mr. Johnston's] upcoming international travel. If so, here are some available dates: Feb. 27, March 8, 9, 10, 14, 16, 20."
For over 6 months, Mr. Johnston made himself available for deposition. In June of 2017, after not receiving a date, Mr. Johnston left the country for his pre-arranged obligations for VAST. Just four days after leaving the country. Plaintiffs requested to schedule his deposition.
Mr. Johnston is available for deposition on July 28. 2017 . This date is less than 30 days from the originally noticed deposition date and is before the close of discovery. Plaintiffs have noticed several depositions at this late juncture, including for three Ferrara defendants on July 6, 7, and 8, and Defendant Papayans on July 18.
We thank the court for its consideration and submit that there is currently no need for sanctions.
Sincerely,
LAW OFFICES OF J. PATRICK CAREY
Attorney for Defendant Allen Johnston


Image of Jalian Johnston is a screenshot of a Youtube video of the fellow, which I got from here and messed it up until it is now ©2017 MichaelKohlhaas.Org.