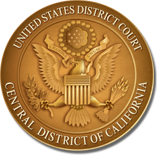 The momentous 2014 lawsuit by LA Catholic Worker and the LA Community Action Network against the Central City East Association and the City of Los Angeles has been in the settlement process for more than six months now.1 Most recently, in March, the terms of CCEA's part of the settlement were finalized by the court.2 Documents filed with the court as early as last December have announced that the terms of a settlement with the City of Los Angeles had been agreed on and were just pending City Council approval.
Well, Council is finally poised to approve the settlement terms. The matter is on the books as Council File 16-1449, and is scheduled for a closed session on Monday, June 5 at 2 p.m. in Room 1010 of City Hall at the Budget and Finance Committee. As is required by the Brown Act there will be an opportunity for public comment before the closed session. My feeling is that this is a fait accompli and not worth my time to attend, but you should certainly decide for yourself about that.
Given the fairly glacial pace at which the City has been moving, and given the fact that federal district courts move very slowly as well, it will probably be a while before the specific terms of the settlement with the City become public. However, given the stringent terms agreed to by the CCEA, this settlement is likely to include at the very least further restrictions on the City's ability to enforce its reprehensible personal property ordinance, LAMC §56.11, and probably a lengthy period of oversight by the court as well. Stay tuned for details!

Most of the pleadings are available here if you're interested.
And it cost them $25,000 in costs and fees for the plaintiffs, along with about $90,000 in their own costs and fees.