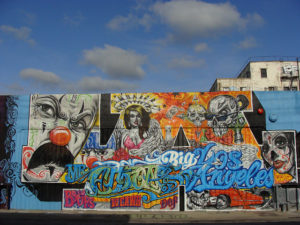 See here and here for the background to this post.
Dear Councilmember O'Farrell,
As you may already be aware, the Hollywood Property Owners Alliance is presently holding a competition to choose artwork to adorn signal boxes in the Hollywood Entertainment District, which they contract with the City of Los Angeles to administer. As you know, the L.A. Department of Transportation requires your approval for this project to move forward. I am writing to ask you to withhold your consent from the HPOA's plan pending a revision of their stated rules which, regardless of the intent, have the effect of significantly lowering the chance that Latino artists working in some of our most vibrant local traditions will be chosen for this honor.
The problem is that the BID's stated requirements for submissions include the proviso that "NO Cartoon Images or Graffiti work of any kind will be considered."1 Graffiti art and cartoon styles are associated in L.A. with Latino, especially Mexican-American artists. Work by Los Angeles artists in these genres has brought world renown, not just to the artists themselves, but to our City. Thus it's hard to understand why it's not good enough to appear on the signal boxes of Hollywood. The mystery only deepens when one considers that the HPOA's requirements also state that "Text Art" will be given full consideration, as if Graffiti art were not also "Text Art."

While by no means all Latino artists work in these styles, most of the local artists who do work in these styles are Latino or Latino-influenced. Graffiti art has been a site of contention in Los Angeles for decades. It began to gain some legitimacy during the 1990s, which explains the choice of the beautiful and iconic art by Gilbert Luján which adorns the Hollywood and Vine Red Line Station, work which would not be considered under the guidelines promulgated by the HPOA for their signal box project. Luján, a founding member of famous Los Angeles Chicano art collective Los Four, once said about their eclectic styles, which incorporated both cartoon images and graffiti influences, that:

The significance of Los Four mirrored the socio-political introspection and concerns of Raza at that time besides providing some iconographic vocabulary to initiate definitions of our ethno-art forms. Our Los Four Xicano contingency ran against some Euro-aesthetic standards of the period.

The point is not that the HPOA is trying intentionally to exclude Latino artists from consideration by requiring art that meets these "Euro-aesthetic standards," but that their requirements will clearly have the effect of limiting the pool of eligible Latinos more than they limit the pool of artists working in other traditions. They also eliminate the possibility that artwork in genres strongly associated with Latinismo will be chosen to represent Hollywood, a neighborhood steeped in centuries of indigenous Latino culture. It seems to me that such effects are unacceptable in twenty-first century multicultural Los Angeles.
I realize that the HPOA's requirements do not contradict LADOT's guidelines for signal box art, but I think that that's more a problem with the guidelines than than an indication that the requirements are acceptable. Thus I urge you to use your influence with the BID to get them to reconsider their rules before granting your approval.
Sincerely,
Mike

Image of graffiti art in Los Angeles is released by its author A Syn under the CC BY-SA 2.0, and may be obtained from his Flickr stream.