Just this morning I received, via Dropbox, every one of Kent Smith's emails for the month of July 2015. You can see
all 1098 of them
on the archive. Most of it's dismal mass-blasted junk, of course, but even a lot of that is interesting. E.g. search in there for CCA (Central City Association) to see bunches of their bulletins, like
this one
, advertising special guests
Jessica Borek
and
Matt Rodriguez
. Unfortunately there's probably no way to find out what was said there, but at least we know it happened.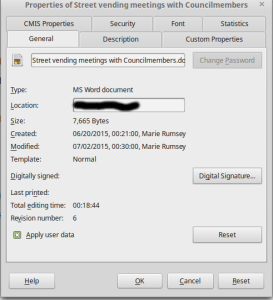 The most amazing thing about this document dump is the formatting. They're PDFs, which often is a bad sign for emails, although these are text-based
1
so they can be searched reasonably effectively. Too many agencies think somehow that a scanned PDF of a printed email satisfies CPRA's requirement that electronic documents be produced in native formats. These PDFs are on a level I've never seen before, though. First of all, the links are live, including the links to remote images. Also the links to attachments are live and the attachments are embedded in the PDFs. For instance, look at
this email about anti-street-vending strategies
from Marie Rumsey to various people. It has an actual schedule of actual meetings with Councilmembers that CCA set up for street vending opponents attached, and you can click on it and read it! Or
here it is if you're lazy
. This is the real deal! Look at the properties in that last item and see that Marie Rumsey spent 2015
breaking the revolving door ordinance
to an even greater extent than anyone here imagined. Also take a look at
this email from Jessica Borek to the gang
which comes with a copy of
a Power Point thing by Jessica Borek
about the Coalition to Save Small Business strategy as well as
a marked-up copy of ELACC's proposed framework
. This is the real deal, friends! It's what CPRA was actually meant to yield.
These PDFs aren't perfect, e.g. the header information is missing, and therefore the content of the BCC fields, if any, is unavailable. Also, they can be batch-searched for single words, but batch searching for multi-word phrases is problematic. They're not perfect, but they're by far the best any BID, in fact any public agency anywhere, has ever given me. For this Rena Leddy has earned not only my gratitude, but the gratitude of everyone here and of all freedom-loving peoples everywhere. This is phenomenal stuff. I hope to be able to sort out the most interesting items over the next few weeks and highlight some of them. Let me know if you find anything good.

Image of FDBID Managing Director Rena Masten Leddy is deeplinked to, so ought to be OK rightswise.