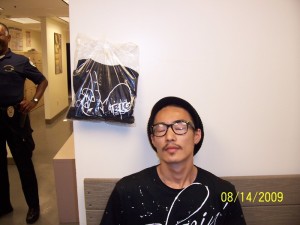 This is an announcement of the merest of non-news. Yesterday the parties to the
Aureliano Santiago et al. v. City of L.A. et al.
met before federal magistrate judge
Charles F. Eick
to discuss a settlement of the case. In the terse description of
the minutes
:

Case called. Counsel make their appearances. The Court hears discussion. Parties retire to chambers to proceed with the settlement conference.
Settlement is not reached.



Image of arrested and shackled street vendor is a public record, obtained from the HPOA via a Public Records Act request.