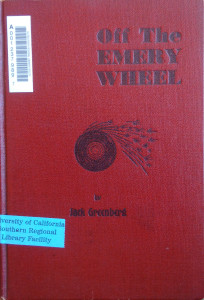 The other day I got the urge to read a little more about Thurgood Marshall. The Los Angeles Public Library's catalog led me to a book by badass civil rights lawyer Jack Greenberg (read it, it's fabulous: Crusaders in the Courts, although it's not the book I'm recommending). That led me to look for other books by Greenberg, and thus appeared before me a book called Off the Emery Wheel which, as you can see, was published in 1935 by an outfit in Hollywood called the Cloister Press. Clearly this was a different Jack Greenberg, but nevertheless I thought it'd be interesting to take a look.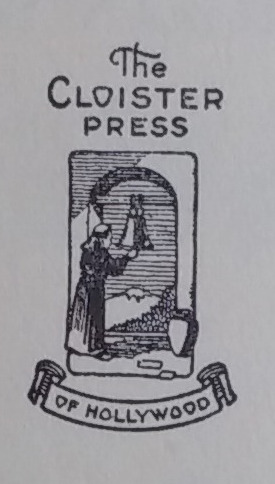 The LAPL's only copy is noncirculating, and, while a trip to the big library downtown is always nice even though it's not plausible anymore to combine it with a visit to Grand Central Market since the goddamned-hipster-douchebag apocalypse and its associated fourteen dollar "revisionings" of the Egg McMuffin and suchlike nonsense, I didn't really have time. However, I've been spending a lot of time in the stacks at UCLA, working on a historical project which you'll read about here at some point, I'm sure (and which is at least somewhat related to the Hollywood BIDs, unlike this piece) so I thought I'd check their catalog. Well, Lo! And behold, they own a copy, which I promptly ordered up out of storage.



And what a pleasant little volume to hold this turned out to be!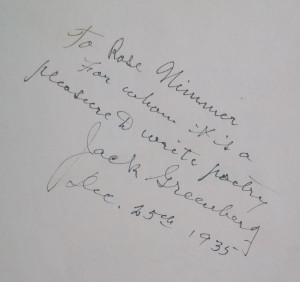 I mean, the poetry is abominable (which is why I'm not reproducing any here), but the book itself is an object of desire. And it's inscribed by the author as well! And note the tidy little logo of the Cloister Press! A little more poking around and I was blessed to lay my hands on a promotional bookmark from the press, which shows that it was formerly located at 1608 Cahuenga Boulevard.
I already knew about some of the storied history of this building, formerly home to Shelly Manne's Manne-hole, the subject of a sidewalk historical marker, but not that there'd been an artsy literary press in there.

The Cloister Press was founded in 1925 by Lawrence Young, an evangelical Christian who worked with Billy Graham for many years. In 1971 Young
talked to an oral historian
about the Press and his evangelical work in Los Angeles: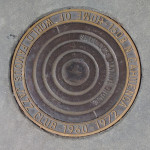 I am in the printing business. I have a printing plant in Hollywood called the Cloister Press. I started it in 1925 when I was a lad just out of knee pants and graduated from Hollywood High School, seventeen years old. So I've been privileged to be a part of the Hollywood scene for a long time. …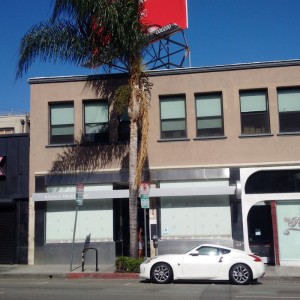 Then, as the days came and went, we had many crusades, little and big. Now if my memory serves me correctly, we had a one-night stand at Hollywood Bowl with Billy Graham in 1945. [Christ for Greater Los Angeles, in cooperation with Youth for Christ held a rally in the Hollywood Bowl in 1945 with Jack Shuler as evangelist and another on June 21, 1947 with Billy Graham as evangelist.] I might be mistaken….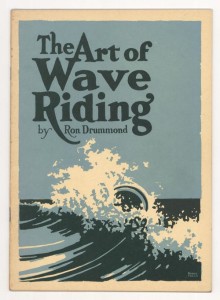 Young published a huge range of material over the years, including an early (1931) surfing book,
The Art of Wave Riding
by Ron Drummond and works by early silent film actor, poet, and photographer
Sadakichi Hartmann
. So that's the story of an unexpected journey into marginally important Hollywood history. I hope you found it as interesting as I did.

The rights to those images that are hosted here rather than deep-linked into are too complex for me to work out, so I'm just going to see if I get any takedowns on them. The picture of the Manne-Hole sidewalk marker and of Kitchen 24 are ©2015 MichaelKohlhaas.org.