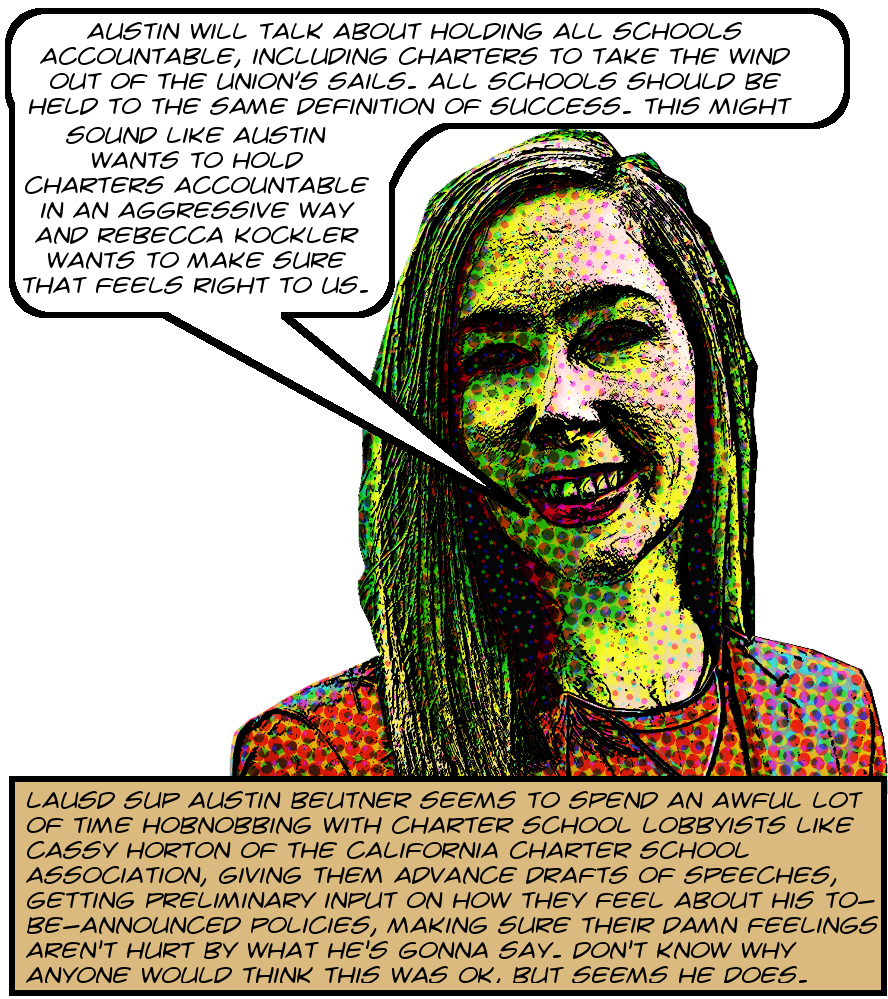 A little history and a list of the dramatis personae are in order before we begin. In May 2018 noted zillionaire Austin Beutner was appointed superintendent of the Los Angeles Unified School District via a shady, probably illegal, backroom process pushed through by noted charter-lovers Monica Rodriguez and later-indicted-and-convicted criminal Ref Rodriguez.1 Subsequently Beutner hired Broad Foundation alumna Rebecca Kockler away from the already-pretty-wrecked state of Louisiana where she was famous for privatizing everything in her reach and thereby wrecking everything even more as his chief of staff2 and some dude named Elmer Roldan as his director of civic engagement.
Then there's the shady charter school lobbying conspiracy known as the California Charter Schools Association, sitting like a fat green spider at the center of the various ickety-stickety webs of privatization spritzed all over our fair city by behind-the-scenes zillionaires. These privatizing peddlers of metaphorical poisoned apples are not just lobbyists, but also actively gather what passes for intelligence in privatizerlandia and spread it around among their members. They're probably reading this very blog post. Their local capo is Cassy Horton.
And one of the CCSA's creepiest little Southern California projects is something called the Los Angeles Advocacy Council, a shadowy website-lacking group of twenty-ish super-elite local charter leaders who convene regularly to discuss how to privatize everything they can lay their greedy paws on, to meet with politicians, propose policy, and so on.3 And among these elite privatizers there is an even eliter bunch, the so-called LAAC Leadership. This hyper-exclusive crew consists of Green Dot Charter Schools CEO Christina De Jesus and STEM Preparatory School boss Emilio Pack, facilitated by Cassy Horton.
And it came to pass that after Beutner had been on the job for a few months, in September 2018, he decided that he wanted to give a major policy speech, explaining just what the hell he planned to get up to way high up on the zillionth floor of the Bastille on Beaudry.4 And how does a galaxy-brain like Beutner prepare for such an event? Well, perhaps he thinks about things, reads up on things, talks about things with his senior staff, goes out in the field and looks at things.
And maybe Beutner did all of that and more. But he also had two of his senior staff, the aforementioned Kockler and Roldan, meet with Cassy Horton to run all his proposals by her. And the next day he met with LAAC elites Christina De Jesus and Emilio Pack. We know about this first meeting from an email which Horton sent to De Jesus and Pack, ensubjected "<Confidential/For Review> Preview of Austin Convo for Tomorrow" describing in astounding detail both the content and her thoughts on these two meetings with Beutner's staffies.
Continue reading On September 13, 2018 Los Angeles Unified School District Superintendent Austin Beutner Gave A Major Policy Speech — The Week Before That Beutner Staffers Rebecca Kockler And Elmer Roldan Met Separately With Lobbyist Cassy Horton Of The California Charter Schools Association To Vet His Proposals With Her — I Have A Copy Of Horton's Extensive Notes On These Two Meetings! — On September 7 Beutner Met With Christina De Jesus Of Green Dot And Emilio Pack Of STEM Prep For The Same Purpose — And On September 12 Cassy Horton Had An Advance Copy Of Beutner's Speech And Shared It With Those Two For Feedback — Ironically In The Speech Beutner Touted The Importance Of Transparency — But Didn't Mention Word One About All This Back Channel Commo With Elite Privatizers About The Very Speech In Which He Was Touting Transparency! →