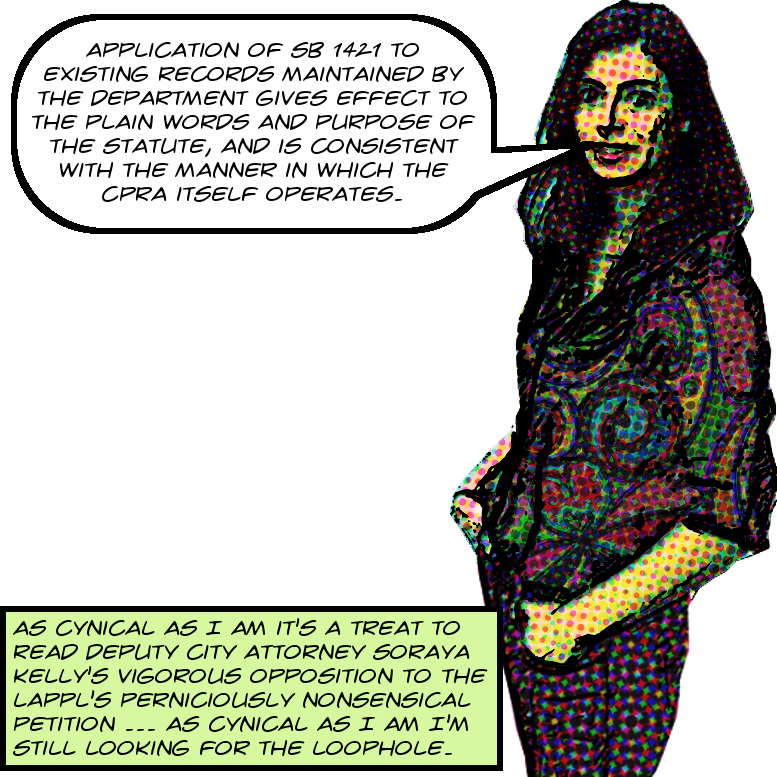 Last week in the appalling lawsuit filed by the appalling Los Angeles Police Protective League seeking to prevent the LAPD from releasing records newly made public by SB1421, the City of Los Angeles filed a surprisingly unappalling opposition brief arguing that the records ought in fact to be released.
The LAPPL's lawyers, Rains Lucia Stern St. Phalle & Silver, have been filing these lawsuits all over Southern California, and so far they've managed to get injunctions against releasing the records in San Bernardino and Orange Counties as well as, of course, in the City of Los Angeles. I thought I heard somewhere that not every government has opposed these suits, but I can't verify it, so forget that! But, as I said, the City of L.A. did file an opposition, and you can find a transcription of selections below.
You may recall that the LAPPL's argument is that it's unfair to apply the law retroactively because officers made career decisions based on the confidentiality of these records. The City of Los Angeles, in response, says that releasing the records would not in fact be retroactive application because the law applies to records that the City has in its possession now.
They also argue that it wouldn't be a retroactive application of a law because it doesn't change the consequences attached to the actions of the officers related in the records. They argue that releasing old records was the intention of the legislature, and finally that the legislature does have the authority to change privacy protections that apply to existing records.
Continue reading City Of Los Angeles Files A Creditable Brief In Opposition To Appalling Los Angeles Police Protective League Anti-SB1421 Petition →