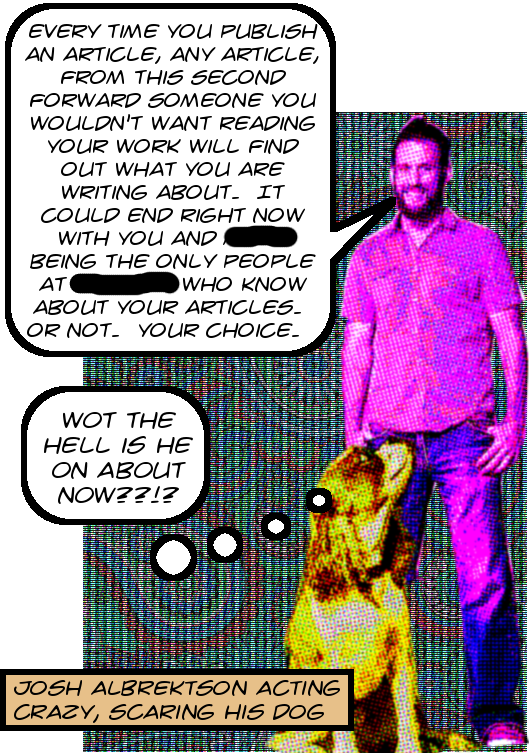 Maybe you've been following the loony-tunes saga of DLANC Board member Joshua Albrektson and how he can't follow the freaking law to save his life. Well, it gets weirder, friends. The other day, this self-proclaimed radiologist sent me this exceedingly bizarre email, threatening me with some kind of exposure if I didn't stop blogging and making CPRA requests:

From:Josh Albrektson <joshraymd@gmail.com>
To:■■■■■■■■■
Subject:Just wanted to give you a warning
Date:Friday, November 17, 2017 7:02 AM
Just you and me on this e-mail. You actually have pissed off a TON of people. And one of them has collected every misogynist or other bad article you have ever written. That person has almost had enough of you and is thinking of going public to the LA Times and calling the president of ■■■■■■■■■. So I would think very hard about the next time you send a public request.
As for me, I don't appreciate the accusations you have done against me and some of my friends. So this is just my personal warning to you. Every time you publish an article, any article, from this second forward someone you wouldn't want reading your work will find out what you are writing about. It could end right now with you and ■■■■ being the only people at ■■■■■■■■ who know about your articles. Or not. Your choice.

Leave aside the surreal assumption that there are people I "wouldn't want reading" work that I myself consciously publish on the open Internet, what do we have here but a thuggish attempt, however misguided, to intimidate me into not writing about Joshua Albrektson's friends by threatening to, I don't know, destroy my reputation?
I don't know what you would do, but I turned the guy in to the FBI for violating 18 U.S.C. §875(d), which criminalizes this kind of conduct for reasons that you can read about in detail after the break!
Continue reading How Weirdly-Bearded Oswald-Mosely-esque Facebook Hero, DLANC Board Member, And Self-Proclaimed Radiologist Joshua Albrektson Threatened To Expose My Darkest Secrets If I Didn't Stop Blogging And Making CPRA Requests So I Turned Him In To The FBI For Violating 18 USC §875(d) →