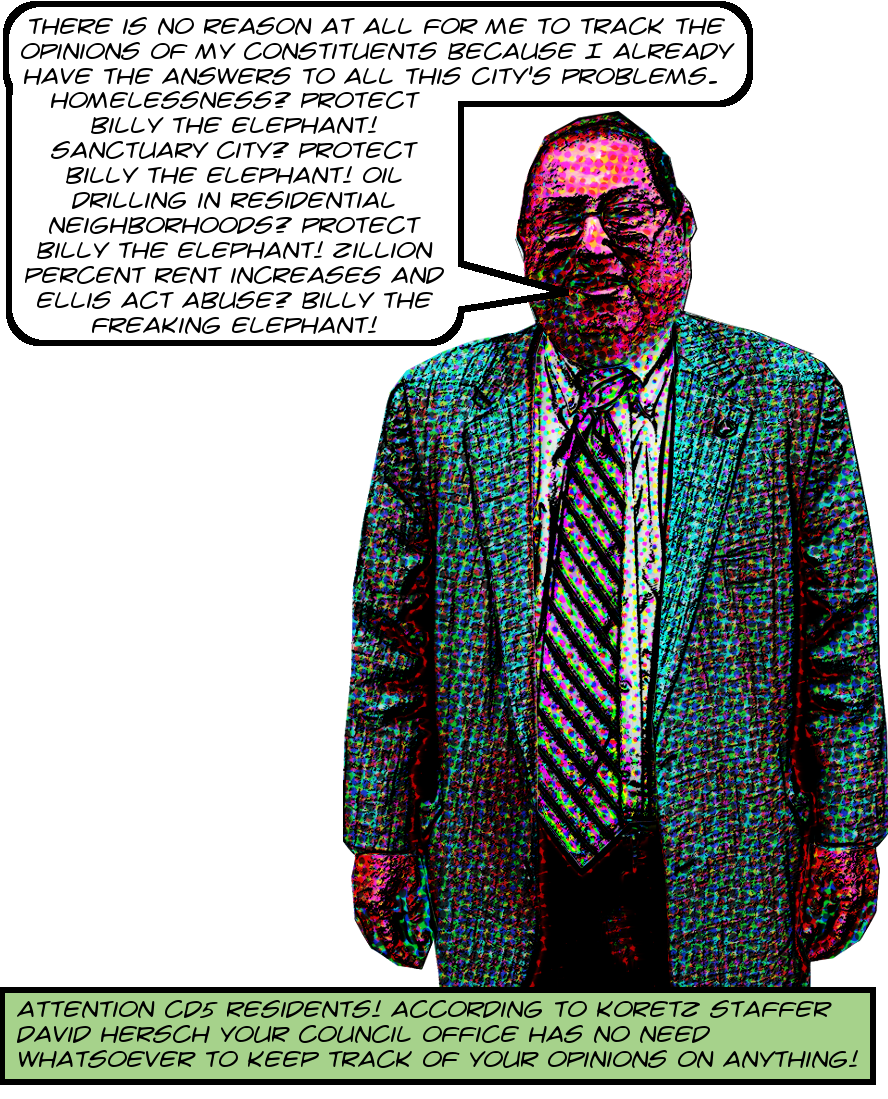 I can't write yet about the City Council's appalling behavior on Tuesday with respect to outlawing vehicle dwelling by renewing LAMC 85.02. It's still too raw, and it's too soon to have related records to publish. Local hero Lexis-Olivier Ray has an essential story on it in L.A. Taco, a story he inadvertently became a participant in when the police illegally forced him, a working journalist, to leave the room.
The day before the vote a lot of folks were calling their Councilmembers, leaving messages, sending emails, and so on, urging their repsters to vote against this abhorrent nonsense, much of it coordinated via Twitter. And to encourage action, @MamaWetzel told us that these calls do matter because there are staffers whose jobs it is to track public opinion on issues via spreadsheets and so on.1 And at that word, spreadsheets, well, my eyes just rolled back in my head with joy because, as you know, a spreadsheet is a public record!
So I immediately asked a few representative council offices for 2019 records used to track constituent opinion on issues, giving spreadsheets as an example but not limiting it just to spreadsheets.2 This, as I said, was on Monday, just a few days ago. In CPRAlandia that's nothing, no time at all, an eyeblink. So I wasn't, and still am not, expecting results soon. But despite that, yesterday, July 31, 2019, I did actually get some very interesting news from CD5, who is pretty easy to make requests of, being on NextRequest.
Their designated CPRA responder, David Hersch, initially told me that my request was "overboard, [sic] unduly burdensome and unfocused" because, he claimed, there were too many records responsive and that therefore he wouldn't process it until I narrowed it down. This is a standard move in the City of Los Angeles and I discuss it in great detail below. I responded, as I typically do, by asking how many records there were and explaining that the request was exceedingly focused.
Hersch responded five hours later by saying that actually there were no records at all and that CD5 didn't keep track of constituent opinions, or at least had not done so in 2019.3 This is pretty interesting news even apart from the interesting but technical matters regarding CPRA. It's not like Koretz doesn't do stuff on the Council. He's famous for his animal rights work, the importance of which I am not discounting.
For instance, just recently he's been spending a lot of time saving Billy the Elephant, and there was that vegan food thing from December. This year alone he's sponsored 80 motions. But all those calls and letters you folks in CD5 have spent the time to send? All that public comment? No one over there is keeping track at all. Paul Koretz has his mind made up, he's gonna do what he's gonna do, and ain't all your tears wash out a word of it.4
And at this point I won't be surprised if none of them keep track. I will certainly be working on finding out, of course. Which would be an important part of an explanation as to why Los Quince Jefes can sit up on their dais so complacently day after clueless day fiddling with their phones while their computers automatically vote yes on oppression and the City prepares to burn. That's today's revelation and today's rant. Read on for the CPRA wonkery!
Continue reading Paul Koretz's Office Does Not Track Constituent Opinions On Issues — Or At Least They Have Not Done So In 2019 — This Is According To David Hersch — Koretz's Deputy Chief Of Staff — So All That Dutiful Public Comment You've Been Submitting To CD5 O Best Beloved? — No One Over There Even Cares — Did You Call Or Email Koretz And Beg Him To Have A Damn Heart And Not Outlaw Vehicle Dwelling? — Your Thoughts Were Not Recorded — Along With The Story Of How I Learned This Tragic Fact — Which Illuminates The Uncaring Arrogance Of The City Of Los Angeles In Responding To Requests For Public Records →