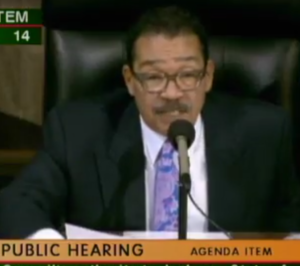 I reported on Friday that the
City Ethics Commission is slated to consider the case of Marie Rumsey
, formerly of CD13 but now working as a lobbyist for the Central City Association, and her repeated violations of the City's revolving door ordinance, found at
LAMC 49.5.13(C)(1)
. As I noted then, she admitted guilt and excused herself in a particularly implausible way, according to
the CEC's report
:

Rumsey received inaccurate legal advice from CCA's former legal counsel and mistakenly believed that she could attempt to influence any City agency except Councilmember O'Farrell's office.

Well, I've been thinking and thinking about it, and it occurred to me that, since Rumsey spoke before the Council a number of times, it ought to be possible to track down evidence that she had actually attempted to influence Darth Four-Eyes
1
himself. So the first piece of evidence I found was
this speaker card
from the City Council meeting of November 17, 2015. Marie Rumsey signed up to speak on
CF 14-1656-S1
.
2
Next, I had to track down the item on
the Council video of that meeting
. Well, I did track it down, and
here is a link right to her comment
. Not only does she address the Council in violation of the law, not only does Mitch O'Farrell end up voting yes on the matter before the Council after she asked him to in violation of the law, but Herb Wesson, who really ought to know better, welcomes her before she violates the law by saying
"Ms. Ramsey,
[sic]
welcome home, good to see you."
Well, that's too much. Not only was it against the law for Marie Rumsey to be speaking in front of the Council, not only does it make a mockery of her explanation that her lawyer told her she was only forbidden from trying to influence Mitch O'Farrell's office,3 but it shows Herb Wesson to be an even bigger idiot than previously suspected. Thus I resolved to write to the Ethics Commission urging them to reject their staff's proposed stipulation, carry out further investigations, charge Marie Rumsey with ALL of her violations of the revolving door ordinance, and to consider whether Wesson and/or O'Farrell were in violation of LAMC 49.5.16(A)(1)(c), which prohibits aiding and abetting violations of the rest of the Government Ethics Ordinance. So I spent this evening writing this letter to the CEC and submitting it as a public comment for Tuesday's meeting.4 You can also read it after the break if you're on mobile or for some other reason prefer not to deal with a PDF.
Continue reading Open Letter to the Los Angeles City Ethics Commission on the proposed stipulation in Case No. 2016-13, In the Matter of Marie Rumsey →