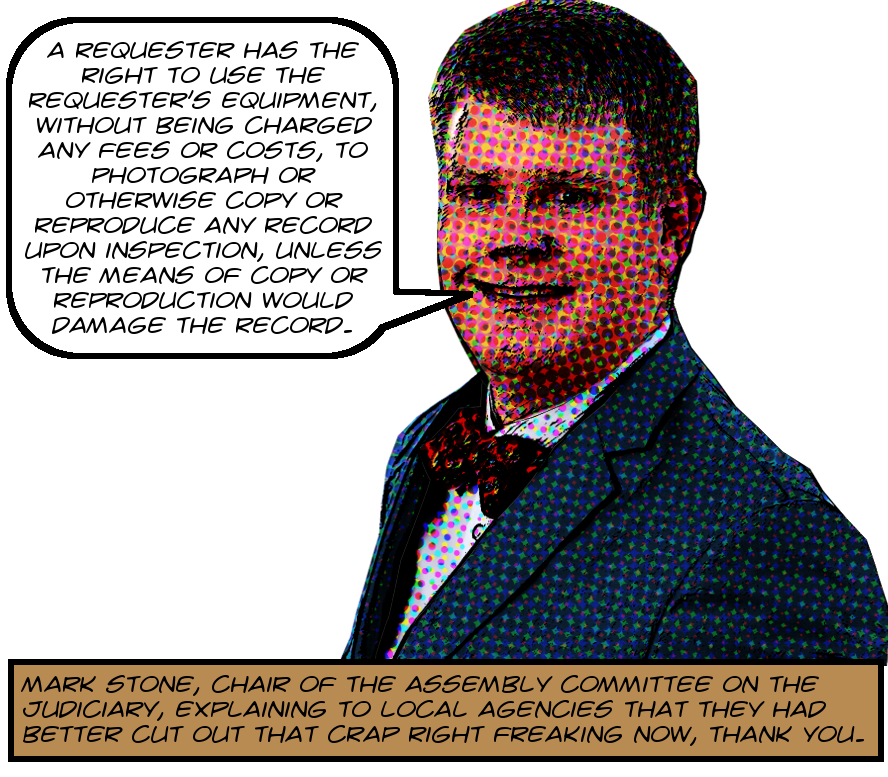 The California Public Records Act presently requires agencies to allow anyone to "inspect" records at no charge.1 This is an incredibly important right, tempered only slightly by the fact that the law also allows agencies to charge people for copies of the records.2 The ability to charge is used by too many agencies as a way to discourage free inspection, and one way that they do this is to forbid people from making their own copies with their own equipment.
This has been an issue in California for decades,3 but it's become much more prominent with the widespread use of phones and extremely portable document scanners. These days pretty much every member of the public already owns photographic equipment capable of making sufficiently high quality reproductions of paper records. So not only is it extremely disconcerting when an agency forbids photography of records, but the refusal affects many more people than it might have in the past.
Just for instance, probably in response to the paranoid psychosis of Special Agent in Charge Gerry Sanchez, the California Department of Alcoholic Beverage Control has recently begun to forbid me from photographing records, justifying their obvious obstruction with various nonsensically unsupportable claims about security and cell phones. So what a pleasant surprise to learn yesterday of the introduction in the Assembly of AB-1819, which would amend the CPRA to state explicitly that agencies must allow people to make their own copies at no charge.
The bill was introduced by the entire Assembly Committee on the Judiciary, so I imagine that that means it has pretty widespread support. Even the three Republican members of the Committee are listed among the sponsors. And it's hard to imagine what legitimate reasons there might be for opposing this. But it never hurts to speak up, so consider getting in touch with your representatives and supporting this essential bill. And turn the page for a red-line version showing the proposed changes.
Continue reading Yesterday — March 6, 2019 — The Assembly Committee On The Judiciary Introduced AB-1819 — Would Require Agencies Subject To The California Public Records Act To Allow Requesters To Copy Records With Their Own Equipment At No Charge — Mostly Agencies Already Allow This But Some Incredibly Obstinate Obstructionists Do Not — Looking At You, Alcoholic Beverage Control — Hence This Law Is — Sadly — Incredibly Necessary →