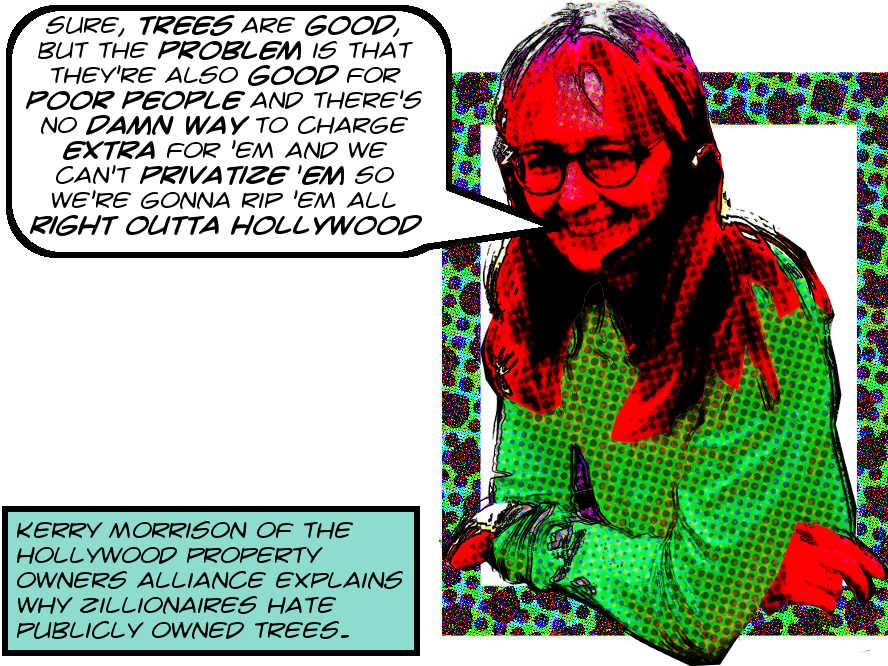 The Hollywood Property Owners' Alliance, which runs the major Hollywood BID, has a long and troubled relationship with the City of Los Angeles and tree regulations. For instance, remember when that billboard company illegally cut down all those trees in Silver Lake in 2016 and the whole City flipped out even to the extent of revenge vandalism? This crisis somehow catapulted Mitch O'Farrell and David Ryu into a rare moment of sanity and they initiated CF 15-0467-S4, in which they asked for report-backs from the City Attorney and the Bureau of Street Services on how to prevent future rogue tree removals.
And the Bureau of Street Services came in with a pretty strong set of recommendations, which included requiring before-and-after photos of tree maintenance done by private parties as well as requiring the presence of City tree surgeons. Well, as you may recall, the BID absolutely flipped out over this in their characteristically privileged manner, which included typically unsubstantiated claims of their unparalleled arboreal competence and even featured archetypal BID genius Mark Echevarria of Musso & Frank giggling like a six-fingered chucklehead cause he never heard of tree surgeons.1
And over the last two years the issue of the wanton destruction of our City's trees has not died down. In fact it's getting worse and worse. For a good overview see this fine article by Alissa Walker in Curbed LA. The unwarranted removal of trees has emerged as a significant social justice issue with serious ecological ramifications. And political action can save trees. But political action is impossible if the City sneaks around and removes trees covertly.
And of course, the City's favorite way to sneak around and do anything covertly is to palm it off onto the damn BIDs.2 Thus it was no surprise to discover a newly released email conversation between Marisol Rodriguez and Dan Halden of Mitch O'Farrell's staff and Kerry Morrison and Rich Sarian of the HPOA which shows that the BID is in fact involved in secret tree destruction in Hollywood with the advice and consent of CD13.
It's pretty clear that these actions are shady. It's plausible that they're illegal. Turn the page for transcriptions of as much of the record as we have available.
Continue reading The Hollywood Property Owners' Alliance In Cahoots With CD13 Is Removing Ficus Trees From Hollywood — Why Has The City Of Los Angeles Ceded Its Duty To Care For Our Trees To A Bunch Of Nihilistic Zillionaires Who Don't Even Live In Hollywood? →