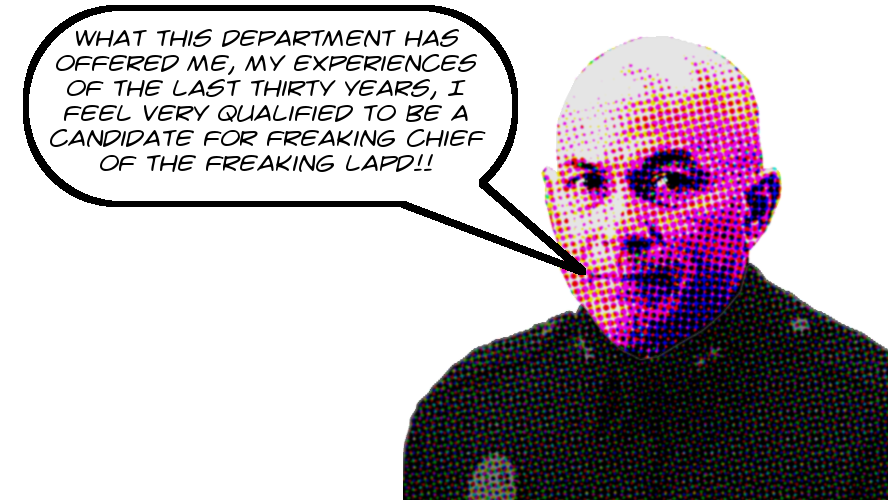 I'm not a reporter, and I don't seek out news, but once in a while, like the hog in the adage, I stumble across what seems to my amateur sensibilities to be an actual news story. And that's exactly what happened this morning at the February Board meeting of the Central City East Association when LAPD Deputy Chief Robert Arcos, in response to a characteristically sycophantic question from CCEA Executive Directrix Estela Lopez, announced that he will be applying to replace soon-to-be-retired Charlie Beck as chief of the LAPD.
I recorded the whole meeting,1 and you can watch the exchange between Estela Lopez and Robert Arcos starting here. You can read a transcription of the important parts after the break.2 And remember, you read it here first!

Transcription of Robert Arcos announcing he will apply to be chief:

Estela Lopez: So if I could ask the question: As a deputy chief, who's been so wonderful to [unintelligible] I would hope that you're considering [unintelligible — but she asked him if he'd be applying to be chief] kind of possibility …
Robert Arcos: Yeah, well, this is my thirtieth year in this department, and you know, I'm really, raised in Los Angeles in the Northeast part of the division. And those of you that know me at work or away from work know I love this city, the good and the bad that we've been through the last [unintelligible], both as a city and as a police department. And we who've been around a while and seen what we've been doing, I think we're one of the greatest, but I always think that we can be better. And I think what this department has offered me and my experiences over the last thirty years, I feel very qualified to be a candidate. So once the application process comes out I [unintelligible — due to my finger over the mike … he said he would be applying]

Image of Robert Arcos is ©2018 MichaelKohlhaas.Org. It is derived in part from this image.

There's a lot of interesting stuff in there and I will be writing about some of it quite soon. And if you don't want to participate in the Googleplex's campaign for world domination you can also watch on Archive.Org. I have to put these videos on YouTube, though, because I don't know how to link in to a specific time on the Archive.