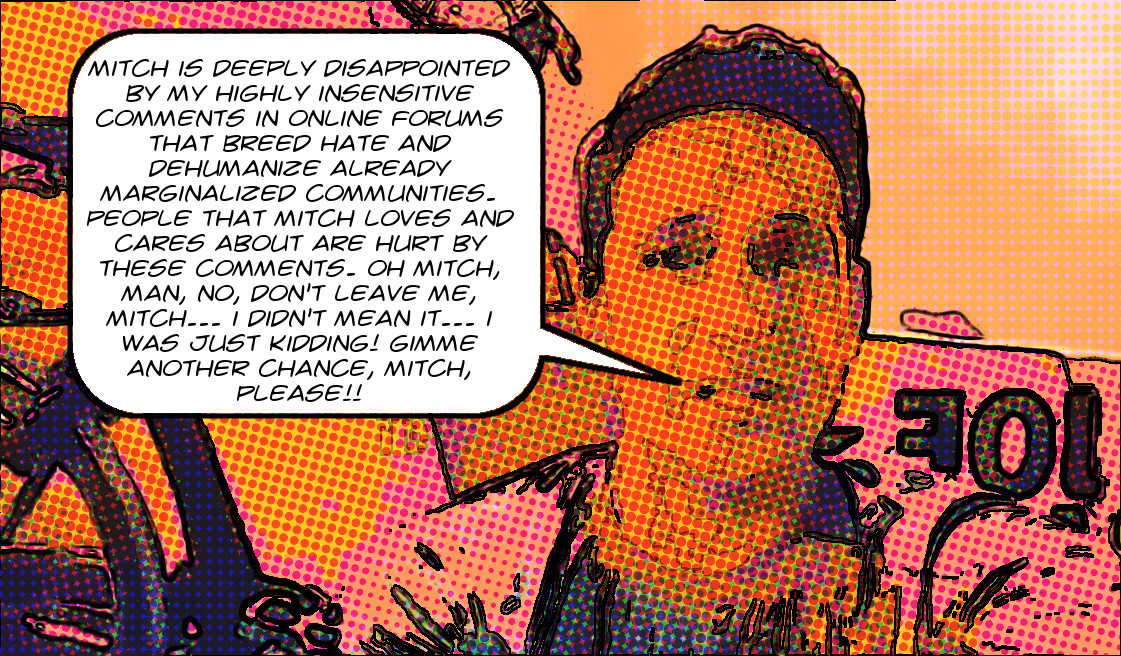 UPDATE: ON APRIL 27 AT 3:10 PM THE LOS ANGELES TIMES RESCINDED ITS ENDORSEMENT OF JOE BRAY-ALI.
Yesterday I reported on a story, broken by Laist.com, about CD1 candidate Joe Bray-Ali's nasty comment history on racist Reddit clone Voat.Com. Of course, CD13 councilboy Mitch O'Farrell famously endorsed Joe Bray-Ali over O'Farrell's incumbent Gil Cedillo. As of last night, according to the L.A. Times article on the matter, councilboy Mitch … well, let's let the incomparable Dakota Smith tell it:

Councilman Mitch O'Farrell endorsed Bray-Ali earlier this month. A spokesman for O'Farrell said the councilman stands by his endorsement, noting that Bray-Ali has apologized for the online comments.

So, this morning at 10:47 a.m., just 22 minutes before I am writing these words, in another of the complete and utter about-faces for which he is known, Mitch O'Farrell sent out an email to his campaign mailing list withdrawing his support of Bray-Ali. This confirms a prediction the staff of this blog made yesterday.
And as much as it pains me to say so, this is the right thing for Mitch O'Farrell to have done. Furthermore, it sure is nice to see Mr. Mitch dancing to the tune we're calling. And we didn't even have to pay the damned piper….yet!
Turn the page for a complete transcription of Mitch's dear Joe letter.


MITCH O'FARRELL STATEMENT ON COUNCIL DISTRICT 1 CANDIDATE JOE BRAY-ALI
"I saw in Joe Bray-Ali a person with deep roots in the 1st district, a passion for public service, and an independent approach to addressing the challenges facing Los Angeles…but I am deeply disappointed by his highly insensitive comments in online forums that breed hate and dehumanize already marginalized communities. People that I love and care about are hurt by these comments. There is no place for this type of speech anywhere, especially in the City of Angels, and I am concerned he has compromised his ability to be an effective leader. Therefore I can no longer support Joe Bray-Ali for Los Angeles City Council." -Mitch O'Farrell


Image of Joe Bray-Ali taken from his apology Facebook video. Given his penchant for erasing his Internet past, this may not be up here much longer. I have a copy, so if you need it for whatever reason, drop me a line.